Gaming Desktop Computer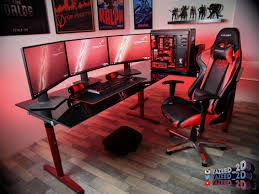 One of our best friends, J.R., just turned 50, but he is young at heart and never lost his affinity for video games.
He is a long-term (years) fan of and player in EverQuest, a super-popular Massively Multiplayer Online Role-Playing Game (MMORPG). He plays the Windows-based game on his desktop PC.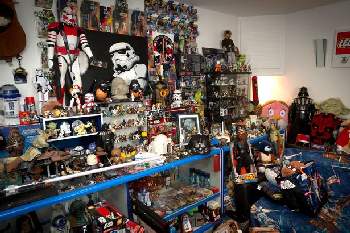 May the Force be with you.
J.R. also has an awesome collection of Star Wars memorabilia, which he proudly displays in his home.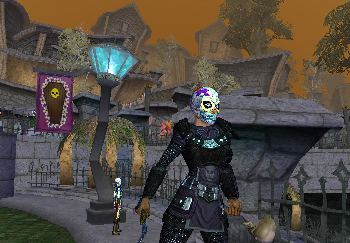 EverQuest was launched by Sony Entertainment in 1999, and went on to become the first commercially successful 3D MMORPG. It has had a heavy influence on game development of that genre and could be called "the father of MMO".
EverQuest far exceeded all subscription expectations and has continued to grow and receive multiple awards over the years.
Would you like to take a peek at Everquest? 


---

Read all about Gaming Desktop Computers below:
---

What is PC Desktop Gaming?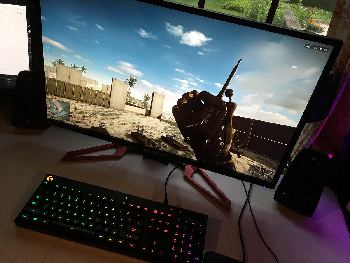 For many hard-core gaming enthusiasts, the gaming desktop computer is still king!
Why? The sky's the limit with components and power. You can pile on all the features and hardware you need to smoothly run the lastest games, including 4K games and Virtual Reality (VR). 

With a gaming desktop computer, you can expand and tweak to your heart's content.

But what exactly is PC desktop gaming? 

Instead of using a mobile tablet or dedicated gaming console, the player interacts with his game via a Personal Computer (PC) connected to a video monitor. This setup allows for much more "open" or flexible gaming and also permits game developers to change or modify ("mods") the games.

PCs also have more room to effectively organize and run multiplayer games online. New advanced networking and Internet technology supports participation in MMOs with amazingly large numbers of concurrent gamers.

The PC gaming market is huge; it earned roughly $33.4 billion as of the end of 2018.

---

Gaming Desktop Computer
3 PC Gaming Options

There are three ways you can go with a gaming desktop computer:
Use your existing PC
Buy a standard "out-of-the-box" gaming computer (like Cyberpower)
Have a custom-built system designed just for you; with the components you specify
But before you buy, take note of the minimum hardware recommended for first-class PC gaming, below.


---

Gaming Desktop Computer
Minimum Requirements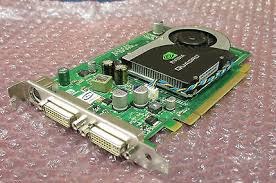 Nvidia Graphics Card
It takes a fairly fast PC with plenty of memory and an upgraded graphics card to enjoy today's awesome video games the way the developer intended. Each video package lists the minimum requirements needed to play the game; but we give some general PC guidelines below:

We recommend at a minimum:
(In general, the higher numbers are better).
Processor Power (CPU): Intel Core i3 or AMD's A series, or better (Intel i5 is definitely better; i7 is high-end)


Memory: Minimum of 8gb RAM; 16GB is better and getting cheaper. 


Graphics card (GPU): AMD Radeon R5 or R7 (R9 is high-end) or Nvidia GTX-1060, or better. If you can afford it, check out Nvidia's new RTX graphics.


Monitor: at least a 27" Full HD display. Learn what we feel is the Best Gaming Monitor here. 


Internet: You will also need a decent Internet speed from your cable company if you plan to explore online gaming: 10-15 Mbs (megabits per second) is the slowest speed we recommend.


Peripherals: You can use your regular mouse and keyboard to play most games, but a joypad might be better for action games (like the wired controller below).


---
How can I determine what I have on my PC now?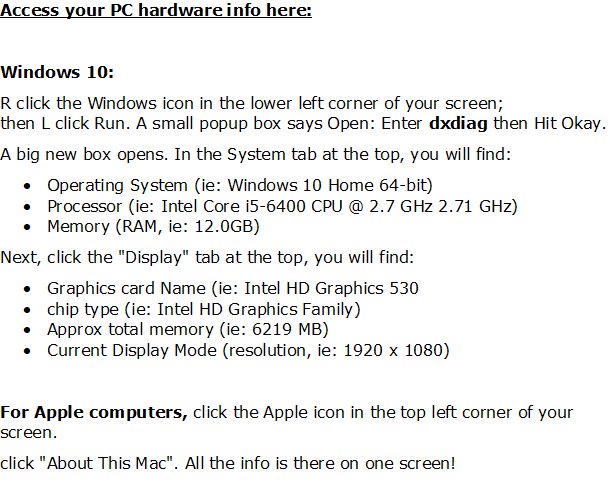 ---
Gaming Desktop Computers 
On the Market 
CyberPower Gaming Computers

My 34-year-old son Nick got a Cyberpower CB AMD FXTM 5300 with 8gb of RAM and has had NO problems with his games in over two years.

He uses it online a lot, trolling for great free games like ARC, Star Trek and Royal Quest. 
CyberPower is generally considered to produce the best bang for your Gaming PC buck.
The most recent edition of the Cyberpower Gaming PC comparable to his (and VR-ready) is:


The Alienware Aurora
Are you a serious PC Gamer? Invest a few more bucks and get this "Best Overall" Gaming Desktop Computer

Intel Core i7 8700 

16GB- DDR4 up to [64GB], Dual Channel 

2TB 7200 RPM [SATA] (HDD)

NVIDIA GeForce GTX 1080 
High-End PC Gamer

NEW Intel i5 8600K 6-core Processor

GTX 1070 - 60fps gameplay at 1440p! 

VR-Ready - Oculus Rift & HTC Vive

16GB RAM, 250GBSSD, Wi-Fi

Perfect for Fortnite, Call of Duty, Overwatch, LoL, Dota 2, PUBG, Skyrim, GTA V, Fallout 4, and more!

Handcrafted by a single master builder

Gaming Desktop Computers
Custom Built Gaming PCs
There are literally dozens of companies online which create custom gaming PC systems. This is by far the most expensive route, but you can end up with a superb gaming tool as a result. 
Some popular PC "builders" include: Falcon Northwest, Origin PC, Maingear or Chillblast. CyberPower also builds PCs to custom specs.


---

Gaming Desktop Computer
Favorite Video Games

EverQuest- Although the graphics seem a little simplistic and "dated", Everquest remains one of the most popular MMO PC games. To see what it looks like, watch this quick video:

Other popular PC games:
Minecraft
Witcher
Morrowind
Freelancer
Command & Conquer
Baldur's Gate
Half-Life
Counter-Strike: Source
Grim Fandango
The Sims
Doom
Skyrim
StarCraft


For a listing of all the popular video games, grouped by gaming device and genre of game, visit: Fun Addicting Games.