Best Kitchen Appliances-
Cooking Through the Decades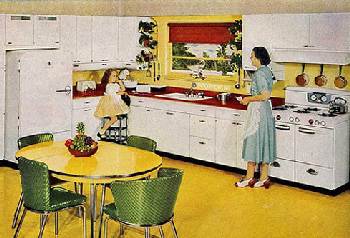 "Cooking is like painting or writing a song. Just as there are only so many notes or colors, there are only so many flavors - it's how you combine them that sets you apart." 

     ~Wolfgang Puck


---

If you don't care to take our neat little trip down kitchen memory-lane, click to go directly to our pages on:
---

For centuries, cooking methods, appliances and equipment stayed pretty much the same. Cooking was done in sturdy iron pots over wood-fueled fireplaces and stoves in the home.

But in the 20th century, the rapid development  of technology also affected the kitchen, and came to be reflected in our culinary practices and best kitchen appliances and equipment. 
Wood cooking stoves morphed into electric and gas-fired models with spacious ovens. This development allowed much more precise adjustment of temperatures; and so, better control over the cooking process.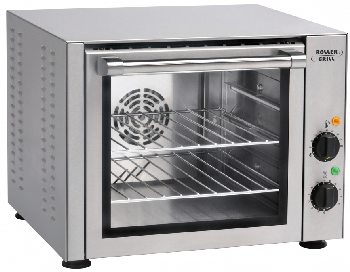 Modern convection oven
Other efficient and popular cooking methods also evolved during our last century, most notably, the microwave oven and convection oven.
Numerous small but clever best kitchen appliances sprouted up on our kitchen countertops.
The modern electric refrigerator/freezer provided excellent food preservation and extended the shelf-life of meats and vegetables significantly. 

Lastly, automatic dishwashers freed the housewife from the drudgery of hand-washing all those dishes and pots. (Yep, I said housewife.)
---
Best Kitchen Appliances of the 60s & 70s
(Mom's Kitchen)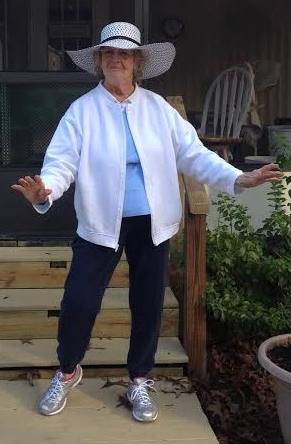 My mother, Faye, passed away last year at the age of 89. She was a very cool lady and was always an excellent southern cook and skilled home-organizer. She raised six kids and fed us very well, on a very skinny budget.
It's funny though, we laugh now about some of the notions she had in her head; and you could not sway her from her beliefs and "sayings". We called them "Fayisms", (but not to her face) Here's a few Fayisms I thought you might enjoy:
*(1970s): "Microwave ovens cause cancer".

*(1990s): "Never microwave china plates or ceramic mugs, it weakens them".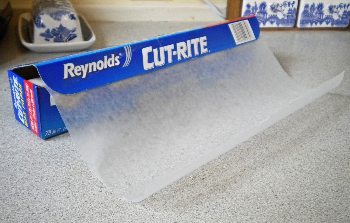 * "No household can possibly survive without wax paper".
* "Eating fish and drinking milk together at the same meal is toxic".

* "The most nutritious way you can eat vegetables is canned".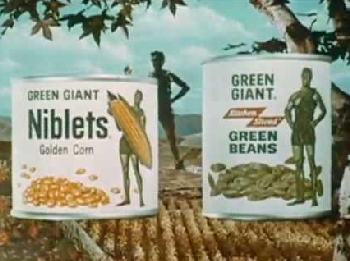 ---
Best Kitchen Appliances
of the 1960s & 70s
I remember well the countless hours my Mom spent in the kitchen. Back then, our refrigerator and stove looked kind of like this: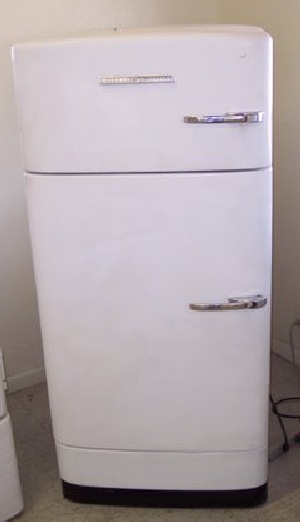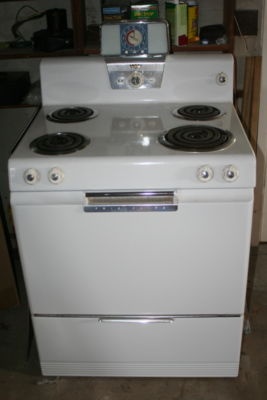 The technology has since advanced, and we have so many new and clever best kitchen appliances. But I doubt you could turn out tastier meals than she did, no matter how many newfangled gadgets you have at hand.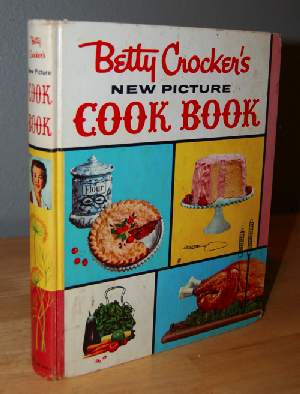 She did occasionally pull out a cookbook, but usually did all her cooking from memory and practice. I remember, though, she had three cookbooks in the cupboard that are still widely treasured today for their excellent recipes and great overall food handling advice:

1. The Fannie Farmer Cookbook
2. Joy of Cooking
3. Betty Crocker Cookbook (all stained and dusted in flour)
To this day, I have these classics myself, and we still recommend them highly as references for every kitchen.

---

We had no microwave oven and no dishwasher 'til probably the late 1960s. Below is what our first dishwasher and microwave looked like. You had to roll the dishwasher over to the sink and hook it up.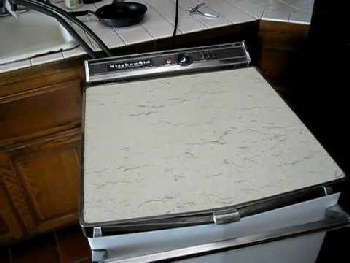 Portable dishwasher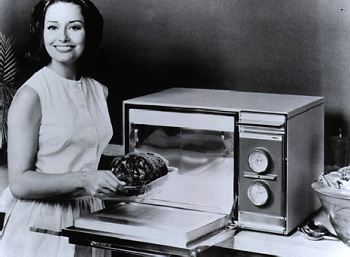 Radarange Microwave
Mom loved her pressure cooker, Oh, yeah! It was a Presto, in that yucky 70s Avocado green. I was always afraid it would explode when I heard that little "tophat" rocking back and forth, building up steam in there.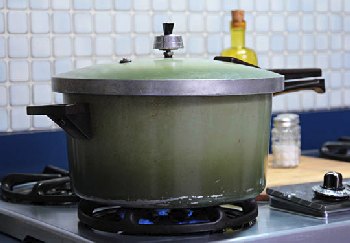 I remember she used to reorder gaskets every now and then to keep her precious cooker going.

What type of pots and pans did our moms use? Remember their beloved cast iron skillets? Scott also remembers his Mom cooking just about everything in her favorite cast-iron cook pot.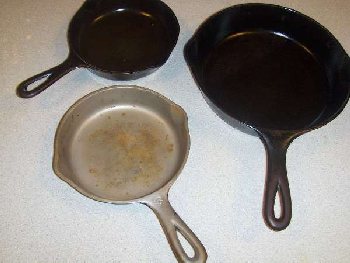 The 1970s also brought another cool kitchen appliance our moms loved... the Crockpot! Revolutionary! Ours looked like this: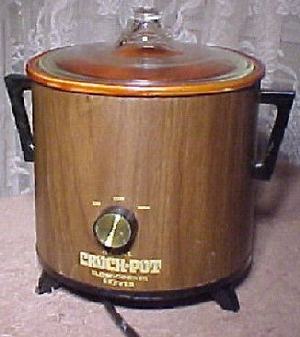 ---
Tupperware & Tea

There were two other phenomena that occurred while we were kids, and became part of the culture back then. They were Tupperware Parties and the Jewel Tea Man.
Do you remember?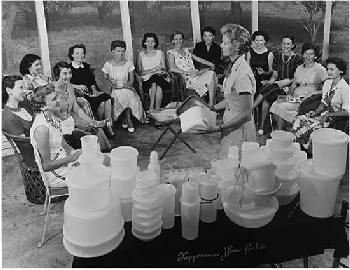 Several neighborhood ladies would gather in the living room, while the Tupperware Lady set up her goodies on card tables.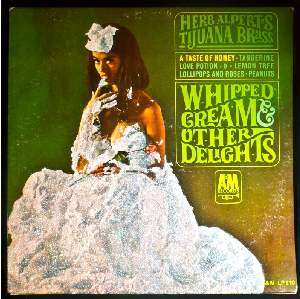 Scott remembers his Mom putting Herb Alpert & the Tijuana Brass on the "hi-fi" for the occasion.

Then the treasures came out; Servolier Bowls, celery and lettuce keepers, citrus peel graters and that all-important "burp" which meant your vegetables were sealed and safe.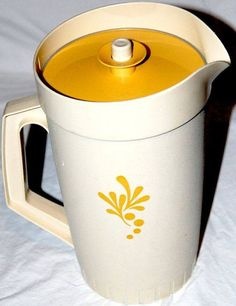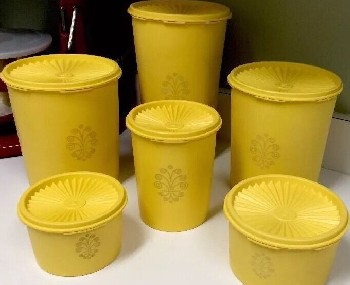 ---

And then there was the excitement when the Jewel Tea Man pulled up in his brown truck! Kinda like you feel today when the UPS man pulls up in his :)
The Jewel Tea Man delivered much more than just tea and coffee, and his visit always brought us kids a-runnin'.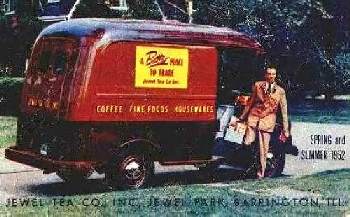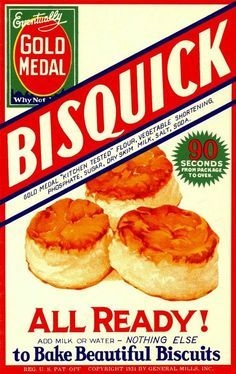 P.S. Did your Mom love Bisquick, too?