Buy Baby Items Online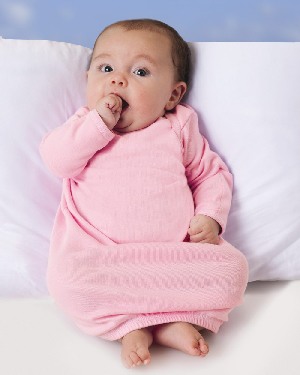 "Make no mistake about why these babies are here - they are here to replace us."
~Jerry Seinfeld
---

We have four children who are now adults and out on their own. As the youngest is now 22, it's been a long time since we worried about baby gear.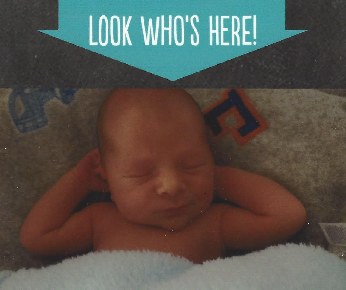 But my friend Lauren has a toddler and recently gave birth to a brand spanking new baby boy. I have picked her brain regarding what she found to be the most useful baby items and gadgets available today.

After doing further research online, it became clear to me that when it comes to evaluating to buy baby items, it's all about common sense. And that's how we came up with this short list you might find helpful when you buy baby items for your child.

We believe that the following items will provide convenience, comfort and/or safety for your little one, and are worth the money. 


---
Buy Baby Items
For Soothing Baby
I had a baby swing 30 years ago, and found it indispensable for comforting my fussy infant. Lauren received one of these Graco Swings at her baby shower and loves it. She explained how easy it was to knock down and stick it in the trunk, while heading for Grandma's house.

Although this model doesn't have all the bells and whistles (you can spend hundreds of dollars on a baby swing), it's very effective, adjustable and portable. Best of all, under $130.


---

Buy Baby Items: Calming Sound Generators

These were not available when I was a young Mom, but apparently today's "noisemakers" in general get high marks for helping soothe crying babies and getting them to sleep.

We do not have personal experience with either one of the sound generators below; but many parents love and recommend them. We chose these two because of their positive reviews and low cost, both under $35:


---
Buy Baby Items
Baby Monitor

Buy Baby Items
When I had "little ones" in the 1980s, the only baby monitor available transmitted sounds only; there was no visual monitoring. It was new-fangled stuff, and I had one! (My love affair with gadgets started long ago).
The monitoring microphone sat in the nursery, and the receiver was a little box I hooked on my pants pocket or belt. This actually worked great, letting me know immediately when baby Nick woke up from his afternoon nap, or became distressed at night.
Nowadays, of course, the technology is amazing. You can now monitor your baby, both sound and visuals, and actually take a peek at her in real time, over the internet, on your smartphone, while you are at work!

There is no doubt in my mind that I would have one of these video baby monitors in a heartbeat!

After much research, we decided to recommend this particular Baby Monitor because of it's amazing features and incredible price!

---

Color parent monitor with a range of 590 feet
Remote internet viewing, remote camera pan and zoom, and 2-way communication with your baby!
Infrared night vision
Nursery temperature readout
Warning: This monitor provides internet viewing and remote features via a free Hubble app on compatible smartphones, tablets, and computers. Read the fine print and make sure the app is compatible with your remote mobile equipment before purchasing.


---

UPDATE!

I recently reviewed our baby section for some more appropriate baby items and came across this award-winning baby monitor, for just a few bucks more than the monitor above.

1080p HD Video Quality
Infrared LEDs for monitoring even in total darkness
Take snapshots or videos with the baby cam.
Two-Way Wireless Talk- comfort your baby even while you're at work.
Take a peek at him from miles away with your smartphone.
Plays lullabies or tells bedtime stories... amazing!
Buy Baby Items
Transporting Baby



There are some really great new products out there to help you transport your baby safely and in style.

And with the Saddle Baby, your child is on top of the world!
Check out these two baby-transport bargains:



One-hand quick fold for easy storage
Reclines so baby can sleep
UV protection of 50+ by the ventilated canopy
Large storage basket

And this is one clever invention:
The SaddleBaby
Hands-Free Shoulder Carrier

Designed for Children 2-5 Years

Safely carry child & other necessities for the day

Great for theme parks, zoos, street fairs, hikes and more…

Create fun and lasting memories with your child!

Buy Baby Items
Feeding
When I discovered these online I was just so envious! I sure wish I had had one when I had toddlers! I was in a serious "Mother Earth" phase then, and so attentive to giving my babies only wholesome foods with no additives or preservatives.
I cooked fresh foods on the stove, then put them into a blender to puree to the proper consistency.... it was quite a chore, and a mess to clean up. (I also breastfed my newborns at a time when it wasn't really the custom).
A device that steams fresh meats, veggies and fruits and then purees them into nutritious, tasty baby food in 15 minutes? Cleanup is reportedly "swift and effortless", with the bowl and rack dishwasher safe. Man, would I have sprung for one of these!

We have not personally used this baby food maker; however the reviews were impressive.


---

Buy Baby Items: A Breast Pump

Why would you need a breast pump?

First of all, you won't need one if you're not working outside your home and are available 24/7 to nurse your baby.
However, if you do have to go back to work and don't want to cut short the healthy benefits and closeness that breastfeeding brings, then you need a pump.
It's a convenient way to allow other caregivers to feed your breast milk to the baby (in a bottle) and the pumping also helps keep your milk production high.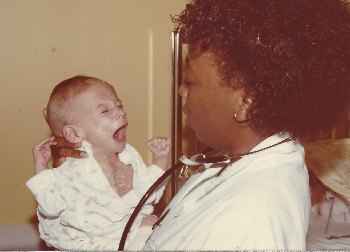 My first baby, Nick, was hospitalized for over a month after he underwent heart surgery at six weeks. Wanting to give him every advantage to recover, I provided the best nutrition possible: breast milk.

Back then, in 1982, the only way I could get my hands on a breast pump was via rental from a medical supply shop. Not only was it expensive, it was a large, noisy contraption!

But I do remember that the actual process of pumping was easy, quick and painless.


Buy Baby Items
My friend with the newborn, Lauren, went back to work at 4 weeks, and definitely needed a breast pump. She is a careful shopper and chose this one. She says it works great, is quiet and portable. She can discreetly pump at work when necessary.

Not only did this item receive all 5-star ratings on Amazon, it costs under $90! 

PS: Nick recovered from his heart surgery and is now 37 years old. :)
---
Buy Baby Items
We Need Your help!
Obviously, this is an extremely short list of recommended baby items, and we would like to expand it.

Could you please contact us and let us know of YOUR favorite baby item or gadget? Simply use the Contact Us link and tell us the name of the item and why you recommend it.
A personal story of how it measured up would be much appreciated, and if selected for inclusion, we would feature your story on the Home Page and in our RSS Feed.
Thanks so much!


---
BUY BABY ITEMS
PRODUCTS NOT RECOMMENDED
During my internet research, I came across a lot of baby items that seemed horribly overpriced, totally unnecessary or high-tech just because it's fashionable.

You've got your smartphone, your smart TV and your smart toothbrush.... why not get smart with your little one? 
I'm sure there are some folks who are so gadget-crazy they'll buy some of these, but not on our recommendation.

---

TempTraq Wearable Smart Thermometer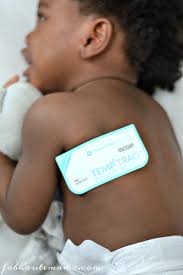 Track your baby's temp 24/7 via your smartphone. This device uses an adhesive pad stuck under your baby's arm to catch and record his body temp.
Why irritate baby's tender skin with an adhesive pad? Do you really need to track her temperature on a continuous basis? They don't even do this in the hospital.

Save the $ and just get an ear thermometer.

---

WhyCry Mini Baby Cry Analyzer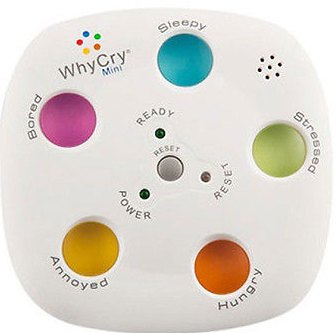 This device supposedly can translate your baby's cries into "needs" (annoyed, bored, sleepy, stressed or hungry).

Don't fall for this one. Too expensive for even a "gag gift".


---

Pipila Portable Pacifier sterilizer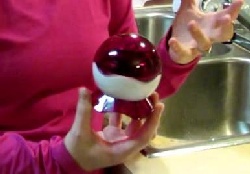 For only $100, the Pipila Portable Pacifier Sterilizer will de-germ baby's pacifier in 3 minutes!
Whoopee! Like you don't already carry enough in your diaper bag.
---

Baby Glgl Smart Baby Bottle Holder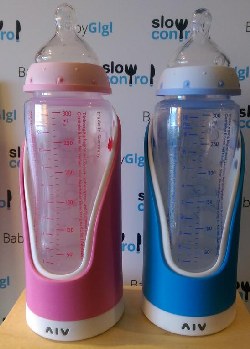 Measures and tracks how much baby drank at each feeding. And an "inclinometer" determines the best angle to hold the bottle to stop baby from taking in air while he drinks. Supposedly anti-colic.
Too pricey! Try burping the baby often while feeding. 

We think this item would collect dust on a shelf after a couple of feedings.


---

Itzbeen Pocket Nanny Baby Care Timer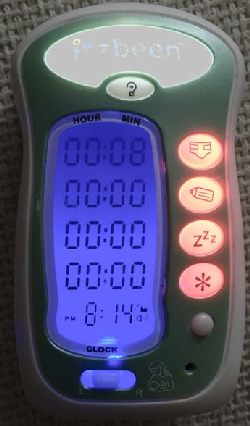 All this is is a multi-channel timer/alarm clock; for tracking diaper changes, baby's sleep, feedings, etc.
Can't remember the last time you changed your baby's diaper? Who cares! If he's wet, change him again... if he's dry, don't!

We predict you are not gonna use this for long. Another dust collector.

---

Nuvo Ritmo Pregnancy Sound System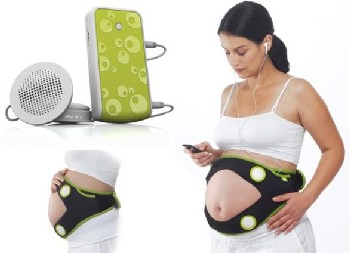 This belt fits around your big pregnant belly and "delivers quality and safe sound to prenatal listeners".

Oh come on.... really?
---

4Moms Origami Stroller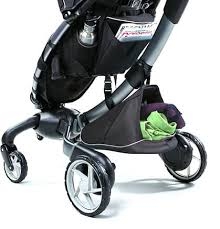 I don't care what it does!

$850 for a stroller?
Put the money in his college fund instead.

---

The iPotty Toilet Trainer with IPad Station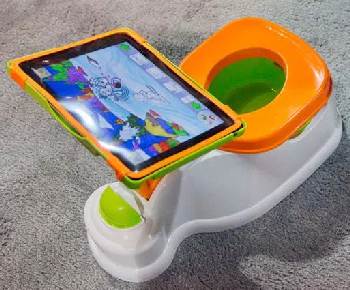 Bad idea
---

Starling Wearable Word Counter from VersaMe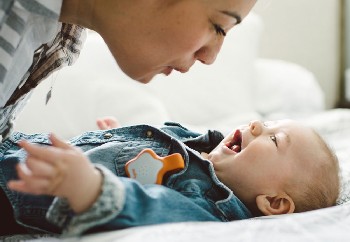 Scientific research (and common sense) tell us that your baby benefits from regular verbal interaction with his caregivers. Well, the inventor of this gadget decided to take it to a stupid level.
The clip-on device counts the number of words your child is hearing each day, and lets you know if you're speaking to her enough. Package includes tips & activities to keep you talking. 

Claims also to "help grow your baby's brain". Say what???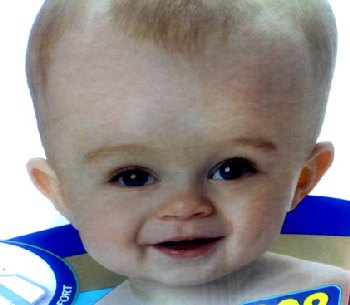 ---

And we saved the most absurd baby item for last...
New Born Fame by Design Boom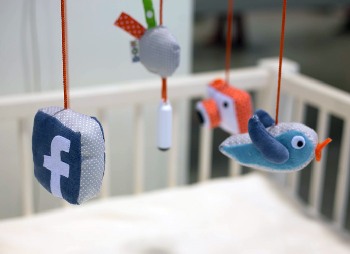 This baby bed mobile sports dangling social-media themed plush toys. When the baby touches them, he activates picture or video-taking, which are then sent to Facebook, Twitter or Instagram thru parent's smartphone.
Imagine... a one-day old infant taking his first Selfie!