Fun at Work
Work & Office Gadgets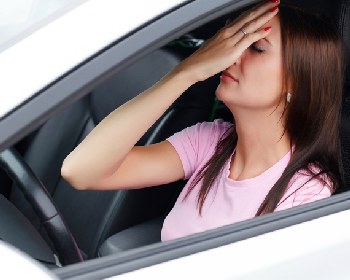 "Your work is going to fill a large part of your life, and the only way to be truly satisfied is to do what you believe is great work. And the only way to do great work is to love what you do. If you haven't found it yet, keep looking. Don't settle. As with all matters of the heart, you'll know when you find it." 

~Steve Jobs


---
Other important pages about workplace furniture, gadgets and electronics:


How do you feel when get to work in the morning?
Okay, you've just pulled into the parking lot at work. How do you feel? 

You spend probably one-third of your time at work. If you're not having any fun there, you should definitely try to change that.
Life is too short to spend a third of it sad and miserable.


---
Fun at Work
The Levity Effect

According to Google, "levity" means fun or frivolity; especially the treatment of a serious matter (work) with humor. 

Over the last two decades, some serious research has established that levity is good for business! And more and more companies are paying attention.

Researchers found that in businesses which embrace humor and promote fun activities for their employees: 
Workers are happier, more creative, more cooperative and loyal to the company


Better work attendance, less turnover, easier recruitment


The bottom line: Production can be significantly increased in a happy and fun work environment


---

Have you ever seen the video of the "Rapping Flight Attendant"? This employee's sense of fun and spontaneity obviously created a plane full of happy passengers; who are more likely to fly with Southwest Airlines the next time.




And this Seattle Fish Market definitely "gets it":


Could you be a force in helping to shape your own kinder, gentler workplace? Why not give it a try? You have nothing to lose and "fun at work" to gain.
If you think your manager might be resistant to the idea, present him or her with a copy of "The Levity Effect: Why it Pays to Lighten Up", by Gostick. This book presents a strong case for promoting humor in the workplace to help increase production.


---

Make a Difference
Fun at Work
Here are some excellent ways to get the "Levity Effect" going and growing at your place of business:

Form a "Fun Committee", preferably made up of members from management as well as the rank-and-file. Rotate members for fresh ideas.


Celebrations & Activities:
*Thirsty Thursdays (workers meet for a cocktail after work)
*Informal Fridays (blue jeans and sneakers)
*Pizza day (management foots the bill for lunch)
*Celebrate employee's birthdays and work anniversaries (cake and ice cream; once per month for large firms)
*Form company sport teams for volleyball, softball, golf tournaments
*Start up some after-hour special interest clubs (quilting, gardening, bridge, ATV or Jeep club)
*Employee outings: picnics, paintball, go karting, miniature golf


Decorate the Workplace:
*Decorate for holidays (give prizes for best decorated department)
*The Cubicle Competition- Allow employees to decorate their own personal workspace


PIMP MY SPACE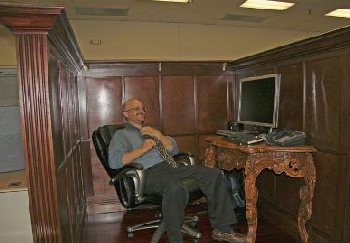 Old World Charm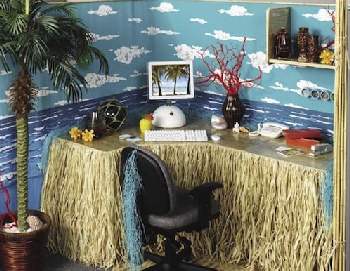 Tropical retreat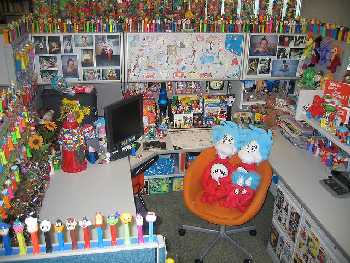 Wonderland- Could you actually work here?
---

Got a coworker on vacation?

PIMP THEIR SPACE!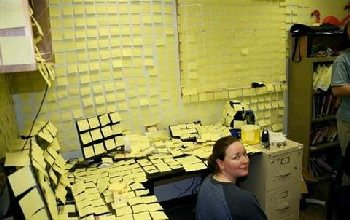 Post-It Hell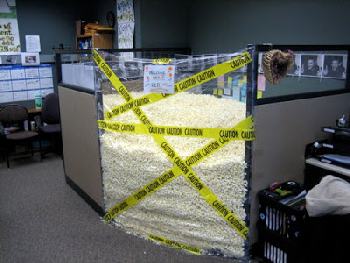 Packed in peanuts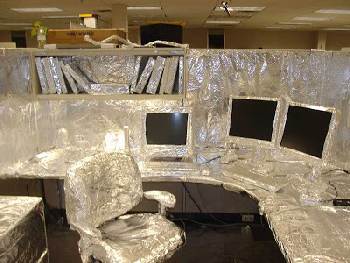 Foiled again!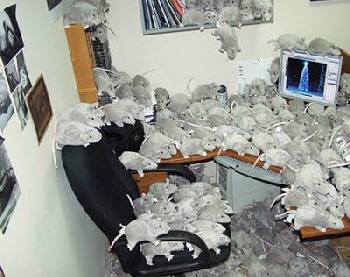 Willard?
---

MORE FUN AT WORK IDEAS
Turn the Break Room into a Fun Room:
*Install a ping-pong table and/or foosball
*Classic games like chess and checkers
*Set out a jigsaw puzzle for everyone to work on during their break
*Nerf guns for stress relief


Lots of Bulletin Boards for posting:
*Riddle of the week (award small prize)
*Collective "Bucket List"
*Employee photos and baby pictures
*Notices of employee awards and milestones
*Funny cartoons, quotes and stories
*For sale by co-worker


Psst! Fun is contagious! Pass it on!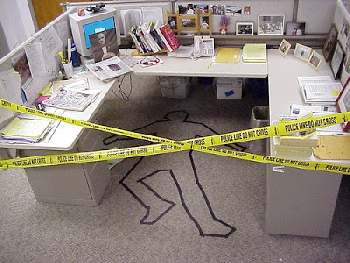 Just the facts, ma'am.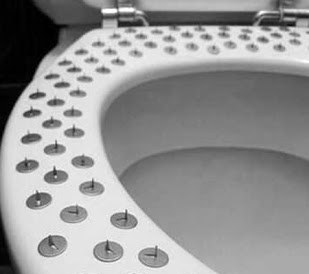 Yikes! Fun at work?
This is good! Zoom in to read the flyer.
Would love to see the "after" picture.

Don't Miss Out!
Bookmark the site and visit us later
Subscribe to our RSS Feed to stay on the cutting edge
AND/OR
Subscribe to "The Happy Gadgeteer", our FREE monthly ezine below:


---