Amazing Computer Gadgets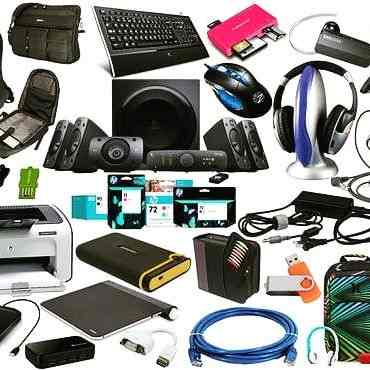 Computer gadgets can make office life much easier.

The computer gadgets presented below have been thoroughly researched and carefully chosen for this page due to their unique functions, labor-saving features... or because they are just plain fun.
For more information or pricing, kindly click on the affiliate links below.
[What are affiliate links?]
---
Traveling light? Take along space-saving holographic mouse and keyboard, without dragging along all the hardware:
          -Laser Projection Mouse 
          -Or a Virtual keyboard & mouse
---
Computer Gadgets
Laser Projection Mouse



Odin Aurora Laser Projection Mouse

This award-winning projection laser mouse turns a flat, smooth surface into a track-pad.
Multi-point controls support a wide range of hand gestures.

Lightweight and compact (less than 2oz.)

Use with any PC, laptop, or tablet which has a USB port.

Useful and cool gadget- makes a great gift!

See it in action below




This is how the Laser Mouse Works:


---

Computer Gadgets
Virtual Keyboard & Mouse



AGS Laser Projection Bluetooth Virtual Keyboard & Mouse

Great for traveling light.
Use with your smartphone and tablets to make keyboarding MUCH easier, without dragging along all that hardware. 
For devices with bluetooth, it supports these operating systems (OPS): Windows, iOS, Android, Mac OS
Standard English QWERTY keyboard 

See the AGS Virtual Keyboard & Mouse in use:


---

Computer Gadgets
Ergonomic Keyboard



Microsoft Sculpt
Ergonomic Keyboard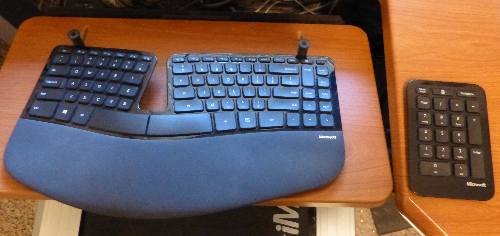 Looks different, doesn't it?
For this keyboard, the designers threw out all the regular, standard stuff and started from scratch. Their mission was to create the most productive, comfortable, yet ergonomically correct keyboard.
We feel that they have succeeded! This is now our favorite desktop keyboard, and we use it on a daily basis. 
These design features position the palms, wrists and forearms at a natural angle for ergonomic support and allow you to type all day with less stress and fatigue.
Split keyset, domed keyboard design
Unique separate number pad 
Cushioned palm rest 

Computer Gadgets
Touchscreen Conversion



Ever wish your laptop was touchscreen like your smartphone and tablet?

Turn it into a touchscreen with this simple computer gadget.



Plug and Touch simple setup. 
Touchscreen use with a finger, glove, paintbrush, stylus 
Gestures supported: Tap, Swipe, Pinch, Zoom, and Rotate
Currently available for Windows 10® notebooks/laptops and Macbook® Air notebooks.


Computer Gadgets
Bluetooth Adapter



Missing out on all the latest computer gadgets because your laptop or desktop doesn't support Bluetooth?

Add Bluetooth capability easily with this Adapter.



Avantree DG40S USB
Bluetooth 4.0 Adapter

Works with Windows 10, 8, 7, Vista or XP operating systems
Connect with Bluetooth headphones, speakers or receivers; printers, projectors, PS4/Xbox One S controller; Bluetooth keyboards & mice; Skype, Google Hangouts and smartphone/tablet data transfer
NOT compatible with Mac, Linux, TV or Car stereo systems.
NOT compatible with Xbox one controller or Nintendo consoles.


Amazon's Bestseller affiliate ad:

Computer Gadgets
VR Developer Bundle



Unleash all your creative skills with this unique Virtual Reality software bundle.
Join a large and active developer community around the globe, and build your own augmented VR experiences. Learn more below:



Leap Motion Universal
VR Developer Bundle
Comes with Controller and VR Developer Mount.


DOES NOT include a VR headset, but it is compatible with Oculus Rift and HTC Vive.


Custom-cut 3M adhesive provides stable adhesion to both curved and flat surfaces.


Compatible with the latest Orion SDK beta. 


Find, play, and submit VR experiences on the Leap Motion Gallery. 


Minimum computer Requirements:
-Windows 7 SP1 64 bit or newer
-Intel Core i5-4590 equivalent or greater
-8GB+ RAM
-3x USB 3.0 port
-NVIDIA GTX 970 / AMD R9 290 equivalent or greater
-Compatible HDMI 1.3 video output

Voice recognition software and a wireless earphone/microphone put you light-years ahead of your office mates. Visit here to get up to speed.   
Exercise while you work! I do!  
Going on a trip? Travel light with these innovative devices.  


---