Household Management

---

This section of our website, Household Management, is one of the biggest and most helpful ones of all. We use and recommend so many devices and gadgets in our home, and explore them all for you in this special section.

Why not have the home of the future today?

We give you a blueprint and lead you step-by-step in creating an incredible automated Smart Home.

Before we get started, you may want to visit this great article; Housekeeping 101. You're sure to pick up several tips and techniques for making traditional housecleaning easier. (Four generations of great housekeepers tell all their secrets.)

Then c'mon back here to learn how to make household management even simpler!

---
Household Management
Gadgets!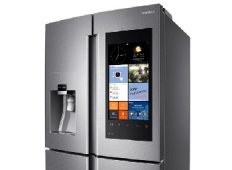 Samsung's Family Hub Smart Fridge

These are the helpful sections you will enjoy in our Household Management section:

Smart Home Ideas- How to design your household robotic system for your specific tastes and needs.

Networking- How to set up an effective wireless home networking system to power it all up.

Household Robots- From what was predicted in 1962 to what's available now, to predictions of the future. This page is fascinating, with a couple of great videos.

We also explore in-depth:

Smart Speaker Household Hubs- Get one of each, like we did.  Alexa Echo and Google Home

Automated floor cleaning devices- We have 'em both and love 'em. The I-robot Mopper & Roomba Robotic Vacuum Cleaner.

Smart Refrigerator- you won't believe this mac-daddy...  Samsung Family Hub Smart Refrigerator.

Smart Beds will change your life.

Lots of cool and labor-saving home gadgets.

The Best home security systems- safe and sound in your own home!

Home Theater & Smart Television- should do and can do!

Hard to wake up? Try this determined little alarm clock.

Talk to the cable guy at your front door monitor. He thinks you're right inside the door... you're actually 20 miles away!
Set up an awesome 3d home movie theater with zero gravity chairs and popcorn for under $1,400.

The best bed in the world (we have it).

The best kitchen trash can in the world (we have it).


Don't Miss Out!
Bookmark the site and visit us later
Subscribe to our RSS Feed to stay on the cutting edge
AND/OR
Subscribe to "The Happy Gadgeteer", our FREE occasional ezine below:


---