Virtual Reality Games:
Virtual Reality 101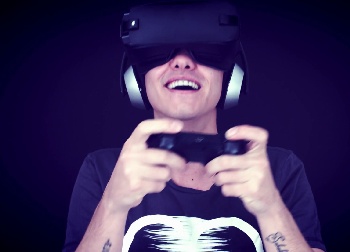 My guess is that you arrived here because you are interested in Virtual Reality (VR) gaming. But aren't you tired of all the hype and hoopla surrounding this great new technology? 
We strip Virtual Reality down to it's bare bones so you can understand what it is, what you need to get started, and we also recommend some fun and interesting VR games and apps for you to try.
Ready? Here you go... 

---
Virtual Reality Games
What is Virtual Reality?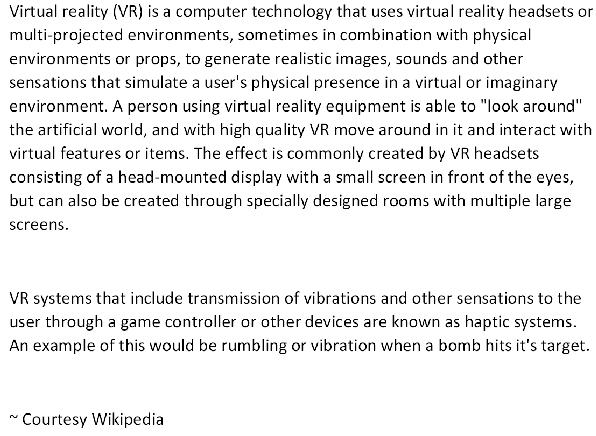 Now, on a practical level, VR is best experienced by wearing a special high-tech VR headset (Goggle-like glasses) + headphones + processor unit. All are attached to a computer (or PlayStation console) with wires or wirelessly.

Special VR hand controllers are recommended to convert your real-time commands into your gaming actions in the VR setting. (Although many of the VR games can be played with standard gaming joypads).
Some games also recommend or require pricey peripheral equipment like VR gloves, guns, foot-pads or treadmills.


---
Virtual Reality Games
The Big 3 Players in VR Gaming 
& Necessary Equipment for Each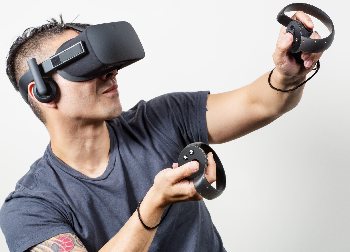 Oculus Rift equipment
Oculus Rift (High-end; requires a PC with minimum requirements*)
HTC Vive (High-end; requires a PC with minimum requirements**)

Sony PlayStation VR (Mid-range; requires PlayStation 4 or PlayStation 4 Pro)


---
Virtual Reality Games
Oculus Rift


One of the two "Big Boys", this is the lower-priced VR Kit. Some reviewers claim the Rift is the best VR system available today, while others favor the HTC Vive below. But all agree that Oculus Rift is one of the finest.

The bundle below is great because it includes two of the "game-changing" Oculus Touch Controllers. Also included: Headset with built-in headphones and mic, 2 movement sensors.



Oculus Rift + Touch Virtual Reality System

Good honest reviews and great prices! Amazon affiliate link provided at no added cost to you. Read all the fine print and make sure your computer is up to snuff before ordering.
*Minimum Recommended PC Specs for Oculus Rift:

Processor: Intel i3-6100 or AMD FX4350 or better
Graphics: NVIDIA GTX 1050Ti/AMD Radeon RX 470 or greater
Memory: 8GB RAM or more
Video output: Compatible HDMI 1.3 or newer
USB: 1x USB 3.0, 2x USB 2.0 
Operating system: Windows 8 or newer

Virtual Reality Games
HTC Vive


The HTC Vive is arguably the best home-version VR gaming system on the market; but it is also the most expensive. Use it seated or up and about in a 15' X 15' Safe Gaming Zone. The experience is simply awesome!
This bundle includes the headset, two wireless hand-controllers, two base stations and a link box to connect it to your computer. A highly recommended add-on is the Deluxe Audio Strap, which adds earphones to your headset. 


HTC VIVE - Virtual Reality System

Read all the fine print and make sure your computer is sufficient before ordering.
** Minimum Recommended PC Specs for HTC Vive:
Processor: Intel™ Core™ i5-4590 or AMD FX™ 8350 or better
Graphics: NVIDIA GeForce™ GTX 1060 or AMD Radeon™ RX 480 or better
Memory: 4GB RAM or more
Video output: 1x HDMI 1.4 port, or DisplayPort 1.2 or newer
USB: 1x USB 2.0 port or newer
Operating system: Windows™ 7 SP1, Windows™ 8.1 or later or Windows™ 10

Virtual Reality Games
PlayStation VR


PlayStation is currently the only console system offering a VR package. The PlayStation VR (PSVR) works in conjunction with either PlayStation 4 or PlayStation 4 Pro console.
Although it does not have quite the technological power of the high-end Oculus or Vive, the PSVR nonetheless delivers a "full VR" experience at a mid-range price. It will still "blow you away"!

PlayStation VR uses the PS4's standard console controller, (the DualShock 4). 

PlayStation VR' has a "Social Screen" feature, where your guests get to see what you are seeing through your headset, displayed on the connected TV.

To set up your PSVR, you will need PlayStation 4 or PlayStation 4 Pro


PLUS: PSVR Bundle (headset, processor unit, earphones and cables)


PLUS: PlayStation 4 Camera

PlayStation VR- Doom Bundle

The Amazon affiliate link below leads you to a convenient bundle with the PSVR headset, required camera and a game, Doom VR, to get you started on your new adventure.


Virtual Reality Games
Budget VR headsets

The budget VR systems work with your Smartphone.
The Samsung Gear and Google VR kits work by clipping your Smartphone into the front of the VR headset.

Samsung Gear VR (Requires Samsung's S6 and S7 smartphone series)
Google Daydream (works with various Android phones) 
Google Cardboard (works with various Android and iOS Smartphones)


---
Virtual Reality Games
Samsung Gear VR 
Requires Samsung's S6 or S7 series Smartphone. 
For Samsung cell phone owners, the Gear VR is an affordable and easy way to explore virtual reality.

Samsung Gear VR w/Controller (2017)
(US Version w/ Warranty)

Amazon affiliate link below for more info and reviews:

---
Virtual Reality Games
Google Cardboard & Daydream


Google has created an intriguing but easy and affordable introduction into the world of VR. These systems have lots of fun and interactive low-cost games and apps to try. 
Tip: Serious gamers will be more satisfied with one of the Big 3 VR systems.
Google Cardboard- Yep, this headset is actually made of cardboard, with a price tag to match. It works with most Android phones and iPhones.
Google's Daydream View is a step above the Cardboard. It is made of fabric rather than cardboard, and comes with a motion controller to transfer your gestures into the apps and games. 

Which Smartphones work with Daydream View? 

Google Pixel, Pixel XL, Pixel 2, Pixel 2 XL, Samsung Galaxy S8, Galaxy S8 Plus, Galaxy Note 8, LG V30, Moto Z Force, Moto Z2 Force, Asus Zenfone AR, Huawei Mate 9 Pro, and ZTE Axon 7.
The Daydream app must be installed on your Smartphone in order for the VR system to work.

We have a Google Daydream View Headset and highly recommend it as a low-cost introduction to the VR  experience. Read about our experience with the Daydream and some helpful advice.

Google Cardboard Pro VR Kit with Straps

---

Google Daydream View - VR Headset

---
Virtual Reality Games
Popular VR Games

Popular Oculus Rift Virtual Reality Games

Chronos: Gorgeous graphics; action/adventure RPG with plenty of thrills.
Minecraft VR: The blocky building game suits VR well.
Elite Dangerous: Hardcore online space simulation.
Eve Valkyrie: Intergalactic dogfighting; "May the force be with you".
The Climb: Free-climb mountains around the world; with all of the thrills but none of the risk.
Jaunt VR: Oculus' "sample pack" several made-for-VR videos, from documentaries to music.
Apollo 11 VR Experience: Land on the moon with Neil Armstrong. "That's one small step..."
Time Machine VR: Travel beneath the sea during the age of the dinosaurs.
Project Cars: Take your dream car for a high-speed spin on 100+ unique racetracks.
Adrift: You are an astronaut, lost in space. Simply amazing.
Defense Grid 2: Great tower defense game greatly enhanced by VR.
Kittypocalypse: Keep waves of evil alien kitties from taking over Planet Earth.


---

Popular HTC Vive Virtual Reality Games 
Job Simulator: A big cult hit; Robots take over jobs in 2050. 
Elite Dangerous: Epic space game with intense space combat and plenty of room for strategic planning.
Cosmic Trip: Create strategies to help colonize alien planets.
The Brookhaven Experiment: Survive tons of monsters and scares in this VR thriller.
Fantastic Contraption: This machine-building puzzle game is perfect in 3D and VR.
Tilt Brush: Joyfully create trippy paintings in Neon Colors.
Apollo 11 VR: Go on the moon landing mission with Neil and the boys.
Selfie Tennis: Play against yourself... and win all the time.
Evil Robot Traffic Jam: Save the planet by defeating the evil robots.
Subnautica: You are the lone survivor of a crash-landing on an alien underwater planet.
HoloBall: Super-action sports game.


---

Popular PlayStation Virtual Reality Games
Rez Infinite: Brilliant remake of futuristic funky shoot 'em up.
Tumble VR: Clever puzzle game that involves piling up blocks.
EVE Valkyrie: This space dogfighter game was specifically made for VR.
Batman: Arkham VR: You are Batman, using detective work and some great gadgets to keep Gotham safe.
Superhypercube: Addictive puzzle game with stunning, trippy graphics.
Thumper: Racing, shooting and rhythm-action combine in a psychedelic experience.
Headmaster: "Use your head" to complete a series of delightful soccer mini-games.
Driveclub VR: Slick racing game; pick from 80 cars and 100+ speedways.
Resident Evil 7: BioHazard- Turn the house lights low and scare the crap out of yourself.
The Inpatient: Dark & creepy change of pace.


---

Popular Samsung Gear VR apps and games
Land's End: Eerie exploration game.
Minecraft Gear VR: Explore the blocky world you create, in Creative or Survival modes.
Smash Hit: Inventive rhythm-puzzle game.
Heroes of the Seven Seas: Become a swashbuckling pirate on your own tricked-out ship.
Anshar Wars 2: Hands-free first-person shooter game.
Bazaar: Collect stolen relics as you drive your magic carpet with eye movements.
Tomb of the Golems: Engage in pitched battles as you solve some great puzzles.
Disc League: Endless strategy possibilities help you maneuver this fast-paced disc war.
Super Island God: Quirky civilization-building games with Easter Eggs and Special Coins.
Space Dragon: Stunning graphics keep you glued to this psychedelic space combat game.


---

What to Try with Google Cardboard and Daydream
There are a growing number of apps available on the Android and iOS app stores, from 360-photography to games and documentaries. 
10 Google Cardboard apps and games to try... it's not just games.

Cardboard: Google's own collection of VR demos for Cardboard is a great place to start.
Bohemian Rhapsody Experience: Google teamed up with Queen for this fun VR music video
NYT VR: The New York Times' take on VR, with video news reports.
Star Wars: Official app includes the story of Jakku Spy.
Sisters: One of the scariest VR horror apps
Cardboard Camera: Shoot 360-degree photos with sound on your Smartphone, then relive them in your headset.
YouTube: The standard YouTube app, but you can watch its 360 and VR videos come to life through Cardboard.
InMind VR: Clever medical arcade adventure lets you travel into a patient's brain.
More free VR offerings are listed here.


---