Google
Daydream View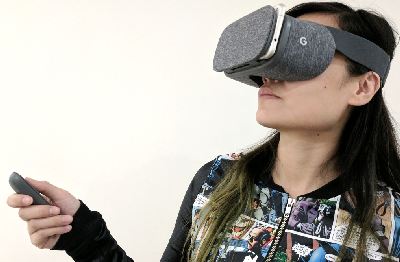 We recommend the Google Daydream View as an excellent (and inexpensive) introduction to the world of Virtual Reality.
UPDATE!
We recently received our own Google Daydream VR Headset as a gift from my brother. It's a very simple device and lots of fun for exploring some unique and entertaining VR-360° films.



Google Daydream View
VR Headset
Ever-growing collection of fascinating films, apps and games

Experience concerts, sports and much more in full 360 degree panoramic view.

Lightweight, durable headset is made from soft, breathable fabric to help you stay comfortable during use. 





I had initially planned to make a video showing the Daydream in action, but quickly realized there was no way to show you in an Internet video what I could see in VR*.

You will just have to get your own and experience it for yourself. So no video :(
What I will do is give you a few tips on how to set this thing up, and where you can find plenty of free VR films to try out.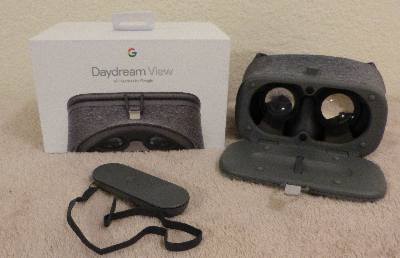 Our new Daydream View
---

Google Daydream View
Setting Up


1. First charge up the controller.
My Google Pixel phone charging cord worked perfectly for this; it has a USB 3.1 Type-C plug. If your Smartphone cord doesn't have that plug, you'll have to order one. This model plugs from a regular USB port to the Daydream Controller:


2. Install these apps on your smartphone first (we used Google Play for this):
Google Daydream
Netflix VR (if you are a Netflix subscriber)
YouTube VR
Google Street View
Plex VR
Within (for Daydream)
Google Photos
Relay Cars 8** (if desired; download takes up quite a bit of room; might be worth it if you are in the market for a new car.)

3. Open the Daydream App on your smartphone and then insert the phone into the headset, buttons up. The App then actually walks you through the easy setup. 
4. Take the time to go through the quick intro tutorial, so you will know how to use all three buttons on the controller for multiple actions.
5. You will find all the VR apps you installed previously, in the "Library".
6. Lastly, open and enjoy the many VR experiences available NOW. We found YouTube VR by far the best source for free VR goodies.


---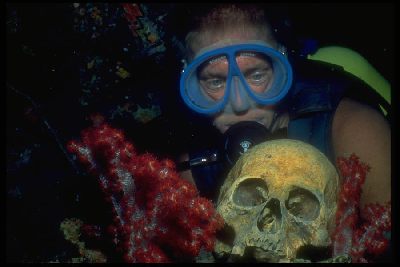 Ship Graveyard- WWII

Try some of these YouTube VR offerings:
InMind VR 
Odyssey VR: A Spacetime Trip
Ship Cemetery; Truk Lagoon
Waymo 360
Google Spotlight: HELP
Surrounded By Dominoes
Notes on Blindness
The Pull 360
Go-Pro: Land, Sea & Air
NY Times Daily- Multiple films
National Geographic- Multiple films


Whereas YouTube VR has tons of content created in VR mode, Netflix does not. It simply lets you view regular movies thru your VR headset, creating a private and intimate sensory experience.

It's kind of like a miniature version of Imax Theater, broadcasting just for you!
You can even watch a movie on Netflix VR while lying down in bed! Just use the "Void Theater" setting. Many movies are worth watching in VR, but some make better use of the medium than others.

Just dive in and you'll soon find your own favorite Netflix movies on VR.



WARNINGS
---

#1 You may experience some nausea from VR. I did, at first, but I went a little crazy, watching several videos back-to-back. Don't do that! Start out with short sessions and build up.

Now I guess my brain has acclimated to VR. I can watch a full length movie without being sick to my stomach at all!
Which brings us to Warning #2:
The mask can get uncomfortable and/or hot during long viewing sessions. Take a break every now and then.

Maybe not what you want to hear, but that's the reality of Virtual Reality!



* Got Chromecast?
You can pair up the Daydream View headset with Chromecast to send what you are seeing through the headset straight to a television. In this way, you can share your VR experience with others.

The Daydream app and your Chromecast must be on the same Wi-Fi network and Google Home app must also be installed. 
To broadcast, open Google Home, select Cast, and then choose the TV to which you want to send the VR images.


---

**Relay Cars.com

RelayCars8 is probably the best auto VR software on the Web, and it's free. You can pick out a car you are interested in, and Relay Cars puts you in the driver's seat!
You can explore the interior in full 360° stereoscopic 3D, then take it for a test drive!