Best Cell Phone Plans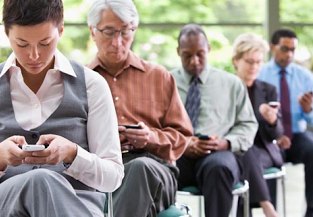 Smartphones! Smartphones! They're everywhere....... just take a look around you.  

Smartphones have quickly morphed in the last few years from nerdy gadget to consumer necessity. You might say the smartphone has "come of age".

As you search for your new phone, you might think you'll be getting a phone that can perform other functions, like take pictures, send text messages and manage your calendar. 

But what you're really getting is a tiny computer that can also make phone calls. ;)
Thats right! All those folks are actually carrying around their very own private mini-computer, not just a phone.
Smartphones are amazing and can be mesmerizing.
Some of the major functions that today's smartphones can perform:
Voice calling
Texting (Short Message Service or SMS)
Internet access/web browsing (called Data by carriers)
Receiving and sending emails
High-quality camera for stills and video
Instant access to social media
Streaming of music and movies
Gaming
It's incredible that such a tiny device can do all of the above and still slip into your pocket! 

You know you want one and need one... But how to get started?
Keep on reading!


---
Best Cell Phone Plans 
Choosing the Right Carrier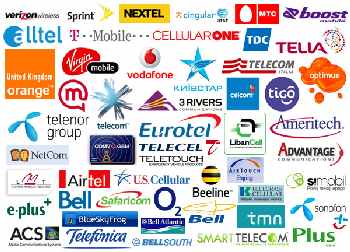 Honestly, you need to decide which cellphone carrier to sign up with before you start considering which phone to buy. Sometimes the carrier you choose limits the type of phone you can use.
And there might not be a choice of carrier for you. You may be limited to a few or even a single carrier that provides consistent coverage in your location. That's what happened to us.

Just ask around. Friends, neighbors, anyone who lives nearby probably has helpful information regarding the best choice of cellular carrier. If you live in an urban area, you can probably take your pick of the pack. 

Best Cell Phone Plans
We will say that the most popular carriers with the greatest coverage areas (but generally the most expensive) are:

The Big Three:

Verizon- best coverage

AT&T- almost as much coverage

Sprint- Much smaller coverage area; more urban
Smaller carriers: T-Mobile, Cingular, US Cellular, Alltel and Qwest

Keep in mind that what really matters is that the carrier you are considering covers everywhere you are likely to use your phone.
If you don't travel much, coverage maps won't be near as important. But if you vacation every summer in the mountains, ideally that location is within your carrier's coverage area too.

Take your time in making this selection, as you will probably be living with your carrier for years. Compare  pricing and plan features, as well as cellular coverage data. There are some true bargains out there with a number of off-brand but solid cell providers. 

Note: When you have settled on a probable carrier candidate, take the time to read the terms and all the fine print before signing up. Watch particularly for hidden fees tacked onto the quoted price, and penalties for leaving the plan.

---

Best Cell Phone Plans
These are questions you should ask while comparing cell phone carriers:

How much does it cost per month for voice, text and data?
What are the usage limits for each service?
How much do you pay if you exceed your limit?
What is the added cost per line (different phone number, same account)?
What are all the added fees going to total per month (line usage, taxes and fees)?
What are the terms of the contract and how long you have to commit to it?



To help make this process easier, we found a very cool website which compares dozens of "best cell phone plans" and even provides coverage maps that drill down to your exact address! 
This cell plan search engine covers the US, Canada, Mexico, UK and Australia: WhistleOut.
[Note: We get no compensation for this recommendation].


---
Best Cell Phone Plans 
Choosing the Best Phone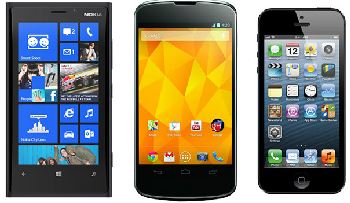 You may have already decided on a type of smart phone due to family loyalty, opinions from friends, or your familiarity with other devices from the same manufacturer.
Best Cell Phone Plans
There are basically three types of smartphone on the market today:

Android (by Google)
iOS/iPhone (by Apple)
Windows (by Microsoft)(Do not buy)


Remember the BlackBerry? They crumbled under the awesome competition and quit making phones in 2016. And Windows is going the same route... we recommend an Android instead.


EXTRA CREDIT

Are you a little bit confused about 3G, 4G, LTE, hotspots and Wi-Fi? Get up to speed with this quick and simple guide: 3G 4G & Wi-fi.

Beware that choosing a smartphone can be very confusing; what with GSM/CDMA features of the phones, SIM cards, and carrier requirements. There is also the issue of locked versus unlocked cell phones. 
This short page quickly makes it all crystal-clear: Cell Phones Unlocked.

Why not read these two pages then come back here; we'll wait for you...



Best Cell Phone Plans

Below are some thoughts on these two very different smartphone systems.

TIP:
No matter which smartphone you decide on, there are two items you need to order immediately:
A high-quality case to protect it.

A dedicated car phone charger, so you'll always have power on the road.
We bought this to protect our Pixel 2.


---
Best Cell Phone Plans
iPhone Smartphones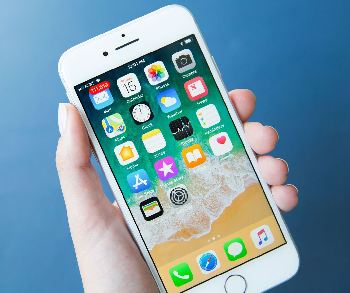 Apple iPhone 8
If you are an Apple fan, familiar with iPods and iPads, this may factor in to your decision. 

Keep in mind that you can ONLY use certain iPhone models on just a few carriers, such as AT&T and T-mobile. So be very careful that your desired iPhone is compatible with your chosen carrier. Read the find print and confirm by calling your carrier.

The iTunes App Store contains over half a million apps, in many different categories. IPhone also has a sassy Voice Assistant called Siri, who follows voice commands and answers questions.

Although there are millions of people who swear by their iPhones; after careful study, we feel that the iPhone is a little harder to learn than the 'Droids. More screens to go through to get where you want to go. 

Apple does not put out a "line" of different smartphone models; they manufacture all their phones. 

The latest iPhone models are:

iPhone XR- Best overall value for the latest
iPhone XS- Going first class, but paying for it
iPhone8- Best bang for your buck
Amazon affiliate links below, if you click on them, you pay not one cent more:

---

Best Cell Phone Plans
Android Smartphones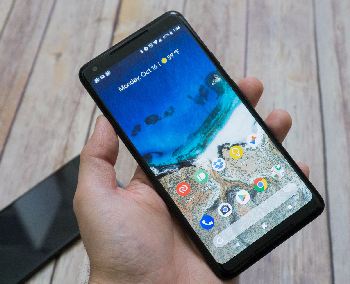 Google Pixel 2
Next is Google's Android. Android phones can be used on all carriers. The Android OS (Operating System) synchs seamlessly with all of Googles services, like Google Calendar, Google Maps, Google Cloud, etc.
The Android user interface is simple and sleek. We personally own a Google pixel 2 and just love it. The Google Assistant is awesome.

A feature-rich smartphone that was very simple to learn. Google also emailed us a series of "learning videos", one every couple of days, which we found very helpful.

Android phones offer the widest range of carriers, phone models and prices, customizable features and plenty of Apps. The major Android phones on the market are manufactured by Google, Motorola, Samsung, OnePlus, LG, and Sony.
The latest most recommended Android phones include:

Google Pixel 3 (Our Google Pixel 2 featured below) 
Samsung Galaxy S10- Reviewers love this one
OnePlus 7 Pro- Surprising new favorite
Motorola Moto G7 Power- Best value Android


Click on the Amazon affiliate links below to learn all about these phones and read tons of honest reviews:


---
Best Cell Phone Plans
Our Smartphone

Google Pixel 2 
This is the phone we got. We just love it... simple to use but feature-rich and incredibly versatile!

The Pixel 2 features:
Outstanding camera
Decent stereo sound
Fingerprint access
Google Assistant


One of the first things we did was buy a car cell phone charger, so we always have power on the road. Tons for sale online, eBay, etc. Just make sure it works for your phone model.
And this is the protective case we got for it.
Speck Presidio Case:

Return to Smartphones 101. 
Now how about a little fun? 50 Amazing things you can do with your Smartphone.