Smart Beds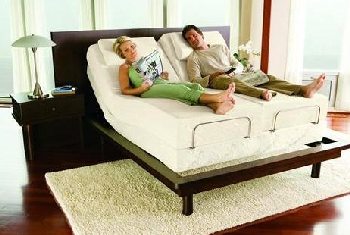 Tempur-Pedic adjustable bed

Four years ago, we spent 5,000 dollars on a bed. Shocked?

Well, we have never looked back, and I often say we have the "Cadillac of all Beds". I can't tell you how often we have woken up in the morning, looked across at each other and said "this is a cool bed." It's that good.

Imagine a hospital bed, where you can raise the head of the bed and the knee gatch separately. Split this into two Half-kings with separate controls, and then top it with the most luxurious, yet supportive, memory foam mattress you ever laid on.
This bed is called the Tempur-Pedic, and it is worth every penny. Technically, I guess you couldn't say the Tempur-Pedic is a "smart" bed*, as it really doesn't perform any intuitive functions. We just figure we were smart to buy it.  :)

* The Sleep Number 360 bed in Section 2 below might be considered a true Smart Bed.]

---
Smart Beds
Tempur-Pedic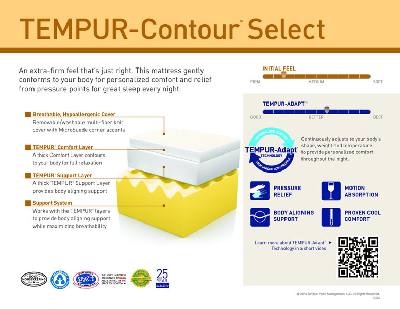 Tempur-Pedic states that it's TEMPUR® mattress material is not typical memory foam, but instead is a proprietary formulation which "responds to your body's temperature, weight and shape" for personalized comfort and support.

Reportedly, the TEMPUR material minimizes pressure points for impressive comfort. It also doesn't permit significant motion transfer, so your sleep partner's movement doesn't disturb you.

We say this mattress sucks you into a soft and comfy cocoon, yet remains very supportive. We both have "bad backs", and this bed made a huge difference for us; it was a godsend.

Go for the King-sized split adjustable bed, like we did. It is actually two twin extra-longs hooked together. Our package included:

Leggett & Platt adjustable beds; 2 twin XL
Tempur-Pedic ContourSelect Mattresses; 2 Twin XL


---

For honest reviews and ordering information, kindly use our Amazon Affiliate links below. You pay not a penny more for your bed, and we receive a small referral fee to help support the site.


Tempur-Pedic Cloud Prima 
Twin-XL

10" thick mattress provides supports and even body weight distribution. 
Unique TEMPUR-Feel memory foam
10-year limited warranty
Order 2 for split-king setup
---

Leggett and Platt S Cape+ Adjustable Bed Base Twin XL

Massage mode; Snore button
Wireless remote
10 year limited Warranty 
Order 2 for split-king setup
Smart Beds
Sleep Number 360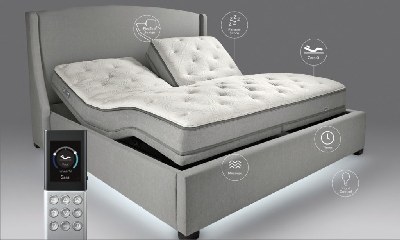 The other bed we are including here in our Smart Beds page caught our eye because of the many favorable reviews posted online.

This is also an adjustable, memory foam bed with other advanced features, most notably: bed-based sleep evaluation, and seamless integration with Smartphone apps.

The basis of all "Sleep Number" Beds is adjustable firmness or softness, chosen by number, each side capable of customized settings. Support is provided by an "air mattress" inflated to the chosen number.
In the 360 series, the air mattress is topped by 5" of memory foam for comfort.

According to the Sleep Number website, the Sleep Number 360™ smart bed uses Responsive Air™ technology to sense your movements, to which it automatically adjusts firmness, comfort and support.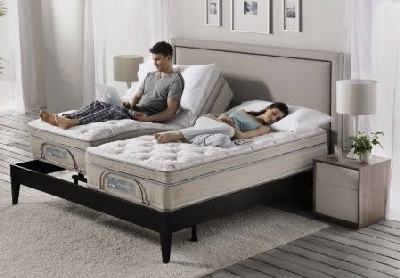 The FlexFit™ adjustable base also allows individual comfort. It even senses snoring and raises the head of that sleeper slightly, to help stop it.
A Zero Gravity setting reduces pressure points, giving you a comfy weightless feeling. 

SleepIQ® technology inside the bed tracks how well you sleep each night, issuing a SleepIQ® score in the morning.

You can buy this deluxe Smart Bed either at the Sleep Number website or at a local upscale Sleep Shop in your area.
The Sleep Number 360- i7 Model + Flexfit 2 base looks to us like the best buy in this Smart Bed combination series. At first you may think it's reasonably priced, but keep in mind the 360 mattress price does not include the Flexfit adjustable base.
Here's a short informational video on the Sleep Number 360 Bed: 



MONTHLY CONTEST- WIN A PRIZE!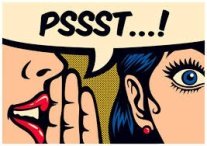 Do you love gadgets as much as we do?

Then tell us about your favorite(s)... gadgets which you found very interesting, lots of fun, life-changing or super useful.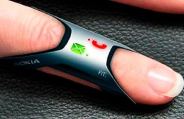 If your submission is judged the best one of the month, your post will be featured on our home page and you will win a prize valued at over $30!


So put your thinking cap on and tell us all about YOUR favorite gadget! You might just be the next winner!