Ideal Refrigerator
Samsung with Family Hub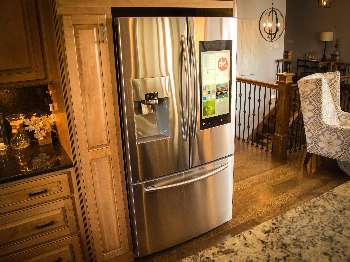 The Samsung RF265BEAESR w/Family Hub

This is a fun page. For us at this time, it's just a dream, but fun to take a peek at the most modern Smart Refrigerator available, with all the most advanced technology, gadgets and bells and whistles.
Although we spent over $5K on our Smart Bed, and believe it was money well spent, we just can't justify 2-grand+ on a refrigerator. Perhaps you can. 

When these Samsung Family Hub Refrigerators first came out a couple years ago, they carried a whopping $6,000 price tag! And the high-end ones still cost over 5 grand. 

But we are happy to report that Samsung has "smartened up" themselves, and now offer an attractive French Door Smart Refrigerator for around $2,000!. So maybe we'll get a Family Hub ideal refrigerator when our current fridge bites the dust!

Whether a Samsung Family Hub Refrigerator is in your future or not, it's fun to take a look and to dream...


---
Ideal Refrigerator
Samsung Family Hub
What's So Special?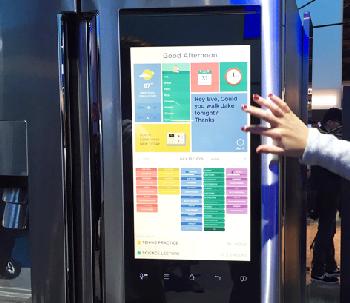 I guess you could say the features that set this refrigerator apart from a normal upscale French-door model are the following:
Large Touchscreen electronic family organizing center (the Star of the Show)
Electronics easily upgradable for future software improvements.
Cameras which snap inventory-watching pics of the inside of the fridge, remotely viewable on smartphone
"Cool Select Pantry" drawer and shelves that slide in and fold up to make room for tall items
The "biggie" is the touchscreen Family Hub. You can do the following from this door mounted display:
View inside the fridge on the touchscreen, or on your smartphone via app
Fridge Manager: to set fridge temperature and settings
Display photos, memos, to-do lists and family calendars
Whiteboard app for drawing a quick doodle or writing a note 
Browse recipes from Allrecipes & Club des Chefs; instructional cooking videos
Set cooking timers
Create shopping lists 
Order groceries from Instacart or Groceries by MasterCard
Mirror video from Samsung smart TVs
Stream music and podcasts from Pandora, Spotify and TuneIn
Browse the web


---
Ideal Refrigerator
Samsung Family Hub
PROS & CONS

PROS:

All of the same smart features of the high-end Family Hub Models
Surprisingly affordable at $2,000; which many 3-French Door Fridges without the hub cost
Clever drag-and-drop food expiration trackers
CONS:
A little flimsier, not as luxurious look and feel of the more expensive models
No separate "Flex Zone" fridge which comes on the 4-door models
24 cu. ft. size might be on the small side for a large family.
Software not compatible with SmartThings, Alexa or Google
---

Here's a short but sweet video on this particular model of the Samsung Family Hub Refrigerator


You can read more about this awesome fridge thru our Amazon Affiliate Link below.