Budget Travel Guide
Be Your Own Travel Agent!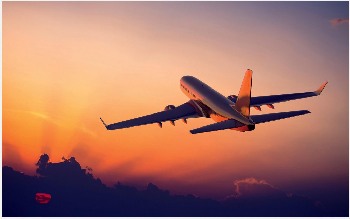 Below we outline a super method we have devised for finding the cheapest airline tickets (with some tips we learned from our travel agent friend).
Follow the simple steps in this Budget Travel Guide, and you'll be pleasantly surprised when it comes time to pay up.


---
Budget Travel Guide
Just the facts, ma'am.

How to get started?
First, hold a family meeting and put down in writing the "when" and "where" of your planned trip.
When do you plan to travel? It's best to be flexible if you're looking for a bargain. Get out a calendar and write down a range of acceptable dates, while keeping these points in mind:
Try to avoid weekend travel. The cheapest flights can be found on a Tuesday or Wednesday. You're on vacation! Why not schedule it from Wednesday to Wednesday instead of weekends?


Consider traveling off-season, and avoid holidays like the plague. Find out when "high season" is for the destination you have in mind, and avoid that. Some locations are busiest during the summer months, when kids are out of school. Beach resort areas like Florida are jammed to capacity during the winter months, for obvious reasons.

Off-season is cheapest, for air tickets, car rental and hotels. A basic budget travel guide rule.


Keep an open mind as far as flight times. Early morning or late night at a quieter airport can be a lot cheaper (and less stressful).


Do you insist on a non-stop flight? Decide now, while remembering that layover flights may save you some money.


---
Budget Travel Guide
Surfin' for Cheaper Tickets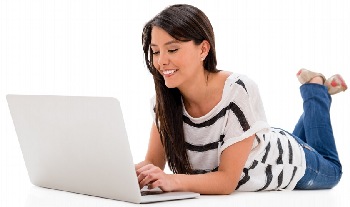 Time to go online with our Budget Travel Guide.
First you need to determine all the airports within "doable" range from your home and then your destination. Don't just assume the biggest airport means the cheapest tickets. 


The best way to narrow down airports is to go to Google Flights and click on the map. Then zoom in repeatedy on the origin and destination areas to find possible airports.

Write them down and look up the official 3-letter airport code for each, to make your search easier and prevent errors. (Some cities have more than one airport; be careful.) To find the airport codes, click here. 


Next, look for tickets at Momondo. This is a great travel search engine which includes all the small budget airlines as well as large carriers. Travel Agents use this site.

Big websites like Kayak, Expedia, or Orbitz don't even go there, so you won't find the cheapest fares from them.


On Momondo, punch in your tentative dates and airports, and only search as one adult at first. (Multiple tickets can cost more). You can buy your family's tickets on the same flight separately, after you have determined there are enough empty seats for you all. 


Give it a whirl and see what you can find. It pays to use both Momondo and this site:
Then double check the results on Google Flights.


Found some attractive fares? Read the fine print before offering up your credit card. Some of the budget airlines tack on all sorts of fees, and when you add them all up, they can be more expensive than the major airlines! 
Can you believe this?
We recently found "discount tickets" on budget carrier Allegiant Air for a domestic flight. Airfare of only $311 quickly ballooned to a grand total of $582, almost double! Slick add-ons included:
Fed excise tax 
Segment fees (?)
PFC (???)
Sept 11 Security Fee (!) 
Fees for one carry-on bag each 
Carrier Usage Charge  
Seat Selection Fee (yep, you read right, we would have to pay for the privilege of picking our seats in advance!)

Can you say "Bait and Switch"?


When you've decided which tickets you want, read the fine print again, then go on and buy them. Even if it means multiple transactions, one for each ticket. A PIA maybe, but worth the savings. You can then reserve seats so that your family sits together.


There, bought some great cheap tickets? Are you done now? Nope. You have 24 hours to find a cheaper price! Thanks to the US D.O.T., there is a 24-hour grace period during which a consumer can request a full refund on airplane tickets.

So get to it... Surf and search for a better deal while you can. Might or might not pay off; it often does.



---
Budget Travel Guide
Other Savings on Air Travel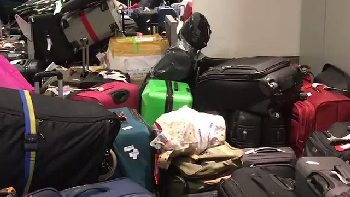 Beating Outrageous Baggage Fees
Used to be, you could check two big suitcases for each traveler, at no added cost. Those days are long gone, unless you fly first class. The going rate now for a checked bag is $50 each, round-trip! Ouch!

So how can you avoid paying through the nose for bringing along your clothing and other necessities? Here are a few strategies from our budget travel guide:

Re-think how much you actually need to pack for your trip. Do you really need six pairs of slacks for a one-week trip? Think light… 


Determine if you can use laundry facilities at least once where you're going to stay, and thereby cut your clothing needs in half.


Is there any way you can fit everything in one carry-on bag for each traveller? (Along with the allowed personal bag, like a large purse or backsack). It may be challenging, but it can be done for short domestic trips.


If you do choose to check a bag, make sure to weigh it at home after you pack it. Too heavy? Keep removing items until the bag fits within the weight limit. Overweight baggage fees are killer.


HELPFUL TIPS:
Bulky luggage won't fit on your bath scales? Pick it up and weigh yourself holding the bag. Then subtract your own body weight from the total... when your husband isn't looking. :)


We have done this several times and it works great:

Traveling to the home of a friend or family member? Mail a box of some clothing and necessities to them a couple of weeks before you fly out. Unless you go crazy, mailing a box parcel post is sure to be cheaper than $50, including mailing it back to yourself. 

Brown Bag It!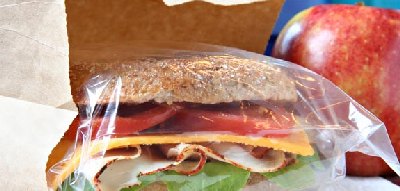 Another tip from our cool budget travel guide:
You don't need to pay $5+ in-flight for a soggy turkey croissant when you can get creative and bring some fresh gourmet finger foods to tide you guys over. Sodas are usually free even in coach, and you can wait 'til you hit the hotel lounge for your well-deserved cocktail.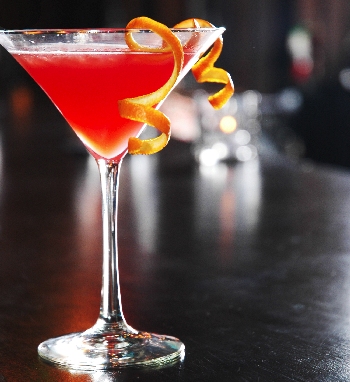 ---
The Stress-Free Vacation (well, almost)
Plan carefully, then relax!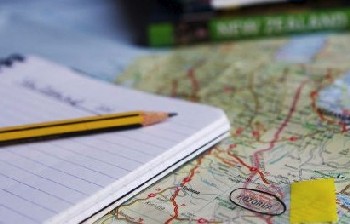 Research your destination thoroughly. This will head off trouble later. One of the best resources we have found to investigate and help decide where to stay and eat, etc. is the website TripAdvisor Travel; and don't miss their forums.

TripAdvisor is chock full of honest reviews of hotels, restaurants and tourist attractions, written by genuine people who have been there and done that. How refreshing!

It's much better to figure out where to stay, where to eat, how to get around and which sightseeing tours to take while you're in the comfort of your own home. It will definitely lessen the normal stresses of travel if you have this knowledge before you leave. You're also certain to save money by comparing prices online before you actually get there.

Do plan your trip, but just don't go overboard. Make out a short "want-to-do" list, not a "must-do" one.  Nothing is more stressful than a tightly regimented schedule while you're on vacation. Just pick a few things you all agree on, then leave lots of time open for spontaneous activity, leisurely sightseeing, and a bit of alone downtime.

Another stress reliever you might find time for is exercise. Most cruise ships and hotels have fully equipped gyms. If not, a brisk walk in the fresh air will work wonders.


---
Time to Pack
Make a list! Even if you are not a habitual list maker, packing for a trip is one time you definitely should do it. Have a powwow with your fellow travelers and come up with a good list of necessities. Wait a few days and do it again. 
Here is a cool travel packing list that you can print out and use for inspiration: Smart Packing List. 


If each of you can fit everything in one carry-on bag, that's great. No waiting around the carousel for checked bags to appear. Somehow they are always the last ones down the chute; what a bore and waste of vacation time.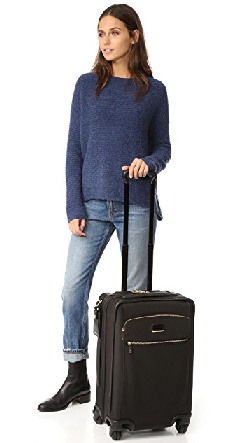 Speaking of carry-on bags, save yourself the heartache of confiscated belongings by checking the "official list of prohibited items" before you go. This is straight from the horses mouth. 


You certainly expect to keep your carry-on bag with you during the flight. But did you know that if the flight is full and the overhead compartments are packed, the airline can require you to gate-check your carry-on?
Don't panic! You had the foresight to place your absolute necessities all together in a small bag inside your carry-on.

Place items like medications, keys, passport, valuables, small tablets or cell phones in a separate bag, even a Ziploc bag will do. Put this bag inside your carry-on.

That way, if they insist on checking it, you simply pull out your small bag of essentials and carry them by hand or in your purse or backpack. Easy Peasy.


---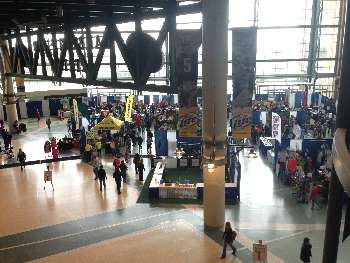 At the Airport

Airports in general are very stressful places. There is bustling activity, always a time constraint, and it can be quite upsetting when you see other folks running for their flights, and you're not sure if you have enough time to catch yours. 

You can make your airport experience much more pleasant by following these guidelines:

Check-in online 24 hours before your flight, and print out your boarding passses. Saves time and hassle.  There are few things more stressful than standing in a long line with a bag in which you just remembered you once stored your ammo :(

(This really happened to me at the Miami Airport. Their explosives sniffers went bonkers over my bag. Missed my connecting flight.)


For a really streamlined check-in, sign up ahead of time for the TSA's PreCheck Program. 


Make sure your cell phone, laptop and other devices are fully charged before you leave home.


Speaking of cell phones, did you know that most airlines now make it super easy to board without printed boarding passes? All you have to do is have your mobile boarding pass ready on your cell phone screen when you get to the gate.


Have your MP3 player with earphones ready once you board the flight. Just in case there's a screaming baby in front of you.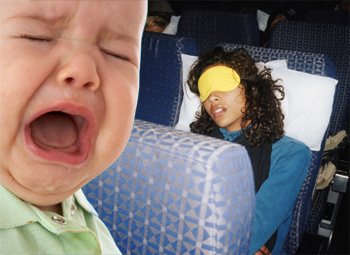 We hope you have found something in our Budget Travel Guide to help you save money and reduce vacation stress.


Good luck and bon voyage!
~Your Budget Travel Guide Advisors