Wireless and Wired
Network Guide

Contents
FAQs (Frequently Asked Questions):
---
Wireless and Wired Network
Advantages & Disadvantages
Wireless and Wired Networks
FAQ #1. Why would you want to hard wire a computer instead of having it on Wi-fi (wireless Internet connection)?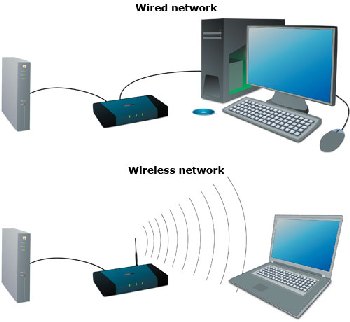 There are three main advantages to hardwiring your desktop computers:
Privacy/security: Any Wi-fi (wireless) network can be easily "hacked" by a data thief with a laptop. It's not possible to hack into a wired network, which is a contained, closed system.

So a wired network remains private and protects your information better. This is also very important if you work with sensitive information like legal documents or PHI (Protected Health Information). I once worked online preparing medical reports and was required to be hardwired to my network due to strict HIPAA laws.
Reliability: Wireless networks have more "issues" than wired. It can well depend on where you are located in your house if the wi-fi will work at that time, or a connection drops. This is never a problem with a wired connection.
Data Speed: It's just a fact- a wired network can transfer data much faster than any wireless connection out there. If you are a gamer or like to stream movies, particularly at the same time, you will probably do much better with a wired connection. 
Check with your ISP about upgrading to a higher speed. There is no sense in building a fantastic home network and then limit it to 20 mbps. Your system will never be faster than the Internet speed delivered to your home.

We have 100 mbps and everything is lightning fast and trouble-free since we installed our new router.
---

Wireless and Wired Networks
FAQ #2. So how can I hard wire some of my Devices?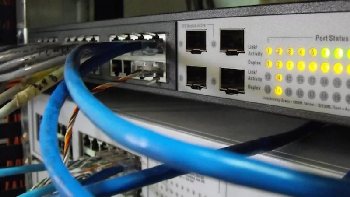 You can't beat the speed hardwiring provides.
Most home networks will use a mixture of wired and wireless.

We have all three of our desktop computers hardwired to our router via Ethernet cable. Everything else runs off of Wi-fi (laptops, tablets, mobile phones).

We installed the Ethernet (Cat5) wires in the walls as our house was being built, so it was easy.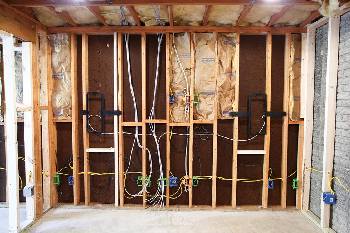 There are two ways you can go if you want to retrofit your home for some hardwired devices:

A. Run wires inside existing walls. If that is beyond your DIY skills, call an electrician to run the wires for you. OR, consider

B. Powerline Networking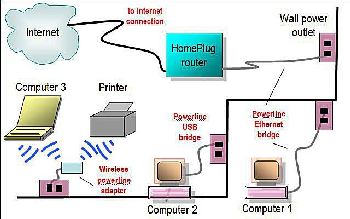 Powerline sends signals through your electric wiring.
Instead of running new Ethernet cables in your walls, you can use special adapters which send the signals through your existing electrical power lines. 
Here is how it is done:

Each adapter kit consists of 2 special plugin boxes. Plug one in the room with your router; the other plugs in the room of the device you want to "hard wire".
Each of the little boxes is then truly hardwired via short runs of Ethernet cable; one to the router and the other to the computer or other device. See diagram above.
Although the signal does pass through your electrical wires, it is secure from hackers outside your home.
Sound great? It is, but with two caveats:
1. Surge protectors cause problems

2. Powerline Adapter Speeds aren't as fast as the manufacturer claims. 
Powerline adapters generally don't work as well when plugged into a surge protector. So the little adapTer box will not be protected from surges. You can protect your computer, however, by running the connecting Ethernet wire through surge protection before connecting to your gear. A bit more trouble.

Another important factor is the speed of the Powerline adapter system. A 200 mbps will not deliver that fast. 500 mbps adapters are recommended, at a minimum.

Just like the rest of your network, your Powerline setup will never be faster than the broadband speed delivered to your house. Do you need to upgrade? We recommend 100 mbps for the typical multi-use home network.

The first Powerline adapter below fits the 500 mbps requirement. If you have 100 mbps, order the second unit. You will need one kit for each room with a device to set up.
You may access more info or order using the Amazon affiliate links below.

---

---

Wireless and Wired Networks
FAQ #3. Is there a way to hard wire a device that doesn't have an Ethernet port? 

Most laptops and tablets do not have Ethernet ports, but do have a USB port. The simple device below adapts a USB port to an Ethernet port.

---

Wireless and Wired Networks
FAQ #4. Is there a way to hard wire my laptop while I am traveling away from home?
Believe it or not, most hotels and business offices have easily accessible Ethernet ports connected to their Internet network.
Just make sure you bring your USB-to-Ethernet adapter (ordering link below) and an appropriate length of Cat 5 cable to hook up from their port to your seat.


---

Wireless and Wired Networks

FAQ #5. Is there a way to turn my hardwired/Ethernet computer wireless?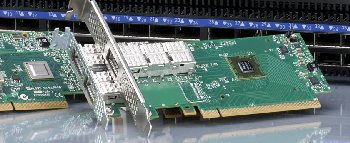 A network adapter card for PC

You can add wireless capability to your desktop computer simply by adding a "card" or electronic board inside the chassis (see photo left). This is called a wireless card or wireless adapter. 

You need to determine first if your PC has an available empty port for a card. You can find this out from your  computer manufacturer, who might also make suggestions for appropriate cards.
You must also make sure the card is compatible with your router.

---

Wireless and Wired Networks

FAQ #6. I've seen new Routers labeled MU-MIMO. What is that and do I need it?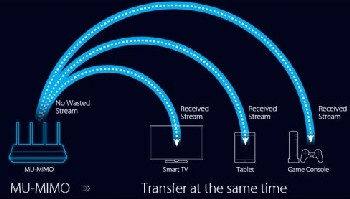 In the past, you may have seen Routers designated single-user or Dual Band. That is old technology, in which the router could transmit only one, or two different streams of information at the same time. But these systems were way too slow if there were multiple devices online at once. 
There are now available "Smart Routers", MU-MIMO, which can handle simultaneous high-speed streaming to multiple devices. Light years ahead of Dual Band!

What is MU-MIMO and Why Do You Need It?

MU-MIMO stands for Multi-User, Multiple-Input, Multiple-Output. It allows a Wi-fi router to send signals to multiple devices, all at the same time. This dramatically increases the overall speed of your network.
If you may have experienced choppy video, frequent rebuffering, slow upload speeds and dropped signals in the past, the installation of a MU-MIMO router should eliminate all those problems.

It sure did make a difference for us! After we installed the router below, everything sped up to lightning speed, and no more buffering or dropped calls/internet.
OUR SUPER ROUTER:

Netgear Nighthawk AC2300
Smart WiFi Router

Up to 1625+600 Mbps
Simultaneous streaming to multiple devices 
Lag-free video gaming, lightning-fast surfing
Easy Setup 
---

Wireless and Wired Networks

FAQ #7. What if I use all the Ethernet ports on my router but I have more devices I want to hard wire?
---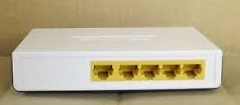 5-port Ethernet splitter
Just get this simple splitter and connect it to one of the Ethernet ports on your router. Voila! 4 more ports.

But do understand that having to route signals through this device might slow down the signal speed a tiny bit.