Home Theater Guide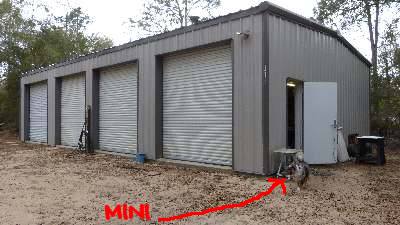 Scott's Pride and Joy (the barn AND the dog)

A few years ago, we had a 30' x 50' iron and steel utility building erected on our place. A lifetime dream for Scott. It has become his "space": workshop, hangout area and toy barn. 

(He keeps his tractor, bass boat and side-by-side in there, along with his life-long collection of tools, antique lanterns, and who knows what else is stashed in there.
It is truly the ultimate Man Cave; it has a bathroom, refrigerator, microwave, computer desk, phone and gate monitor in it. He is absolutely delighted with it, and spends most of his days in there.

In summer he cools it off with a Swamp Cooler and in winter, a wood stove keeps it toasty warm in there. Needless to say, the dogs also love it, and keep him company. We have come to call it simply "The Barn".


---
---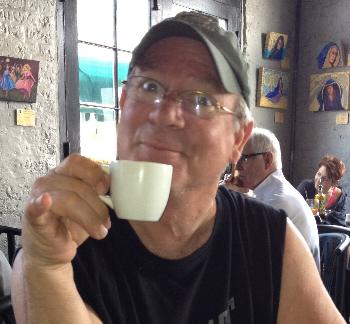 Yep, he's as crazy as he looks... And of course, the kids all love Uncle Dwight!
One day my brother Dwight paid us a visit from out of state, walked into the barn for his first time and said, "My God, this is huge; you could show movies in here." Hmmmm... well, that was all it took; we were off and running.
Of course, I had to do it up right. Projector, pull down screen, and the project just grew from there. We bought a stack of lightweight folding zero gravity chairs, and even a popcorn popper. The entire project cost us about $1,200. Now that was four years ago, so it would probably run a little more today.

I have to tell you, that even though we have to move a few tools to make room for the gang, we have spent some truly enchanted evenings out there. The barn is perfectly dark, as there are no windows, so it's great for a home theater. Everyone just loves it, especially the 3D movies. Several of our close friends, family and neighbors look forward to our invitations for "movie night". Even the teenagers.


---
Home Theater Guide
Projector vs. Big-screen TV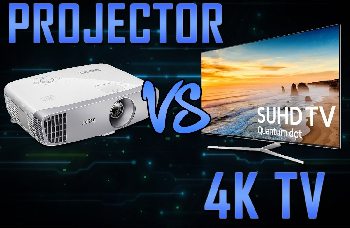 Home Theater Guide

If you're still with us, I'm assuming that you are interested in creating a home theater at your place, too. There's two ways you can go with this; Projector or Big-screen TV.
You can create a really cool set-up inside your house using a large screen TV. But if you really want to go BIG, you need a BIG room to do it in. In our barn, the projector is 11 feet from the pull-down screen. 

So realistically speaking, you would need a clear space at least 12 to 14 feet deep in which to set up projector, screen and chairs for guests. And wide enough to hold everybody. We have found it works best with everyone in one line (no one blocking someone else's view).

Our screen is 118" (diagonally), which really makes it feel like you're at the movies. There's just nothing like a projector to capture the essence of a true theater experience. 

But if you just don't have the space for projected movies, you can still set up an impressive home theater with a large-screen TV. In a little bit, we tell you how to transform your living room or den into such an entertainment hub.

The biggest reasonably priced LED TV they make right now is about 75"*, (which looks huge inside a normal-sized living room). The one tradeoff with TV is, they quit making 3D capability for televisions. Only projectors have that capability these days. :(
* Samsung has recently released an 85 inch LED TV, with plans for even a 110 inch model. But the 85" one costs $35,000 right now!!! Nuff said!

---
Home Theater Guide
Projector Setup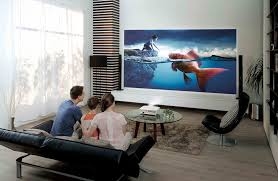 Compared to the prices for huge LED TVs, our little projector setup sounds like a bargain. Although the projector itself costs $700, it puts out a really fine picture and can show 3D movies. (Don't buy a projector without 3D; you'll be missing out on one of the most amazing and entertaining aspects of home theater.) 
The screen is about $50, and you'll also need a BluRay/3D DVD player to hook up to the projector, they run $160. This picture shows our projector and DVD player set up on an old roll-around microwave cart we found at a yard sale for $10: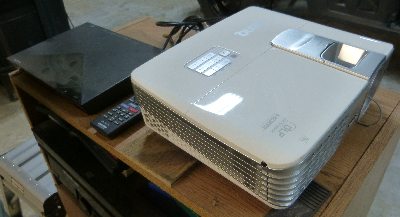 So you're up to around $900 for the equipment. What about speakers? We had a couple of old speakers in the attic, dusted them off, hooked them up with speaker wire. We've been perfectly happy with the sound. You might want to splurge a little and get a better sound system. 
The rest is frosting on the cake, chairs, decorating, etc.

We started out using just regular card-table folding chairs, but it quickly became clear that these were very uncomfortable to sit in for two hours. So we sprang for some inexpensive folding patio zero gravity chairs; adding a couple here and there as we could afford them.

We now have nine very comfortable chairs for guests. Watch eBay for some bargains, as low as $25 each. You can see what these chairs look like, and in fact get all the particulars on how we made our "Barn Home Theater" on this page: Home Theater Projector.


---
Home Theater Guide
Large-screen TV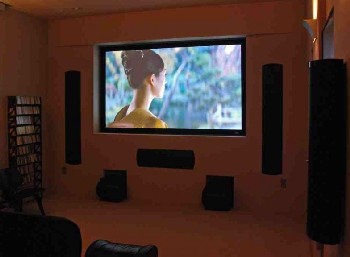 Home Theater Guide

Opted to create your home theater inside the house? Unless you have a really large rec room or basement to work with, you should stick with a large-screen TV set-up. If you go this route, we suggest you invest in a top-notch audio surround sound, which works great in smaller, more enclosed spaces than our barn.
After tons of research, we have settled on a really great TV-based home theater system that shouldn't break the bank.
It includes a Samsung Home Theater audio system and a 75" Vizio HDTV LED 4k. Read all about this impressive but affordable package here: Samsung Home Theater.


---
Home Theater Guide
More About 3D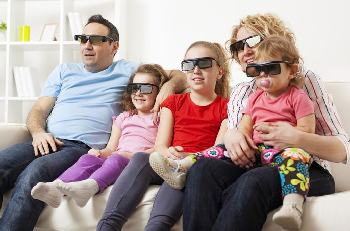 Did you know that you can't buy a new TV these days with 3d capability?
**Samsung dropped 3D from their TVs in 2016; Vizio in 2013. LG and Sony, the last holdouts, stopped supporting 3D in 2017. 
My guess is that the enormous expense of producing 3D movies, and the less-than-spectacular results of "retro-fitting" 3D to existing movies, killed off financial incentive to continue with mass-production of 3D capable televisions. 

This graph appears to support my theory: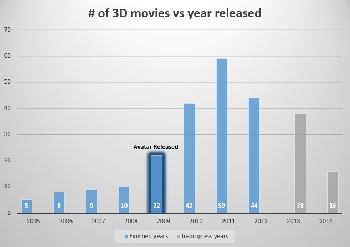 3D movie production on a steady decline

Note: Nonetheless, I adore the enchanting and mesmerizing nature of 3D movies. They are so cool!

I believe 3D equipment (DVD players, projectors and active 3D glasses) and 3D DVD discs will become priceless cult items in the future. I will hang onto mine, thank you. And enjoy them thoroughly in the meantime.

Read how we set up 3D movies in our home theater, and the best 3D movies ever made.