Outdoor Accessories
Equipment for the Homestead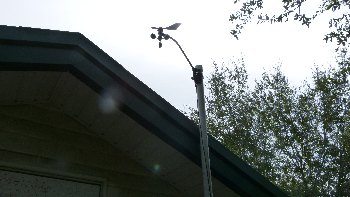 Some of our favorite gadgets are outdoor accessories, equipment we use around our homestead. Included in this category are Sky Chairs, a professional-grade Weather Station, Swamp Coolers and "Skeeter Beaters".

We will be adding to this short list as we come across new goodies, and as always, we welcome your ideas and suggestions for other gadgets to be included. Simply Contact Us.
Interested in building a bird feeding station? Don't miss these squirrel-proof Best Bird Feeders.


---
Outdoor Accessories Equipment
Hammock Chairs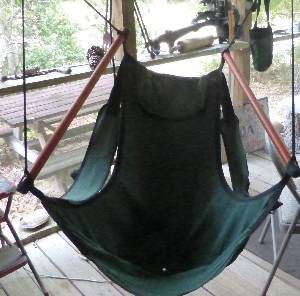 These hanging canvas chairs have always been a huge hit with guests to our homestead. We call them Sky Chairs. They are so relaxing and comfortable, you'll find it hard to get up.



Hammaka Cradle Chairs (Sky Chairs)
Features:

350lb weight limit
Carrying Case, Footrest & Cup Holder
Quick and easy 10 Minute Assembly
Durable, weather resistant   
Indoor or outdoor use 
OUTDOOR ACCESSORIES EQUIPMENT
SKY CHAIRS TIP #1:
Although recommended for outdoor use, we always take down chairs that would be directly exposed to the weather, after use.

We hang three of them around our fire pit when guests come, and store them in a dry dock box the next day. We installed three permanent "eye" screws to the roofing poles of our fire pit for easy install/removal.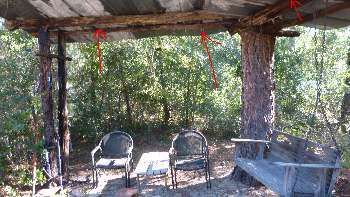 3 red arrows show location of eye bolts.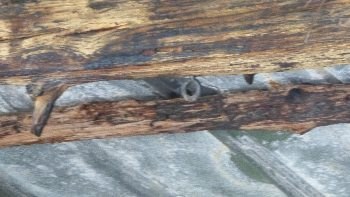 ---
TIP #2:

One reviewer recommended the following procedure to strengthen the chair and keep the long wooden dowels from slipping out:
All you need are 6 drywall screws or 1" deck screws. After you insert the three long dowels to assemble the chair, secure the end of each dowel to the webbing with one screw (see photos).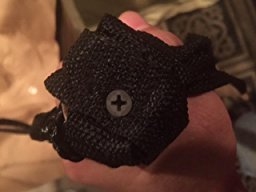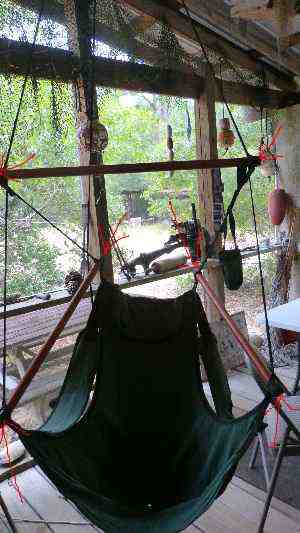 Red arrows show where screws go.
Outdoor Accessories Equipment
Professional Weather station



I love my Davis Weather Station and refer to it daily. If you are like me and just "have to know", you'll enjoy having one of these too. It is versatile, customizable and capable of linking to the internet for uploading of your own data to local weather sites, if desired.
The system includes outdoor monitors (anemometer and weather vane for wind speed and direction; thermometer and hygrometer for temp and humidity and a rain gauge). All outdoor devices are engineered to withstand severe weather extremes.

The inside console provides interior temp/humidity as well as readouts of all the outside data, updated every 2.5 seconds.

Exterior station communicates with interior console via cabled or wireless systems, your choice.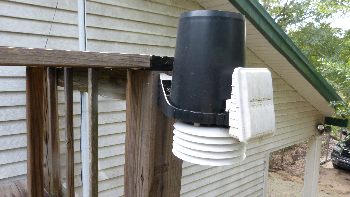 Rain gauge can be mounted separate from wind vane.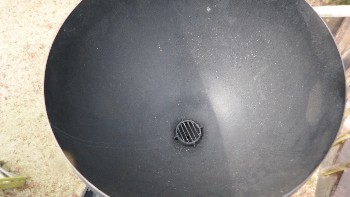 Rain collector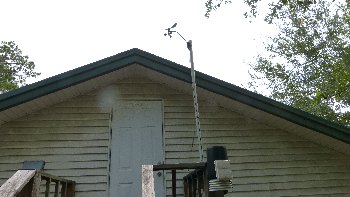 We mounted on the roof peak.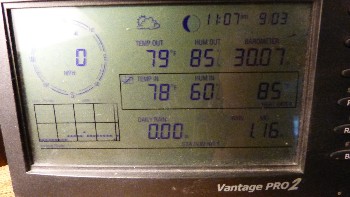 Console inside house
---
Outdoor Accessories Equipment
Evaporative/Swamp Coolers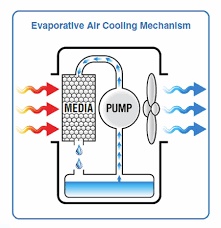 How Swamp Coolers work

One of the oldest and simplest forms of air conditioning is "evaporative cooling". Sometimes called swamp coolers, modern evaporative coolers are relatively inexpensive and quite efficient in some situations. 
When hot, dry air passes over water, or through moist porous substances, (like wet cloth or filter pads), the air cools off, up to 30°F cooler. An added benefit of the process is that moisture is added to the dry, arid environment.

The key word here is DRY air. In the U.S., swamp coolers work well and are heavily used in the arid (desert-like) southwest. They don't work quite that well in the humid southeast, where we live.
But we use them to good effect anyway. The hotter it gets as the day wears on, the more cooling effect you will see from the swamp cooler, even in humid weather.
We have 2 swamp coolers, one in our pavilion (cook shack) and one in the workshop/barn.
You may use a swamp cooler on your patio or deck, or in your garage or workshop. If working on a project, simply roll the unit nearby and aim the vents towards you. Cool!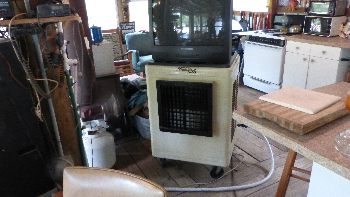 Master Cool in our Pavilion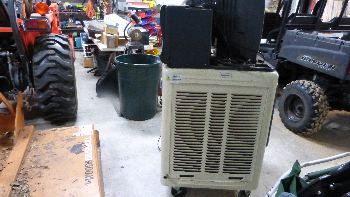 Swamp Cooler in the workshop
---

Mobile Master Cool MMBT12

Features of the Mobile Master Portable Evaporative Cooler:
1,145 cfm
Cools up to 600 sq. ft. 
Heavy duty casters; portable
1/3 HP motor 
8 gallons water
4-way directional grille with adjustable vents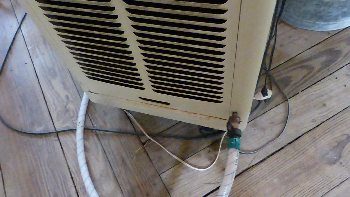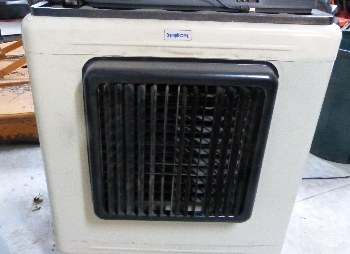 ---
Outdoor Accessories Equipment
Skeeter Beaters!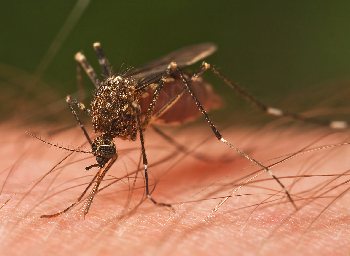 I know some areas of the country are more prone to mosquito infestation than others, but here in the southeast U.S., they are legendary! It is important to control mosquitoes on your homestead (or at least keep them from biting) for two reasons:
They can ruin your outdoor activites
They carry human diseases like Malaria, West Nile Virus and Zika; and Heartworms, which can infect dogs and cats.
We have tried all sorts of potions and gadgets to get rid of or repel them. We have come up with three of our favorite gadgets for mosquito control, none of which involve smearing bitter, oily crap on your skin.
Drumroll please:
#1- For large areas (up to one acre): Patriot Plus Mosquito Magnet
#2- For small area (15'x15'): Skeeter Reliever Lantern 
#3- Portable unit you wear as you move around: Thermacell Portable Mosquito Repeller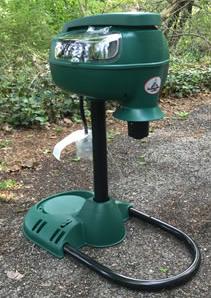 Patriot Plus Mosquito Trap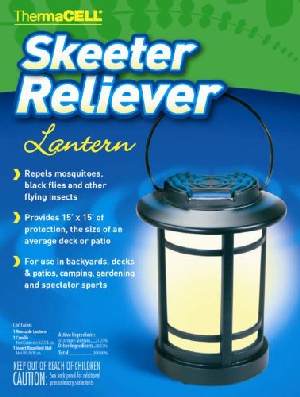 Skeeter Reliever Lantern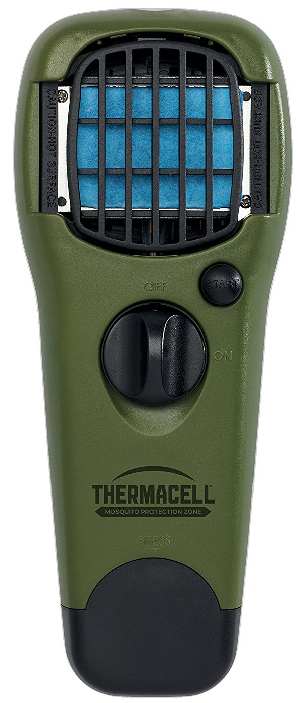 Thermacell Portable
---

Mosquito Magnet MM4200B Patriot Plus Mosquito Trap

We got an email from our friends the other day:
"I BOUGHT A MOSQUITO MAGNET YESTERDAY----CALLED THE PATRIOT PLUS---THEY SAID IT WOULD TAKE A FEW DAYS FOR US TO SEE A LOT LESS MOSQUITOS---TURNED IT ON AND THE RESULTS WERE ALMOST INSTANT---THIS MORNING THE COLLECTING BOX HAS ALOT OF MOSQUITOS IN IT---ME AND TONIE SAT ON THE PORCH LAST NIGHT AND THIS MORNING AND NOT BEING BOTHERED BY MOSQUITOS OR NO SEE-UMS---I'M GOING TO GIVE IT A WEEK AND IF ANYONE IS INTERESTED E-MAIL ME BACK AND I WILL TELL YOU WHAT I THINK OF IT---SO FAR IT'S THE BEST [XXX] DOLLARS I HAVE SPENT IN A LONG TIME----YOU CAN GET THEM ONLINE."

(They later told us the results are consistent and way less mosquitoes on their back porch.)
The Patriot Plus Mosquito Magnet works by attracting mosquitoes to it, then trapping them in a net, where they quickly die of dehydration. The attractant it uses is a combination of carbon dioxide, heat and moisture (which mimics the way humans attract skeeters), as well as other scents specialized for different regions of the U.S.
Features of the Mosquito Magnet:
Runs on propane tank and Octenol or Lurex attractant
Covers 1 acre
Easy setup and maintenance
Silent operation
Can break the breeding cycles of mosquitoes
50 ft power cord
Can be shipped only within the U.S.



OUTDOOR ACCESSORIES EQUIPMENT
TIP #1 (From the manufacturer):
Run the trap 24 hours a day in order to break the mosquitoes' breeding cycle. It will begin working immediately; with noticeable results in 7-10 days. Allow 4 weeks to see maximum results.
---
TIP #2:
Since the device attracts mosquitoes to it for extermination (after all, it's called a Mosquito Magnet), situate it a short distance away from where you folks gather. If you place it right next to your picnic table, it will bring mosquitoes to YOU.



Thermacell Skeeter Reliever Lantern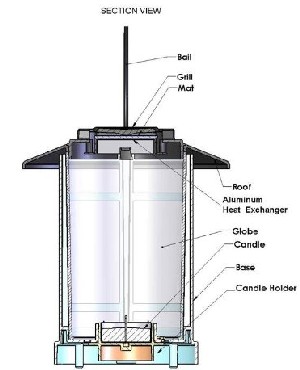 This device, unlike the Mosquito Magnet above, works by REPELLING mosquitoes. Use it to keep a small area skeeter free as you work or play there.
Skeeter Reliever features:

15 x 15 foot mosquito free zone
Provides area protection -- nothing on the skin
Silent and odor free
Portable, cordless, and easy to carry (less than one lb).
Uses a candle as it's heating source--no butane required.
100% Satisfaction Guarantee on all Thermacell products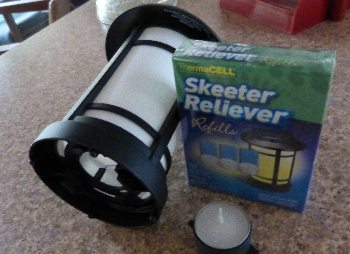 ---

Thermacell Portable Mosquito Repeller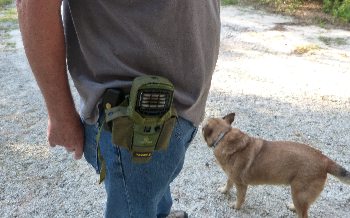 This device also works by repelling mosquitoes. It is meant to be carried on your person, and so is good when you are moving around as you work.

Thermacell Repeller features:
15 x 15 foot mosquito protection zone
Nothing applied to skin
Odor-free, silent operation
Cordless, portable and lightweight
100% Satisfaction Guarantee on all Thermacell products
Works on repellent mats and tiny butane cartridges