Best Survival Knife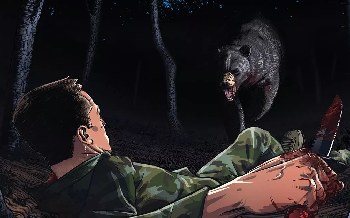 So what makes a true "Survival Knife"?
In our Survival Gear Section we described and recommended a nifty all-in-one folding knife/tool combo that you can wear on your belt. The Leatherman could technically be called a "survival knife". It's great to have along for both emergency situations and day-to-day living.

But what if you are attacked by a bear, or someone threatens your family? In that event, you want to have the absolute best close-contact weapon, and you want it QUICK!

The answer is, your want a quality survival knife in your hands. True survival knives are first and foremost: long, strong, fixed-blade and accessible in a heartbeat. 

Secondary uses include:

A wide variety of survivalist tasks such as building a shelter, skinning game, splitting kindling, cutting rope, opening cans, cooking chores and much more. 


---
BEST TRAITS IN A SURVIVAL KNIFE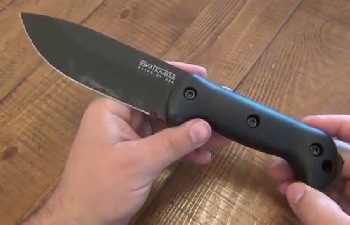 In choosing the best survival knife for your needs, look for these superior traits:
TYPE: Fixed-blade, not folding- As stated above, a folding knife is great for your hip or Bug-out Bag. But in a true emergency situation, you might not have the time to stop and open a folding knife to defend yourself. A high-quality, solid fixed blade weapon is best for that.


BLADE: High-carbon steel blade is best, not stainless; with a blade From 5-7" long. Stainless steel survival knives are not as sharp and do not hold a fine cutting edge like carbon steel does. The tradeoff is that carbon steel requires more maintenance (sharpening and lubricating). The most popular carbon steel used in survival knives is called "1095". Your life may one day depend on your survival knife. Go for quality.


HANDLE: Look for "full tang" (the blade extends the entire length, from the tip of the blade to the very end of the handle). This makes for a very strong, unbending knife. No hollow, cheap plastic or metal handles; the best handle material is modern synthetics (rubber polymer, fiberglass reinforced Nylon or pure dense rubber). Texture on the handle gives you a better grip.


We did lots of research on the best survival knife out there and these models kept popping up at the top of the wishlists:


Ka-Bar BK-22 Becker Companion
A well-proportioned, reasonably-priced all-round best survival knife; recommended for men or women.


---
Gerber LMF II Survival Knife
This "best survival knife" was designed by former military man Jeff Freeman and was field-tested with troops, ensuring that it can stand up to rugged, rigorous use and offer high performance under a variety of emergency conditions.


---
Fallkniven A1 Survival Knife
A Mac-Daddy Knife at a Mac-Daddy Price... this one is the Cadillac of Survival Knives. It's an all-purpose knife on the larger side, designed for heavy duty use.