Best Portable Generator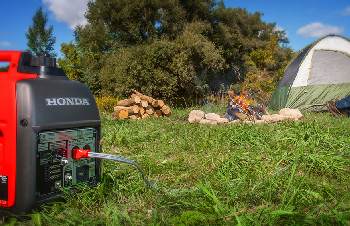 When the power goes off, a portable generator or two will save your butt! 
We found this out last month when a hurricane blew through here and left us without power, cable and phone service for four days! We were ready for it, though, and by having two portable generators and plenty of fuel to run them, we got through those four days in relative ease and comfort.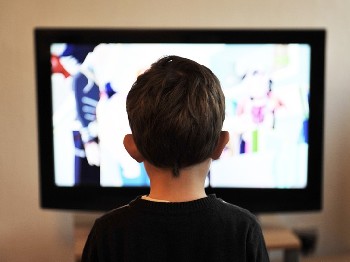 We even escaped the boredom that comes with no Internet or cable TV! You can always watch movies on a DVD player hooked up to the TV (IF you have a portable generator to power them).

The time to buy a generator is long before you need one. Below we discuss how to choose the right type and size, give some excellent user tips that could save a life, and reveal our personal recommendations for the best portable generator on the market.


---
Best Portable Generator
Types
What Type Do You Need? There are 3 main types of generators:
Standby ("whole-house")
Large portable, OR
Small inverter generator
 
---

STANDBY GENERATOR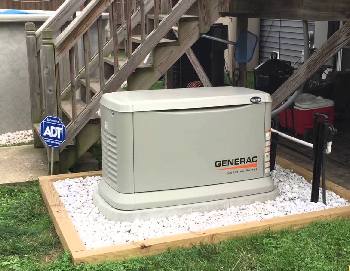 Professionally installed whole-house generator
Sure, you can spring for an expensive "whole-house" Standby Generator; but be prepared to use LOTS of expensive fuel to run it 24/7. Is it worth it?
In emergency/survival situations, do you really need to power every electrical circuit and device in your home? We say NO. Go with the best portable generator or two, and plan on only running the "basic necessities".


---

LARGE PORTABLE GENERATORS


Large portable generators can be used to supply limited power for storm outtage, to run power tools at a worksite, as well as for RV'ing and camping. Portable generators range in power up to 10,000 watts.
During our "Hurricane Disaster" we used a 4,000 watt portable Generac to power up our 220v well pump plus a small camper with water heater. We only ran this one for about 6-8 hours per day, and it allowed us to have running water in the house and hot showers (bliss!) in the camper.


---

SMALL INVERTER GENERATOR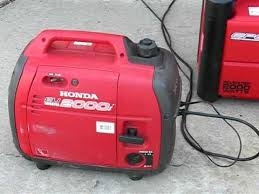 An inverter generator is ideal for activities on the run; like tailgating, camping and for survival. Most are safe for delicate electronics. Inverter generators provide a maximum of 2000-3000 Watts of power, but they run relatively quiet and don't burn a lot of gasoline.

Our second generator, a sweet little 2,000 watt Honda Inverter Generator, proved to be the best portable generator!
This quiet little workhorse ran 24/7 and kept our large refrigerator/freezer combo, two big pedestal fans, our electric bed, several electric lamps, plus one TV & DVD player going.
We watched lots of movies during our 4 days off the grid! Aside from books, it was our only entertainment.


TIP
Why is it called an INVERTER generator?

This is new, advanced technology which has been built into many of the smaller portable generators. The power produced by an inverter generator is ultra-clean, stable and reliable, comparable to that you get from wall outlets in your home.

For this reason, inverter processed power can safely run computers, TVs, phones, kitchen appliances and other sensitive electronics without surges, power interruption or damage to equipment.


Best Portable Generator
What Size?

First determine your wattage needs. Make a list of only the most important electronics and appliances. Like refrigerator, lighting, fans, minimal electronics (cable will be out too, so forget the desktop computer).
Find out how much power it will take to run each of these essential items, by using the cool wattage chart below.
Then add them up for your total emergency energy needs. This will guide you to the proper-sized portable generator.
---
Best Portable Generator
Which Brand & Model?

All we can say is that we were very much impressed with the two generators that sustained us during our off-the-grid ordeal.
We love them and wholeheartedly recommend the same for your homestead:



BEST PORTABLE GENERATOR
#1 GENERAC LARGE PORTABLE


Generac XG-4000
MODEL #5778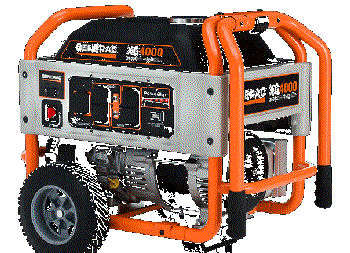 Generac XG-4000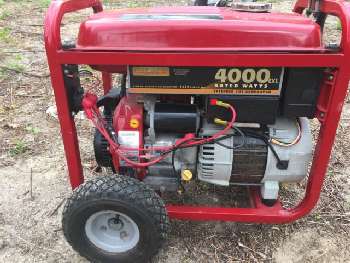 The one on the right is our bigger portable generator, the Generac 4000 EXL ... what a workhorse!
Sadly, this model is no longer manufactured by Generac; however, the one on the left is the new model which is very comparable to the 4000 EXL in capacity, performance and cost. 
To read all about the Generac XG-4000, visit the Generac website.
[We do not receive any compensation for this recommendation].

---

BEST PORTABLE GENERATOR
#2 HONDA PORTABLE INVERTER GENERATOR


Honda EU2000I 2000 Watt
Portable Inverter Generator

We can't even begin to say how great this portable inverter generator came through for us after the lights went out. It can power up a wide variety of appliances, making it perfect for emergency home use.

It is lightweight, only 46 lbs., and super quiet, making it popular for camping or other uses in the field, like on a job site. Rugged, yet is stable and safe for your delicate electronics.

The Honda EU-2000I can run up to 8 hours on 1 gallon of gas, depending on the load. With it running only the fridge and pedestal fans at night, our little Honda made it overnight on a full tank, without running out.

Why not click on the Amazon affiliate link below and get your Honda EU2000I ordered today?

---
GENERATOR TIPS
[Things you wish Dad had told you]
Acquire as many gas cans as you have room to store. And fill them ALL before the storm hits. Once the power goes out, gas stations can no longer pump fuel. So what you got is all you got.


If you don't use all that fuel, it'll not be wasted. You can always pour it into your car after the emergency eases up. (And that is advised, because gasoline does not tolerate long-term storage well).


We have 10 red plastic gas cans: 2- 6 gallon;  6- 5 gallon, and 2- 2.5 gallon). Every time I see one cheap at a yard sale, I grab it. You can't stockpile too much fuel when the storm is approaching.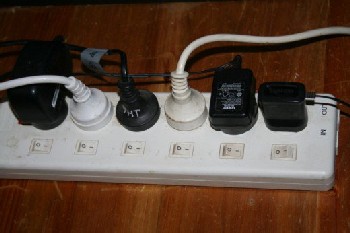 Looks unsafe, but you don't run everything at once.
Have several heavy and light gauge extension cords on hand. You will need them and also a power strip, to hook several electric appliances to the generator, which only has one or two plug ports.


Don't overload the generator. Read the manual to determine your generator's safe capacity. A portable electric generator should be used only to power essential items.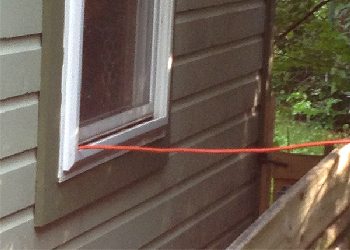 NEVER run a generator inside your house or other structure where people will be for long periods of time. Also, where you run your primary extension cord through a window into your house, plug the rest of the opening with towels so that fumes do not migrate inside your house. The carbon monoxide exhaust from generators is deadly!


NEVER connect your generator directly to your home's wiring or by plugging it into a regular household outlet. A generator hooked up this way "backfeeds" into your main panel, and even into the power lines outside. "Backfeeding" can not only be deadly to you and your family, it can kill an unsuspecting neighbor or even a lineman making outage repairs miles away.


TRANSLATION
Anything you power up with your generator must be COMPLETELY DISCONNECTED from house circuits/utility company power. How to do this? 
Turn off the breaker to anything you intend to power with a generator.


Plug all appliances, lights and electronics directly into the generator via extension cords/power strips. DO NOT attempt to power UP or use wall outlets.


THE BEST AND SAFEST SOLUTION: Turn off the power main first. Put a piece of tape over it stating "DO NOT TOUCH". And do not re-connect the power main until electric service is restored to your home by the utility company AND you have turned the generators off and unplugged all appliances from them.



Buying the best portable generator you will need in an emergency may well be the most important thing you can do to survive short-term disasters. At the least, it will make your ordeal more comfortable and tolerable. 
Buy them, then hope you'll never need them.
But we did...