Apple TV Guide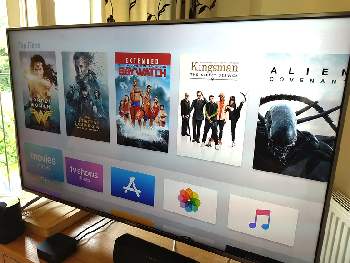 Apple TV 4K
---
Apple TV Guide
The Equipment/setup

The Apple TV 4K is hooked up to your TV in essentially the same way as the others: through the HDMI-in port. Plug the power cord into the wall.

You can also connect wirelessly through MIMO supported Wi-fi, but for best results, we recommend you hardwire the box to your router with the provided Gigabit Ethernet cable.

An Apple account will be essential; it allows you to buy movies, music or games from the iTunes store. You can also link your iPhone to this Apple TV and use the iPhone keyboard for any typing, or use it as the remote.


---
Apple TV Guide
What's Unique?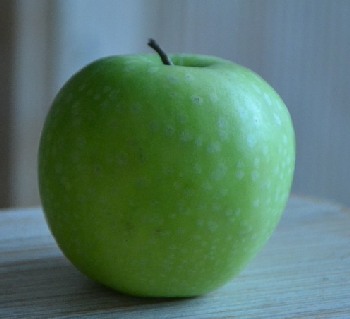 Apple TV 4K is the Cadillac of TV streamers. It is top-of-the line entertainment with a pricetag to match. (Although it is not without it's flaws, as you can see in the "CONS" list below.)
What makes Apple TV 4K unique?

It broadcasts the most superior TV picture available today (with both HDR10 & Dolby Vision!)

It is the only device that can deliver your iTunes collection to the big screen.
You can control your connected smart home devices right from the Siri-enabled remote.
Apps include many with free content (PBS, ABC News, Sky News, CBS News, Crackle, Vevo, Comet, Shout Factory, Midnight Pulp, Mascot and Waves) as well as all the paid big players (Netflix, Amazon Prime, Hulu, HBO Now, Showtime).


---
Apple TV Guide
Pros & Cons
PROS
Wi-Fi 802.11ac with MIMO; simultaneous dual band (2.4GHz and 5GHz)


Bluetooth 5.0


Has the best 4K/DVR support. 


Supports Dolby Digital Plus 7.1 surround sound.


Apple TV app store


Recently added Amazon Video app to it's lineup.


The only streaming device which has access to your iTunes library


Powerful platform for gamers


AirPlay lets you stream photos, videos and other content from your iPhone, iPad or Mac to the Apple TV.


CONS
Pricey; the most expensive TV streaming device


App selection is still a bit light compared with Roku


Promotes Apple products first (Like Apple Music); will often send you to iTunes to "purchase" an episode from a service you have already paid for (like Netflix).


---
Apple TV Guide
The Bottom Line

Are you an Apple household? Do you have a substantial collection in your iTunes library?

Do you have a 4K TV with HDR support? Do you want a polished, high-end TV streaming experience, even if it's more expensive?
If so, then you will likely be very happy with this thoughtfully designed, premium quality device.

If not so much, then a cheaper, unbiased device like Roku would probably serve you better.


---
Apple TV 4K
Buying Link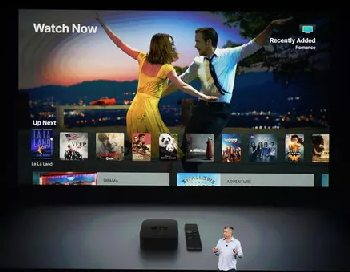 Apple TV 4K - 32GB

Buy it here:
Apple TV 4K - 32GB
---

Compare the Apple TV to Amazon Fire.
Compare the Apple TV to Roku Stick.

Compare the Apple TV to Google Chromecast.

Back to Smart TV.

---