Cooking Outdoor Recipes
Ribs, Turkey & Jerky
---
Cooking Outdoor Recipes
Scott's Kick-Ass Smoked Ribs 
Ingredients: 

"St. Louis-style" pork spareribs (the strip of hard breastbone and cartilage is removed, leaving a more rectangular, easy to cut up slab) Ask the butcher if you can't find them.


Dry Rub: For each slab of ribs, mix in a bowl:
2 Tblsp. sugar
1 Tblsp. paprika
1 Tblsp. Kosher salt
1-1/2 tsp. Coarse grind black pepper
Rub each slab down liberally with bottled chopped garlic in olive oil. Allow to marinate an hour at room temperature.

With a spoon, sprinkle the dry rub mixture all over both sides of the rib slabs until totally coated.

Place the ribs on the grill in the cooking chamber and follow all instructions that came with your  Offset Smoker.

The ribs should be ready in 4-6 hours, when the meat begins to pull away from the bone. Serve with Our Favorite Barbecue Sauce (below) on the side.


---

Cooking Outdoor Recipes
Our Favorite Homemade Barbecue Sauce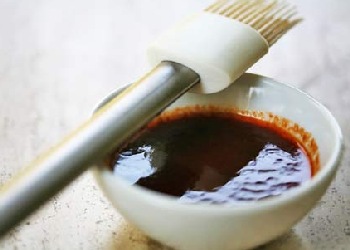 Ingredients: 
2 cups ketchup
1 stick butter
1 Tblsp. grated fresh ginger
1/2 cup brown sugar 
1/4 cup Worchestershire sauce
1 Tblsp. chopped garlic (I use the bottled garlic in olive oil)
1 fresh lemon, quartered and seeded
Salt, pepper and Tabasco to taste
Place all ingredients in a saucepan on high. Watch carefully, stirring often until it comes to a boil.

Immediately reduce heat and simmer for 15-20 minutes, again stirring often.

This is award-winning barbecue sauce!
---

Cooking Outdoor Recipes
Big Easy Cajun Turkey Recipe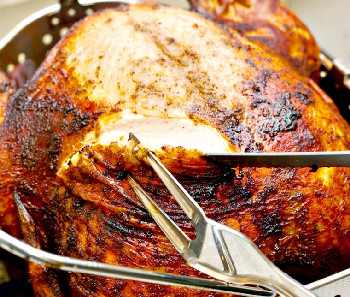 Ingredients: 
One thawed turkey, 16 lbs. max (no stuffing)
King Kooker Cajun Seasoning (we found this to be the best)
2 sticks (1/2 lb.) real butter
4-6 cloves minced garlic
Melt the butter in a saucepan and saute the minced garlic in it over low heat. Once the butter is well infused with the garlic, remove pan from heat.

Place a strainer over a quart bowl and pour the garlic butter into it. With a spoon, mash the garlic bits against the strainer to get some pulp into the butter. Discard the leftover solids.



With a Cajun Injector (from Walmart or Amazon), draw up the garlic butter and inject into the meat of the turkey, at multiple sites. Make sure to inject plenty into the breasts, as those are usually too dry.
Coat turkey with a couple tblsp. of peanut oil, and dust liberally with the Cajun Seasoning. Do not add extra salt. 

Insert the turkey into the Big Easy Basket using kebab skewers to hold it up; as directed here: Outdoor Cooking Equipment. Cook per the instruction book included with your Big Easy Infrared Fryer.
---

Cooking Outdoor Recipes
Our Favorite Beef Jerky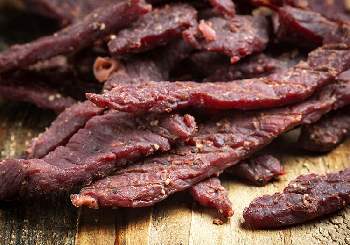 Ingredients: 
2-1/2 to 3 lbs. of lean London Broil or Flank Steak (Brisket)
1 cup Kikkoman Soy Sauce
1 Tblsp. Worchestershire Sauce
1 Tblsp. Liquid Smoke (optional)
1/4 cup brown sugar
1-1/2 tsp. minced garlic
1-1/2 tsp. grated fresh ginger
1-1/2 tsp. fresh ground pepper
2 Tblsp. honey
[Do not add salt]
Put the meat in the freezer for an hour or two so that it is partially frozen (this makes it easier to slice). Trim all the visible fat from the meat and discard.

With a very sharp butcher knife, slice meat into 1/8" to 1/4" thick strips, AGAINST THE GRAIN.

Place the strips in a large ziplock bag. Combine all the marinade ingredients in a small bowl and pour into the meat slices in the bag. Close up the ziplock and knead the bag to spread the marinade sauce throughout the strips.

Refrigerate the bag while marinating for several hours or overnight.

Remove the meat strips and lay them out in a single layer on the Excalibur Dehydrator screens. They can be close together but should not overlap. Dry at 145°F until a cooled piece will bend and even crack, but not break.
Eat the test pieces :)
It can take from 4 to 8 hours, so keep an eye on your jerky and test every now and then.


---