Buy Pet Toys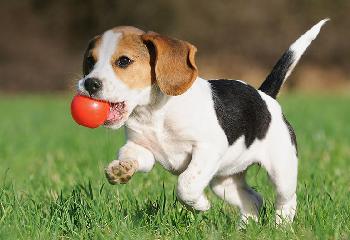 Well, we have taken care of our pets basic needs- food, shelter and security. Now it's time for fun!
We give recommendations for some very sturdy and fun pet toys below. Before you buy pet toys for your animals, consider our honest reviews.


---
Our Favorite Pet Toys
Buy Pet Toys Online

Kong Flyer Dog Toy (soft Frisbee)

This is one of Minis favorite fetch toys. Is made of soft rubber so it won't hurt her mouth or teeth like a regular Frisbee could. However, it is so durable that she cannot chew it up!
It does fly like a Frisbee but is a little heavier and with shorter/lower flight patterns. We feel that's a good trade-off. It is also very inexpensive on Amazon. Comes large or small, we have both.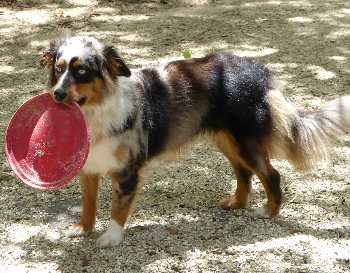 ---

OurPets IQ Treat Ball Interactive Food Dispensing Toy- We just call it "The Food Ball"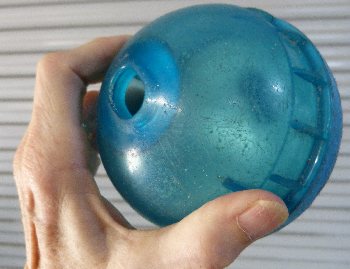 After Mini got ahold of it. Still going strong.
Buy Pet Toys
This clever toy keeps Mini occupied for quite a while; she seems to really enjoy it. It is a plastic ball which unscrews in the middle so you can fill it with bits of dry dog food. The plate inside allows you to adjust the difficulty of effort for the dog to get his treats. Then you simply lay the ball on the ground.
It takes a little while for the dog to get the hang of it, and then they chase it all over the place trying to get it to dispense treats. Although ours is scratched up and well used, but it is intact; Mini tested indestructible.
She sometimes buries the Food Ball for later snacking :)

---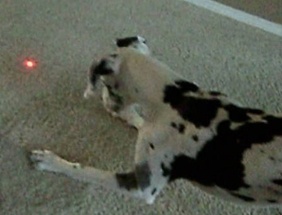 Buy Pet Toys
Who would have thought that one of Scott's cheap tools would turn into Mini's favorite toy? One day he pointed the laser beam on his LED worklight at the floor. Mini started chasing it and went crazy over it! Now usually daily, he entertains her by moving it all over the place. Mini chases it tirelessly!
This keeps her occupied for a very long time. You have to keep one step ahead of Aussies to keep them entertained and out of trouble! 

Kittens also enjoy the laser tag game, and the devices below were marketed for that use.
Caution: It is very dangerous to shine a laser pointer into a dog's (or humans) eyes. It can actually damage the eye and cause vision loss!
---

Here you can see Mini playing with some of her favorite toys: Kong, Food Ball & Laser Tag:


---

Nite Ize GlowStreak LED Light Up Dog Ball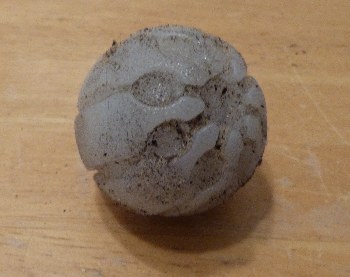 Mini's well-used glow ball. Indestructible!
Night time is the right time! Occasionally, we extend Mini's exercise into the night with this waterproof LED ball which lights up and changes colors when put in motion. (Auto shutoff after 10 minutes). Replaceable batteries last about 13 hours.
Here's a fun video we took of Mini chasing this thing in the dark. She simply LOVES it, and chases it til she is exhausted.

TIP
You must open up this ball and pull out the core of it to get it working. It is not enough to just yank out the yellow paper tab. You have to unscrew the core with a screwdriver and pull the second white tab.

Complete instructions are on a piece of paper INSIDE the cardboard package. And you must rap the ball on the ground really hard to light it up before use.
We actually sent one of these back thinking it was defective, until we found the instructions. DUH!


---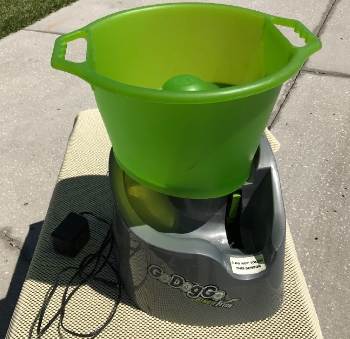 Go Dog Go ball launching machine
Buy Pet Toys
Sometimes we get tired of throwing balls for our hyperactive Mini; she will keep you throwing for a LOOOONG time. This machine sounds like just the ticket!

This clever device tosses tennis balls for you. And once the dog figures out that he can load it himself, you're off the hook.
It has 3 distance settings and 2 different interval settings, plus a remote control. There is also a safety sensor that stops the machine if it detects your dog near the outlet.

A little pricey, but this item is on our "buy-and-test" list. We'll keep you posted! These are the folks who sell it: godoggoinc.com/fetchmachine.html.
[Note: We get no compensation for this recommendation.]
Here is the Go Dog Go machine in action:
---

This is a short list of pet toys. Do you have a favorite we haven't listed? Why not share it with us and send a photo of your pet playing with it? We'd love to hear from you!