Truth be told, we all love the softness and luxury of  high pile carpet, but keeping this plush carpeting clean can be a challenge. This is why you need to find the best vacuum for high pile carpet.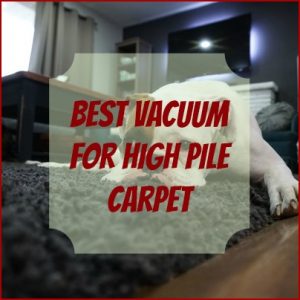 While carpeted houses look nice, keeping that carpet clean and free of debris isn't always easy and the higher the pile on that carpeting, the more difficult it is to get it really clean.
Dirt particles tend to get stuck deep down inside the crevices of deep pile carpet where a lot of vacuum cleaners cannot reach.
But cleaning this type of carpeting shouldn't be a difficult task if you have the right vacuum.
---
Best Vacuum for High Pile Carpet
The best vacuum for high pile carpet should have suction that is strong enough to suck out the debris even from the deepest part of the carpet.
Here are some of the top rated vacuums that can make the task of carpet cleaning the deep pile carpeting in your home easier and more efficient.
---
Hoover T-Series WindTunnel Pet Rewind Bagless Upright, UH70210

Hoover T-Series WindTunnel Rewind Plus Bagless Corded Upright Vacuum UH70120, Green

The Hoover T-Series UH70210 Vacuum is designed for high pile carpeting and sells for an affordable price.
Features
Weighs only 17.8 pounds, so you won't get worn out pushing this vacuum around.
Intuitive power controls set right at your finger tips
27 foot cord
System check indicator light tells you when your filter needs cleaning
Accessories include air powered pet hand tool
5 position height adjustment knob
Folding handle for easier storage
Cord rewind
8 foot stretch hose
Brush roll shut off pedal
Hoover has been supplying affordable vacuums to homes since the early 1900s or before and their name is trusted by many people.
The Hoover T-Series Windtunnel is an affordable vacuum with a lot of suction. The height adjustment allows this vacuum to be used on various heights of carpeting fairly easy. Going from carpet to hard floors is quite easy with this vacuum – thanks to the brush roll shut off pedal
Customer Reactions

While a few users did experience difficulty with the vacuum brush not turning. And a few had suction problems, overall this vacuum gets better than average reviews.
Features users really like include:
Light Weight – Users find the weight of this vacuum is a real asset as they feel less tired using this vacuum even for extended periods of time.
Suction – Although a few users found that the suction power of this vacuum seemed to diminish overtime, the majority of users felt it had great suction. In fact, some stated that it had more suction than vacuums that cost considerably more.
Bagless – People who prefer bagless vacuum found that this vacuum met their needs quite well.
Height Adjustment – People who have different heights of carpet throughout their home, really like the fact that this vacuum could be adjusted to clean all heights of carpeting equally well.
Great for Pet Hair – Users love that this vacuum effectively removes pet hair
Click Here to See Price on Amazon.Com
---
Hoover Platinum Collection Bagged Corded Upright Vacuum with Canister Vacuum Cleaner UH3001COM
Hoover Platinum Collection Lightweight Bagged Upright With Canister, UH30010COM
The Hoover Platinum UH 30010COM is actually two vacuums sold for the price of one.
Features
Lightweight bagged upright vacuum and hand held canister vac.
12 Amp Motor
Illuminated fingertip controls
2 speeds
Self sealing HEPA bag
Canister vac, bare floor brush, dusting brush, crevice tool, telescoping wand
5 year warranty
Upright cord 35 foot long, canister cord is 25 feet long
Weighs less than 12 pounds
No scuff bumper
Auto height adjustment
This handy set of vacuums by Hoover allows you to vacuum your floors, stairs, upholstery, curtains, and even get those cobwebs from corners.
The upright vacuum alone is worth the price, so the addition of the small canister vacuum is real benefit.
Potential users need to know that the upright has a carry handle made specifically for carrying the vacuum from room to room or upstairs,
This vacuum needs to be carried using this handle, carrying it by the vacuum handle will result in the handle breaking.
Customer Reactions

This Vacuum is extremely popular with over 1500 reviews scattered over the web.
Although some users feel that this vacuum is hard to push on thick carpet and some users do state that the little canister vacuum gets hot when used for long period, most users really like this vacuum and find it meets the majority of their needs.
Benefits users find when using these vacuums include:
Great on Carpeted Homes with Stairs – Due to the lightweight of this vacuum, users find that it works great on carpeted homes with stairs.
Picks up Pet Hair – Users find that this vacuum picks up pet hair extremely well, making it useful for homes where pets are part of the family.
When reading through the reviews for this vacuum, potential purchasers should note that several of the negative reviews compare this vacuum to much more expensive ones.
It is somewhat unrealistic to expect a budget vacuum like this Hoover to function the same as a High end vacuum that sells for a high end price.
Click Here to See Price on Amazon.Com
---
Hoover T-Series WindTunnel Rewind Plus Bagless Corded Upright Vacuum UH70120, Green
Hoover WindTunnel T-Series Rewind Plus Bagless Upright, UH70120
The Hoover WindTunnel UH 70120 is a budget vacuum designed for carpeting that sells for an extremely low price.
Features
Lightweight upright vacuum cleaner with WindTunnel technology
5 position height adjustment and 13 1/2" nozzle
No Scuff bumper
27 foot retractable power cord, rinse clean filter and permanent HEPA filter
Includes extension wand, crevice tool, dusting brush and power hand tool
Retractable cord
Bottom release cup
8 foot stretch hose
System check indicator tells you when the filter needs cleaning
Weighs 23 pounds
This Hoover WindTunnel is a budget priced vacuum that may be ideal for those people who simply can't afford a high priced or even medium priced vacuum.
It has a load of great features that most people would not expect on a lower end vacuum. It is designed for cleaning both carpets and hard floors. So it is also a great vacuum for tile floors as well as wood floors.
Customer Reactions

This Hoover vacuum is extremely popular with somewhere around 5000 reviews scattered around the internet and good overall ratings.
The biggest complaint that unsatisfied users seem to have is that it seems to clog a lot. And needs to be taken apart and cleaned out regularly.
Other users find that the rewind for the cord sometimes quits functioning.
However most users who purchased this vacuum really like it and find the following features beneficial:
Great Suction – Hoover vacuums are known for their powerful suction and this vacuum is no different, enabling people to clean out ground in debris from their carpets.
Nice Long Cords – Users like the fact that you don't need to keep plugging and unplugging this vacuum to clean a room.
Wheels Move Easily on Carpeting – Users also like the fact that the wheels of this vacuum move easily even on high pile carpeting, making it easier to push along as you vacuum.
Click Here to See Price on Amazon.Com
---
More Best Vacuum Cleaners for High Pile Carpet

Below are other top rated vacuums that are suitable for cleaning thick pile carpet.
Hoover T-Series WindTunnel Rewind Plus Bagless Corded Upright Vacuum UH70120, Green
Soniclean Soft Carpet Upright Vacuum Cleaner
Eureka NEU188A PowerSpeed Turbo Spotlight Lightweight Upright Vacuum Cleaner
---
While no vacuum is perfect in every person's eyes, these vacuums meet the approval of most of the people who purchased them. We hope that the above reviews will help you choose the best vacuum for high pile carpet that meets your needs.