Many people love to sew and enjoy making all sorts of clothing, quilts, and other items but it is difficult to get that professional finished look with a sewing machine alone, which is why many people decide to invest in a serger. If you are new to the sewing world, here are options for the best serger for beginners!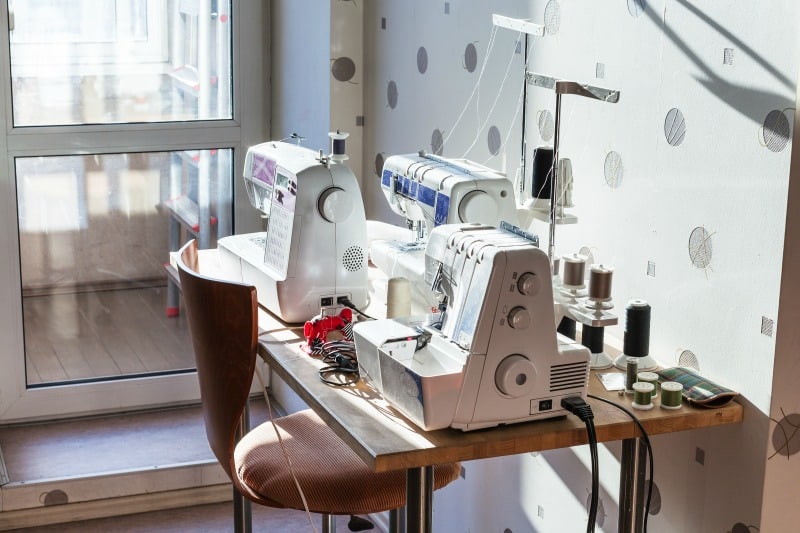 However, many professional sergers can have complicated features that are terrifying for people who have little or no experience with one of these machines. So it is essential, for these people to find the best serger for beginners so that they can take their sewing projects to the next level without spending months learning how to use a complicated machine.
Luckily, there are several sergers that are designed for beginners, and here is a look at some of the best.
Do you need a serger or a sewing machine? Find out here!
Best Serger For Beginners
Brother Serger, 1034DX, Durable Metal frame Overlock Machine 1,300 Stitches Per Minute, Trim Trap, 3 Accessory Feet and Protective Cover Included

Brother sewing machines are well known, so people who are looking for a quality beginner serger are often more comfortable going with a Brother serger since the Brother name is one that they already trust.
The Brother 1034DX Serger is a great serger for beginners due to its simple-to-understand and use features.
These features include:
Reliable high performance 3/4 thread serger delivers professional finishing
Can create ruffles, decorate edges, gathers, join laces, serges spaghetti straps, and narrow edges with ease.
22 built-in stitch functions
3 or 4 thread overlock, narrow rolled hem, ribbon lock
Differential fabric feed makes for an even stitch quality
Easy to thread
Includes instructional video, printed manual, and number upper and lower looper
25 year limited warranty with free phone support for life machine
Phone support for the life of the machine.
Includes: 2 snap-on feet, foot controller, softcover, needs
120 volts
Optional feet available at additional cost
With over 1000 views it is obvious that the Brother 1034D is an extremely popular serger both for beginners and those with more experience using these types of machines.
This serger seems to have all the basic functions most people would want in a basic serger and comes with both an instructional video and manual to help get new users off to a great start.
The added phone support is also a plus for those first-time users who may have a lot of questions.
Users Take
The Brother 1034D serger has excellent ratings and most users find that this serger is far easier to use than they expected it to be.
Even the dreaded task of threading this machine is made much easier, thanks to the great color-coded system and step-by-step directions.
Other features that impressed users include:
Easy Set Up – Users found the setup of this machine easier than they imagined with many users stating they were ready to try out the stitches within an extremely short time of opening the box.
Great Instructions – Users also found both the video and instruction book to be well done and extremely useful to them.
Beautiful Stitches – Users also stated that the 1034D makes beautiful stitches and helped them make more professional-looking products almost immediately.
Click Here to See Price on Amazon.Com
Brother Designio Series DZ1234 Serger
Another fairly popular Brother serger suitable for beginners is the Brother Designio Series DZ1234 serger.
This serger is similar to the Brother 1034D with a few added bells and whistles.
Features of this machine include:
Includes blind hem stitch foot, Gathering foot, and piping foot
2 sets starter thread to create custom finishes
1300 stitches per minute
Color-coded Threading
Differential fabric feed 0.7mm- 2.0mm ratio
Adjustable stitch width from 3.0mm. To 7mm
Instructional DVD
The Brother Designio Series DZ 1234 Serger appears to be a sturdy and functional serger that can speed up your sewing time while giving you professionally finished-looking work.
The three different feet will allow you to accomplish more with this machine without the necessity of buying additional accessories.
Brother states that this serger is ideal for making bridal gowns and other formal wear.
Users Take
Users give the DZ1234 high marks across the board, stating that this machine does everything they could possibly want a serger to do.
Best of all, it allows those who have never owned a serger before to use this machine to turn out professional-looking fashions with relative ease.
Features users found especially helpful include:
Easy to Thread – With so many horror stories about how difficult sergers are to thread, most users are thrilled to discover that the DZ1234 is fairly simple to thread if one simply follows the color coding and the directions.
Clear Instructions – Users really seem to appreciate the instructional DVD that allows them to turn out quality products, simply by watching the video once or twice. It also makes for a handy reference that is easy to refer to.
Super Fast – Users are also impressed at just how fast those 1300 stitches per minute really are. Some users state that using the serger for different finishing tasks speeds up the time they spend on a given project.
Janome 8002D Serger
The Janome sewing machine company manufactures a number of machines for just about every type of fabric crafter from quilters, to embroidery to simple sewing projects.
The Janome 8002D Serger is ideal for those people looking for high quality but simple serger for beginners.
Features of this machine include:
3 or 4 thread overlock capability
Built-in rolled hem feature
Color coding chart for threading
Adjustable cutting width 3.1mm to 7.3mm
110 volt
Differential feed 0.5mm to 2.25mm
25 year limited warranty
1300 Stitches per minute
Adjustable foot pressure
11 optional attachments that you can add (for an additional cost)
The Janome 8002D serger is great for beginner sergers who are looking for a machine that will grow with their advancing skills.
Since you can buy 11 additional attachments to go with this serger, you can continue to use it once you are past that "Beginner" phase.
Users Take
Most users who purchased this Janome serger have nothing, but good things to say about the way it functions.
They find this to be a quality machine that is perfect for both those owning their first serger and those with more experience and looking for a serger that meets their budgetary limits.
Features users find most helpful with the 8002D include:
Extremely Easy to Use – Most beginners state they simply watched the accompanying DVD and jumped right in and were able to use this serger with only a short practice time.
Easy to Adjust – Users also find that this machine is easy to adjust to meet their specific needs for any given project. Making it possible for them to finish off light slippery projects or ones that are somewhat heavier.
Easy to Thread – Users find that this serger is so easy to thread that they don't need to tie onto the existing thread in order to change colors, but can remove the old thread and rethread with the new colors by following the easy to read color-coded chart.
Click Here to See Price on Amazon.Com
If you have been wanting a serger but were afraid that one of these machines was too complicated for a beginner, then you just may find that one of these three sergers is perfect for beginners as well as those with a bit more experience.
More Sergers to choose from
SINGER | ProFinish 14CG754 Serger 2-3-4 Thread Capability Overlock with Blind Hem
JUKI MO654DE Portable Thread Serger Sewing Machine
Brother Serger, 2340CV, Cover Stitch, Advanced Serger, Color-Coded Threading Guide