If you've ever tried to buy a gift for a teenage girl, you probably realized very quickly it's not always easy to do. Teenagers can sometimes be fickle, which means they change their mind often. So something they like today, may not be what they like next week or next month. This problem is compounded by the various trends teenagers pay attention to. Here's a list of the best gifts for teenage girls, to make your life easier when you're ready to start shopping for this year's gifts.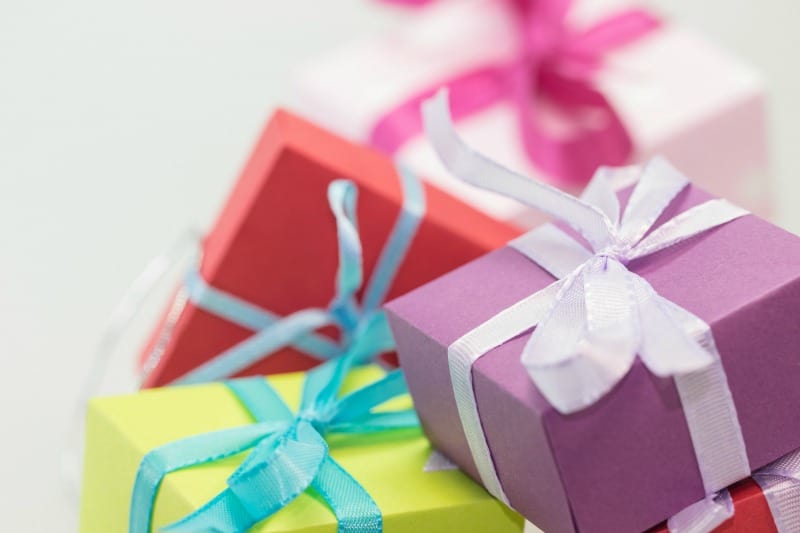 If you happen to know your teenager gift recipient well, your life will be easier. But that's not always the case, so let's look at some simple gift ideas for teenage girls that usually go over very well.
Best Gifts For Teenage Girls
1. Teenage jewelry
Most teenage girls, as well as women of any age, love to receive jewelry as a gift.
But of course, not all girls like wearing jewelry. So do a little bit of investigative work to learn if your recipient actually would wear your gift.
For example:
does she have her ears pierced?
have you seen her with a necklace?
can you spot a bracelet or a watch on her wrist?
Even if she only wears them once in a while, chances are any type of jewelry like that is probably a safe gift idea.
Beautiful teenage jewelry on Amazon
Heart Halves Matching Big Sis Little Lil Sis Sisters Necklace
Large 1-1/4
White Birch Silver Plated Charm Bracelet Charms
Mall of Style Hello Kitty Jewelry Set for Girls – Teenage Jewelry (Blue)
Teenage Mutant Ninja Turtles Dangle Earrings
Trendy Teenage Character Pendant
Crystal Diamond Heart Shaped Arrow Pendant Chain Necklace
Essential Oil Diffuser Bracelet – Adjustable Leather Band with 8 Color Pads
Solar System Bracelet – Natural Stone Beads Bracelet Bangle for Girls
2. Teenage makeup
Buying a nice makeup case and filling it with lots of small travel-sized items might be the best way to go about this when you're not sure what she likes.
Alternatively, you could buy her a nice makeup brush set, because makeup brushes are supposed to be replaced regularly, or, a nice eyeliner in the color of her eyes.
This set of unicorn makeup brushes will be a hit with any teenager 😉
Teenage makeup on Amazon
SHANY Glamour Girl Makeup Kit – 48 Eyeshadow/4 Blush/6 Lip Glosses
Young Girls Makeup Kit – All Natural, Certified Organic Kids Makeup Set
BR deluxe makeup palette (64 colors) – extra pearl shine
3. Teenage spa
What girl doesn't like to be pampered? You have so many options if you go the spa route! Here are just a few ideas:
– bubble bath
– body or face lotions
– perfumes
– face mask
– nail polish
– aromatherapy
Anything that will allow your teenage girl to pamper herself usually ends up being a great gift idea.
Here are some really creative Christmas gift ideas!
4. Hair accessories for teens
Most teenage girls love playing with their hair. And depending on the girl in question, this can be an easy way to give her gifts.
Here are some ideas:
– barrettes
– hair ties
– curling iron
– roller set
– hair extension clips
– bows
– headband
– and more
Hair accessories for teenage girls available from Amazon
Colorful Hair Chalk Pens. Temporary Color
Chiffon Flowers Lined Hair Bows
Vintage Elastic Printed Head Wrap
5. Personalized clothing
Surprise her with a personalized tank-top, v-neck, sweatshirt, or cap: something designed with her in mind.
Personalized Pattern Printed Short Sleeve Black Shirt
Personalized Artist Summer Short Sleeve
Dreamworks Trolls Girls' T-Shirt – Princess Poppy
Related: Cute school bags teen girls love
6. Romantic Novels for Teens
Every girl loves to curl up with a good book and forget about those around her. My daughter would read a book a day during vacations (not a 100-page book either). She loved going in her own world of dreams through her books.
Give this experience to your teen: you won't regret it.
The Running Dream (Schneider Family Book Award – Teen Book Winner)
Never Always Sometimes: A coming-of-age novel (Harlequin Teen)
Meanwhile: Pick Any Path. 3,856 Story Possibilities. (Top Ten Great Graphic Novels for Teens)
Just As Long As We're Together
The Boy in the Striped Pajamas
A Long Walk to Water: Based on a True Story
7. An electronic book reader
With an electronic book reader, like the Kindle, she'll be able to read on the go. What a treat!
Kindle Paperwhite E-reader – Black, 6
8. An electric foot massager
After a long day running around, who wouldn't love a foot massage? This inexpensive foot massager will leave her legs and feet refreshed and invigorated.
She'll enjoy the relaxation of a foot massage and feel very special 😉
Shiatsu Foot Massager Machine – Electric Deep Kneading Massage with Heat & Air Compression -For Circulation, Feet Legs Muscle Relief, Plantar Fasciitis, Neuropathy, Chronic Nerve Pain Therapy Spa Gift
Foot Massager with Soothing Heat 6 Levels Air Compression Intensities Deep Shiatsu Kneading Massage for Relax and Therapy
9. A gift certificate
When you really don't know what to give a teenage girl, a gift certificate it's always welcome: she'll get exactly what she wanted. It's like a license to go shopping 😉
Where could you get a gift certificate? Amazon.com is a great place. They have several options for delivery:
by email
through printing at home
Free One-Day Shipping
and even through Facebook
I hope you now have some ideas about where to start when looking to buy the best gifts for teenage girls.
10. Detailed coloring pages
Teen girls are busy, busy. Teen girls also need proper downtime to rest their minds and a great way to do that is to doodle…or color in these amazing Detailed Designs coloring books! My daughters LOVE these and have even framed their favorites.
11. Boutique style lace boot socks
I purchased these for my teen girls last year and they LOVE them. They also come in cute colors and patterns so be sure and grab a few!