Finding the best cordless vacuum for pet hair will allow you do those quick pick me up jobs to keep your home free of that pet hair.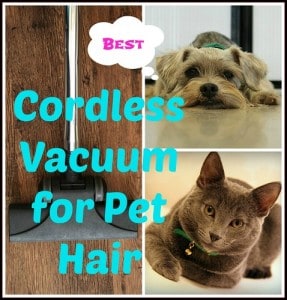 We all love our pets but no one loves the pet hair they leave behind on the floors and furniture.
Here is a look at the best cordless vacuums for pet hair on today's market.
Best Cordless Vacuum For Pet Hair Review
---
Hoover Platinum Collection Linx Cordless Pet Handheld Vacuum, BH50030

Hoover Platinum Collection LiNX Cordless Pet Hand Vacuum

Hoover Vacuums have been around for over 100 years and continues to make some of the most popular vacuums on the market.
The Hoover Platinum Collection LINX Cordless Pet Handheld Vacuum is a handy vacuum for keeping pet hair from accumulating on furniture and stairs.
Features
Designed to remove stubborn pet hair
Interchangeable Lithium Ion battery
Pet upholstery tool with 3 blade design
Deluxe dusting brush
25 degree pivoting design
Limited 2 year warranty on vacuum, battery and charger
The Linx handheld vacuum is lightweight enough that a child can use it. This makes it easier for everyone in the home to help keep that pet hair at bay.
Consumers do need to understand that the battery needs to be removed when it is charged, which doesn't take much effort. But some people may find that to be inconvenient.
Customer Reactions

The Hoover Platinum Linx Cordless hand vacuum gets excellent reviews from users. However, they do find a couple of issues with this vac.
The first is, the fact that being a handheld vacuum the Linx is not designed to clean up large areas.
The other problem is that the cup fills up extremely fast, especially if you have a pet that sheds a lot.
However, these issues are balanced out by the features that users really find to be beneficial.
These features include:
Battery Stays at Full Power Until Charge Runs Out – Users like the fact, that the battery remains at full power until the charge runs. This translates to more overall, cleaning time which you don't get with a battery that gets increasingly weak.
Cup is Easy to Empty – The dirt cup is easy to remove and replace, and extremely easy to empty without scattering dust all around the garbage can.
Washable Filter – Although this vacuum does not have a HEPA filter, the foam filter is easy to wash and dry just using water, helping to keep it working well far longer.
Size and Weight – The size and weight of this little hand vacuum makes it ideal for quick clean up jobs in the house or even on those car seats.
Click Here to See Price on Amazon.Com
---
Hoover Linx Cordless Stick Vacuum Cleaner, BH50010
Hoover Linx Cordless Stick Vacuum Cleaner, BH50010

The Hoover Linx Cordless Stick Vacuum Cleaner is as powerful as the handheld version. However, it makes it easier for people to clean that pet hair off their floors as there is less bending over.
Features
Cordless and bagless stick vacuum cleaner with wind tunnel technology
Interchangeable 18 volt Lithium Ion battery for fade free power
Auto height adjustment
Motorized power brush turns off with a flip of a switch for bare floor cleaning
11 inch nozzle
Edge cleaning bristles
11" X 8" X 42"
2 year limited warranty on both vacuum and battery/charger
The Hoover Linx cordless Stick Vacuum is perfect for cleaning up pet hair in a hurry. It is also suitable for people who have small apartments and no room to store a larger Vacuum.
Potential consumers should be aware, however that it is not a good idea to store the battery in the battery charger as doing so will shorten the battery's life.
Once the battery is charged, place it back on the vacuum ready to use for your next clean up.
Customer Reactions

The Linx stick vacuum is an extremely popular cordless vacuum with between 3000 and 4000 reviews for it scattered around the internet.
It also gets extremely good reviews with most users liking the way this vacuum performs.
Some users feel that this Linx could have a better battery life. And that customer service from Hoover for this vacuum is poor.
However, the majority of users feel this cordless upright blows away most of the competition. They find the following features extremely helpful.
Cleaning Ability – The vast majority of users feel that the Linx upright does a great job of cleaning dirt, debris, and pet hair from both carpeting and hard floors. Some users are really impressed to find such cleaning power in a small stick vacuum cleaner.
Controls on the Vacuum Handle – Users also feel that having the controls on the handle of the vacuum is convenient and makes using this stick vac just a little bit easier.
Easy Clean Filter – The easy to clean filter also gained the attention of most users. They like the fact that you can simply rinse off the filter and replace it to keep this vacuum collecting all that dirt.
Lightweight and Easy to Carry – Users also find this vacuum a simple and less exhausting way to clean stairs. Although there seems to be a bit of a trick in holding this vacuum when vacuuming steps, its lightweight makes it ideal for carrying up and down stairs and vacuuming them on the way.
Overall, most users are impressed by having a cordless stick Vacuum that does such an excellent job of picking up dirt and pet hair.
But, they do state that this vacuum is more for small areas and quick pick up jobs than for day to day heavy cleaning.
Click Here to See Price on Amazon.Com
---
Dyson DC35 Animal Digital Slim Cordless Vacuum Cleaner With Pet Hair Tool
Dyson DC35 Digital Slim Multi floor cordless vacuum cleaner

The Dyson DC35 Digital Slim Cordless Vacuum with Pet Hair Tool is designed especially for homes with pets.
This vacuum's digital motor is supposed to work at three times the speed of conventional motors for quicker clean up.
Features
Digital motor
Motorized floor tool with carbon fiber brushes for hard floors and rotating nylon brushes to remove ground-in dirt from carpeting
22.2 Volt lithium ion battery
Root cyclone technology
Detachable Long reach wand
The DC 35 comes with a wall mounted docking station that makes for easy storing and charging of this vacuum.
The charge lasts around 13 to 15 minutes. This is about standard for most cordless vacuums as they are not meant to do heavy duty cleaning of the entire house.
However, potential customers should note that while this vac will work on carpets with repeatedly going over an area it is actually much better on hard surfaces.
Customer Reactions

The majority of users do like the Dyson DC 35 cordless animal vacuum and give it good marks. However, several users did mention that they felt this vacuum lacked power.
So, while they felt it did an okay job, it was over priced for the job it actually did.
Other users felt that it met their needs exceptionally well and cited the following benefits when using this vacuum.
Can Clean All Surfaces – Users like the fact that if you purchase the multi tool kit with this vacuum it is capable of cleaning all different surfaces. Thus freeing your entire home of dust and animal hair.
Dirt Cup – Users like the clear dirt cup that allows them to see how full the cup is. They also like the fact that the dirt cup is somewhat larger than on most cordless vacs.
Lightweight – The lightweight design of this vacuum makes it easy to use on stairs or carry up and down to do those quick clean-up jobs all over the house.
Easy to Store – The docking station for this cordless vacuum makes it easy to store out of the way when not in use.
Click Here to See Price on Amazon.Com
---
Best Cordless Vacuum for Pet Hair – More Vacuums to Choose From

There are many more cordless pet vacuums to choose from. Although the three above appear to be the most popular and get the very best reviews. This means that users feel that these three cordless vacuums for pet hair give users the most bang for their buck.
However, in order to give you more options to choose from, we searched meticulously and found other best rated vacuums for pet hair removal.
The vacuums featured below also get great reviews from CUSTOMERS.
&
You may also want to check out our review of the best vacuum for pet stains. We all love pets, but they can also leave a lot of mess on our carpeting. Getting rid of pet stains can be a BREEZE with the right vacuum cleaner.
Other Pet Hair Vacuums to Consider
Bissell 1650A Pet Hair Eraser Vacuum
Bissell PowerGlide Pet Hair Bagless Vacuum Cleaner, Blue
Bissell 1782 Pet Hair Eraser Cordless Hand and Car Vacuum