With more and more people choosing tile over carpeting for their flooring, choosing the best vacuum for tile floors is extremely important.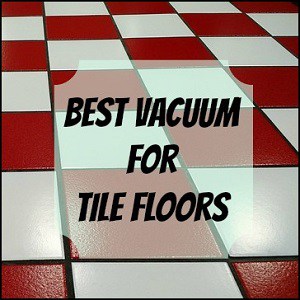 This is because not every vacuum on the market are equally good on tile as they are on carpeting and vice versa.
Knowing which vacuums do a credible job on those tile floors can help make deciding on which vacuum to buy easier.
Here is a look at some of the best vacuums for tile floors available today.
---
Best Vacuum for Tile Floors to Keep Your House Clean
Bissell PowerEdge Pet Hard Floor Corded Vacuum 81L2T
BISSELL PowerEdge Pet Hardwood Floor Bagless Stick Vacuum Cleaner, 81L2A
The Bissell PowerEdge Pet Hard Floor Corded Vacuum 81L2T is designed to keep those wood, tile, and stone floors dirt and pet hair free including those edges next to the wall and those hard to clean corners.
Features
Captures debris around the edges of the room and in tight spaces
V shaped head directs larger debris towards the center where suction is strongest
Easily cleans around furniture legs
20 foot power cord
Easy to empty dirt cup
The Bissell PowerEdge Pet Hard Floor Corded Vacuum 81L2T is extremely popular with over 2000 reviews scattered over the Internet.
This vacuum is ideal for pet owners who have hard floors.
Customer Reactions

The Bissell PowerEdge Pet Hard Floor Corded Vacuum is quite popular with around 2000 reviews for this Vacuum scattered around the Internet.
Overall this vacuum cleaner gets quite good reviews with the majority of users really finding this vacuum handy and useful.
A few users did have issues with the vacuum losing suction after a few months. And several users felt that it should come with a longer power cord, but overall most users had few problems with this vac.
Features users really like include:
Works Great on Pet Hair and Cat Liter – Users like the fact that this vacuum does an excellent job of picking up both cat liter and pet hair from hard flooring.
Dust Cup is Easy to Empty – Users also like the fact that the dust cup is easy to empty without making a mess.
Inexpensive – Users also like the fact that this is a good performing vacuum for a budget friendly price, making it affordable for most of the population.
Click Here to See Price on Amazon.Com
---
Miele S2121 Olympus Canister Vacuum Cleaner – Best Vacuum for Tile Floors and Area Rugs

Miele vacuums are considered to be one of the best vacuum companies around, so it is no surprise that one of the best vacuums for tile floors would be the Miele S2121 Olympus Canister Vacuum Cleaner.
Features
Lightweight design
Air clean filter
Comes with a dusting brush, upholstery tool, and a crevice nozzle on a Vario clip
It also has both a carpet and smooth floor tool
18 foot cord
Weighs around 13 pounds
The Miele S2121 Olympus is not only designed for tile and other hard flooring, but is designed to work on carpeting as well, making it a good choice for those who have mixed floor treatments throughout their home.
Customer Reactions

Overall, users really like the Miele Olympus S2121 and find it meets their vacuuming needs.
While users do feel that the power cord could be considerably longer to prevent all that bending over plugging and unplugging while you vacuum, they feel the benefits of this vacuum is worth this one minor inconvenience.
The benefits include:
Lightweight – This canister vacuum is much lighter than most canister vacs, only weighing about 13 pounds, which makes it an ideal cleaning tool for smaller lighter weight individuals or those who have difficulty maneuvering heavier vacuums.
Moves Easily – Users also like the fact that this vacuum moves easily on all different kinds of floor surfaces.
Great Suction – Users also feel that the S2121 has powerful suction, which helps to remove more of the dirt and debris from those hard floors and even area rugs with ease, leaving your floors looking and feeling cleaner.
Quiet – Those users who are tired of those noisy vacuums that make them feel like they are cleaning floors on an airport runaway really appreciate the more quiet operation of the Miele Olympus S2121.
While the Miele S2121 Olympus Vacuum may not be the most inexpensive vacuum on today's market, most people find its functionality and durability make it an excellent value.
Click Here to See Price on Amazon.Com
---
Dyson DC33 Multi-Floor Upright Bagless Vacuum Cleaner
Dyson DC33 Multi-Floor Upright Bagless Vacuum Cleaner
Dyson has earned a reputation for being a rather high end, high priced vacuum cleaner that has a huge following among the people who can afford high end appliances.
The Dyson DC33 Multi-Floor Upright Bagless Vacuum Cleaner has the following features.
Features
Lightweight
Works for every floor type
Telescoping wand reaches 15.7 feet
Lifetime washable HEPA filter
5 year warranty on parts and labor
17.6 pounds
The DC33 comes with a couple of features that many users should be well pleased with.
The HEPA filter removes allergens from the air while you vacuum, while the long reaching wand and extra hour power cord makes cleaning from floor to ceiling more convenient.
Customer Reactions

Most users really like this vacuum and especially like the long 5 year warranty on parts and labor.
Some users feel that this vacuum is overpriced for what you get, and find that it does not work as well as one would expect for a more expensive vacuum.
But, most users find that the function and durability of the DC 33 combined makes it an excellent value.
Features that satisfied users really like include:
35 Foot Cord – Depending on the size of your home the cord length on this vacuum really cuts down on the number of times you have to pause in your cleaning to unplug the cord from one outlet and plug it into another.
Large Easy to Empty Dust Cup – The large dust cup makes it possible for you to empty the cup less often, while the ease of emptying results in more dirt actually going in your garbage can, not on your floor.
Cleans Near Walls Quite Well – One of the complaints most users have with their vacuums is that vacuum does not clean near the walls of their room. Users of the DC33 state that it does a good job of cleaning that hard to reach area near the walls.
Works on All Floor Types – Users with a variety of different floor types really like that this vacuum cleans almost all types of floors simply and easily.
While the price of the Dyson DC33 may put this vacuum out of reach for some users, those who can afford this vacuum really feel they got good value for their money.
Click Here to See Price on Amazon.Com
---
Hoover SH20030 – Best Vacuum for Tile Floors that is Budget Friendly

Hoover Vacuum Cleaner Linx Bagless Corded Cyclonic Lightweight Stick Vacuum SH20030
Hoover is known for producing budget friendly vacuum cleaners that meet the every day needs of those on a budget.
This Hoover Corded Cyclonic Stick Vacuum may be small in size, but is big in function.
Features
Comes with a powered brush roll and uses cyclonic technology to pick up more dirt
Swivel steering makes it easy to maneuver around furniture for those days you just want to do a quick clean-up.
Extreme recline handle makes it easier to reach under more furniture
20′ Power cord
Large suction head
Lightweight
Bottom release dirt cup, for hands free emptying of dirt.
The Hoover Corded Cyclonic stick vacuum is a great little budget vacuum that works on both hard floors and low pile carpeting.
It is also great for those who live in small apartments or homes.
Customer Reactions

Users really like this Hoover stick vac finding the price, function, and weight extremely attractive.
While users admit that this vac may not clear a large house or mini mansion, they do feel it is great for most people's needs.
While some users do complain about this vacuum's ability to pick up and it's durability most users feel they get a lot of vacuuming in a small package for good price.
Features users are most impressed with include:
Lightweight and Easy to Use – Users find that since this vacuum is so lightweight and easy to use that they actually vacuum more often resulting in a cleaner home with less effort required.
Bottom Opening Dust Cup – Users also like the bottom opening dust cup that allows them to empty the vacuum while keeping their hands clean.
Reclining Handle – While the handle doesn't recline enough to get under the lowest stands or beds that are close to the floor, it does help you vacuum under most stands and higher chairs with ease.
Click Here to See Price on Amazon.Com
While the Hoover SH20030 may not be the right vacuum for everyone, it makes an excellent vacuum for smaller homes and those quick pick me up jobs.
---
Finding the best vacuum for tile floors is a matter of finding that vacuum that picks up dirt off smooth surfaces, won't damage your floors and is affordable. One of the vacuums in this review may be the right vacuum to meet your individual and household needs.
More Vacuums that are great for tile floors
Hoover FH40160PC FloorMate Deluxe Hard Floor Cleaner
Dirt Devil Power Air Corded Bagless Stick Vacuum for Hard Floors 
Oreck Venture Pet Power Hardwood and Floor Bagged Canister Vacuum Cleaner