These top 10 Thanksgiving movies have to be on your radar this holiday season. Thanksgiving may not have the holiday clout that Christmas does when it comes to movie magic, but when the family's stacked up on the couch and in the armchairs during that tryptophan phase, nothing can seem better than flipping on the television. So, if you're not into the big game, consider these top ten Hollywood football alternatives.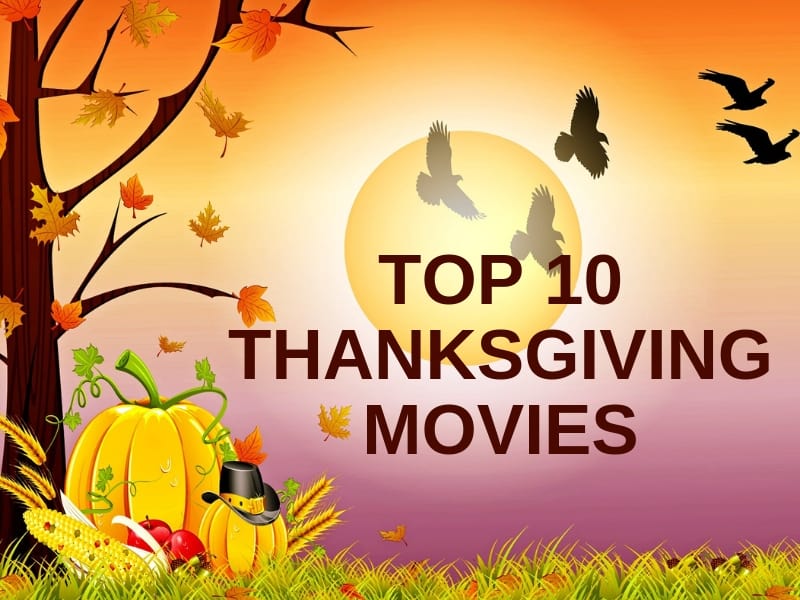 Top 10 Thanksgiving Movies That You Absolutely Can't Miss
As the food is put away, and the Thanksgiving dinnerware finds its way back into the cupboards, it's time to get comfortable and enjoy some time with the family.
Oh, and if you have prime membership, 8 of these movies are included free in your membership 😉 No prime? Try Amazon Prime 30-Day Free Trial
1. The Blindside (PG-13)
The Blind Side
It's about family, and it's about football: a twofer.
Leigh Anne Tuohy (Sandra Bullock) takes gentle giant Michael Oher (Quinton Aaron) into her home and her family, helping him to achieve grades that will get him into college, while he earns a place on the football team.
Family themes and terrific acting abound, with the football providing an entertaining backdrop – and the key to a boy's brighter future.
2. The Ice Storm (R)
Set during Thanksgiving with two dysfunctional families, this Ang Lee helmed piece explores sex, adultery, and alcohol in the 70s.
Poignant, and painful, this piece may be less directly heartwarming than others on the list, but it stands up in the case of families coming together through despicable odds.
The strong cast includes Kevin Kline, Sigourney Weaver, Joan Allen, and young Tobey Maguire, Christina Ricci, and Elijah Wood.
3. Son-In-Law (PG-13)
The Thanksgiving in this movie is set in the Midwest, giving it plenty of that hearty feeling – especially when L.A. native, Crawl, (Pauly Shore) attempts to fit in by pretending to be the fiance of Rebecca (Carla Gugino).
Crawl's optimism is what helps keeps his antics from being too wince-worthy, allowing this to be a fun family watch.
4. Hannah and Her Sisters (PG-13)
There are two Thanksgivings in this one. The film both begins and ends with one, spanning a year with the extended family orbiting around the life and success of hostess Hannah (Mia Farrow).
Her two sisters (Barbara Hershey, and Dianne Wiest) struggle with careers and relationships between the two dinners, which successfully illuminate a family who comes together in a crisis and in contentment.
5. Pieces of April (PG-13)
Black sheep April (Katie Holmes) prepares her dingy New York apartment for Thanksgiving with her estranged family in order to have what could be the last Thanksgiving meal with her cancer-stricken mother.
The film follows both the family's journey to April and her journey towards what's important, while she combats the highly problematic truth that she needs to cook with a broken oven.
6. A Charlie Brown Thanksgiving
For the young, or the sentimental – or both – Charlie Brown hosts a traditional (supposedly) Thanksgiving full of animated charm.
Convinced to host the holiday meal, Charlie Brown is naturally lent a hand by Snoopy, and pal Woodstock. Easy to watch, and enjoy, the gang offers a bright Thanksgiving message.
7. The New World (PG-13)
For a narrative more grounded in history (though efficiently Hollywood-ized), look no further than John Smith (Colin Farrell) and the settlers clashing with Pocahontas and her people in this sprawling landscape of early America.
This live-action can also be replaced or accompanied by its Disney animated companion, Pocahontas.
8. ThanksKilling
Because sometimes you don't want to think, you just want to watch a maniacal turkey kill a bunch of college kids. In that, ThanksKilling delivers.
This flick about a turkey taking revenge on mankind is touted as a horror-comedy. It will easily require no brainpower to enjoy.
9. Home For The Holidays (PG-13)
Thanksgiving is the centerpiece of this holiday feature. Holly Hunter plays a recently fired woman returning home to all the usual stresses that come with gathering with the family – except a daughter who insists on spending the holiday with her boyfriend.
Darkly witty, but emotionally sound, and definitely in theme. Also starring Robert Downey Jr. and Dylan McDermott.
10. Planes, Trains & Automobiles (R)
Considered a quintessential holiday movie, the film features Neal Page (Steve Martin) attempting to get home in time for Thanksgiving, accompanied by Del Griffith (John Candy), a bumbling salesman, who isn't quite the top-notch company he thinks himself to be.
While a comedy, Planes, like the best of them, offers an emotional lesson. That makes it right for an amusing but feel-good Thanksgiving.
Planes, Trains and Automobiles
Have you seen any of these Thanksgiving movies?
Other great movies to consider watching at thanksgiving