If you love decorating for Thanksgiving, one great investment that can turn your Thanksgiving dinner from simply a big meal to an elegant feast is a Thanksgiving dinnerware set.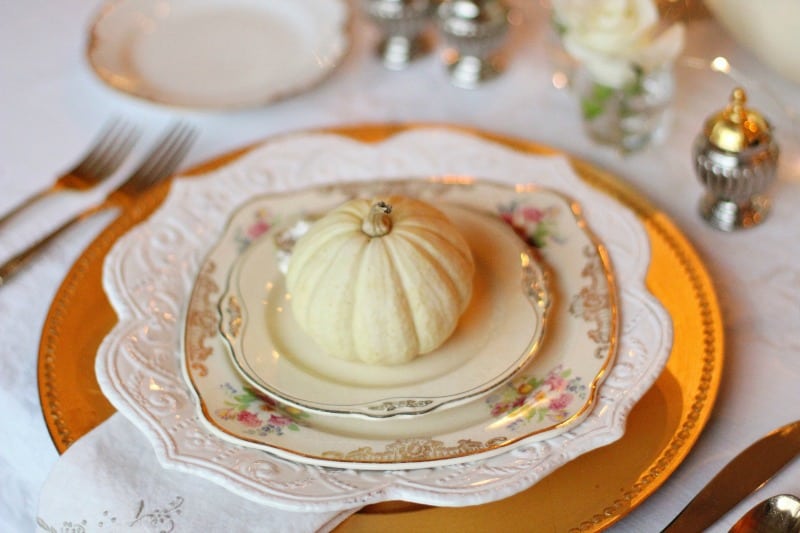 Having a beautiful Thanksgiving dinnerware set can add to your holiday decorations while serving a useful purpose.
Here are some great examples of Thanksgiving dinnerware you might enjoy having in your home.
Thanksgiving Dinnerware Set For Your Holiday Table
Queen's Myott by Churchill 8

A Set Of 4 Queen's Myott By Churchill Thanksgiving Turkey Plates
Since the first Thanksgiving was held between Native Americans and English immigrants to the country, it seems only appropriate to give some attention to  Great Britain by choosing some British inspired tableware.
These Queen's Myott Turkey Plates by Churchill may really fit the bill.
Features
10" Dinner plates featuring a colorful turkey in the center
Fine English Earthware
Dishwasher and microwave safe
Manufactured by Churchill with Queen's Myott backstamp
These are beautiful and colorful plates that are sure to dress up your holiday table and best of all, they coordinate well with other dishes.
These plates are quite expensive, but they are well made and could become family heirlooms handed down from one generation to another.
Customer Reactions

Users really seem to like these plates and feel they add a festive and elegant touch to their Thanksgiving celebrations.
Some of the features users like best are:
Colors are easy to match with other tableware you may have.
Looks particularly beautiful sitting on a charger
Definitely Thanksgiving inspired
Click Here to See Price on Amazon.Com
---
Johnson Brothers 16-Piece His Majesty Dinner Set, Multicolored
Johnson Brothers 16-Piece His Majesty Dinner Set, Multicolored
This Johnson Brothers 16-Piece His Majesty Dinner Set, Multicolored is a complete dinnerware set featuring an awesome turkey surrounded at the border by fruits, flowers and leaves.
Features
4 dinner plates, 4 salad dessert plates, 6 bowls and 4 mugs
Manufactured by Warner Classics
Dishwasher and microwave safe
This set of Turkey dishes are somewhat expensive, but truly elegant and festive.
Perfect not only for Thanksgiving, these dishes will work well for any special fall dinner. Your family will treasure this set and pass it down to future generations.
Customer Reactions

Users love this Thanksgiving dinnerware set and give it positive reviews. They like the beautiful colors and the fact that it looks good on display.
Click Here to See Price on Amazon.Com
---
Corelle Impressions 16-Piece Dinnerware Set, Woodland Leaves, Service for 4
Corelle 16 Piece Impressions Woodland Leaves Thanksgiving Dinnerware Set
Not every dinnerware set you choose for Thanksgiving has to feature pumpkins, or turkeys.
Add the right touch of elegance to your holiday and dress up your holidays table by choosing a dinnerware set with a fall or woodsy feel.
The Corelle 16 Piece Impressions Woodland Leaves Dinnerware Set is perfect for both casual dinning as well as adding a special touch to your holiday table.
Features
Place setting for 4
Plates measure 10 3/4" Luncheon plates 8 ½" Soup bowls 16 ounces and Coffee mugs 11 ounces
Dishwasher, oven and microwave safe
Pattern won't wear or scratch off
This is really a nice set of dishes with a border of leaves.
The only thing that would make this set better is if the mugs were 16 ounce and the bowls were 11 ounce instead of the other way around.
Customer Reactions

Reviews and ratings for this set of woodland leaves dinnerware are very positive.
Some users do feel that that the coffee mugs are a bit on the small side. But overall, users find plenty of things about these dishes that are impressive.
Features users really like include:
Practically Unbreakable – Corelle dishes are sturdily built and practically unbreakable, which means they will hold up for years of use. These dishes would look perfect on your Thanksgiving table with a pumpkin centerpiece.
Light Weight – These dishes are lightweight and easy to handle even for younger children. Add the lightweight to the fact that these dishes can be warmed in the oven as well as microwave safe.
Click Here to See Price on Amazon.Com
---
Rachael Ray Dinnerware Little Hoot 16-Piece Porcelain Dinnerware Set
Rachael Ray Dinnerware Little Hoot 16-Piece Porcelain Dinnerware Set
Not everyone goes for the more traditional holiday dinnerware. So this Rachael Ray Dinnerware Little Hoot 16-Piece Dinnerware Set may be perfect for those people looking to set a fun and more modern table.
Features
Set of 4 place settings
4- 10.5" dinner plates 4-8" Salad plates, 4-18 ounce cereal bowls, and 4- 11 ounce mugs
Made of Sturdy Porcelain
Microwave and Dishwasher safe
This is a cute modern autumn designed set of dishes. It features vibrant leaf patterns with a whimsical hoot design that allows you to set an a fun and unusual holiday table.
Customer Reactions
Most users really like this modern take on autumn inspired dishes.
Although a few users found that the coffee cups tend to break at the handles, most users are extremely pleased with this dishes.
Features that consumers like most include:
Fun and Modern Design – Users really like the fact that these dishes have a refreshing and fun design and great colors that inspire an enjoyable time when creating an elegant table setting.
Great for Every day and Special Occasions – Users like the fact that these dishes can be used for every day, and also can be dressed up for special occasions, giving versatility to this dinnerware that most other dinnerware simply doesn't have.
Click Here to See Price on Amazon.Com
---
Finding the right Thanksgiving dinnerware set and Thanksgiving Serving Platters can turn your holiday meal from good to a truly memorable event.
More Thanksgiving dinner to Consider
Pfaltzgraff Autumn Berry 32 Piece Dinnerware Set, Service for 8
Spode Woodland Turkey Dinner Plate
222 Fifth Autumn Celebration Square Dinner Plates, Set of 4, Harvest Thanksgiving