If you are looking for Thanksgiving serving platters, then you will find our selection here very helpful.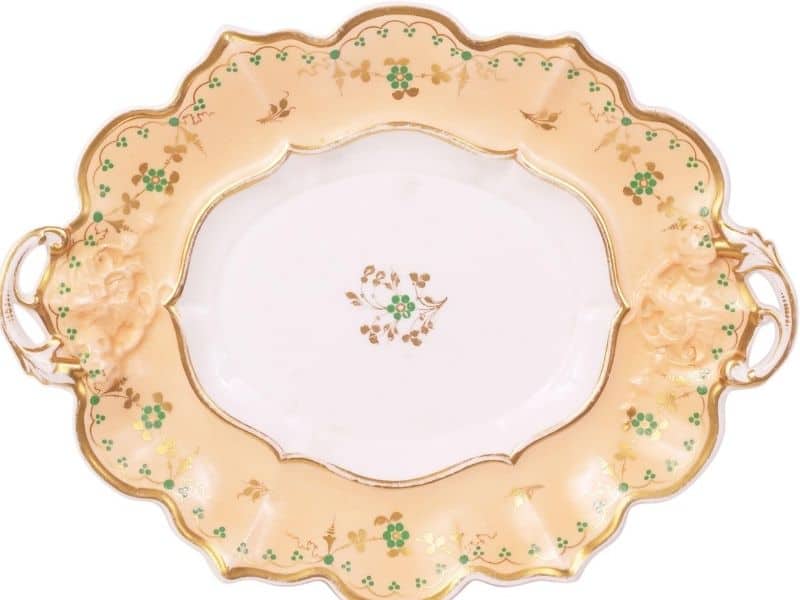 Thanksgiving is a time when families gather together to share conversations, memories, and a huge feast. Part of those feasts is the serving of the traditional Thanksgiving turkey, goose, or another large piece of meat.
This makes it necessary to have a serving dish large enough to serve the main protein.
Here is a look at some Thanksgiving serving platters for decoration, for serving, and for individual servings.
Best Thanksgiving Serving Platters
Spode Woodland Turkey Rectangular Platter – One of the High-End Thanksgiving Serving Platters
Spode Woodland Turkey Rectangular Platter
Spode dinnerware was originally made in Great Britain and is still highly prized today.
This Spode Woodland Turkey Rectangular Platter will add a touch of color to any Thanksgiving table.
Features
Platter measures 17 1/2" X 11 1/2"
Crafted of Imperial ware
There's a full-color turkey image on the inside of the platter
Historic British flowers in brown decorate the border
This platter may be a little pricey for some households, but the size is perfect for serving large amounts of food. And the design will add a touch of color to the holiday table.
Users are torn over this platter. Those who have never owned any Spode dishes before seem to be quite pleased with the quality of this platter.
But those who have purchased some of Spode's dinnerware in the past think this platter does not live up to the Spode standard.
Our suggestion would be to forget about the brand name and simply decide on the merits of the platter itself. And you may realize that this platter is what you need to grace your holiday table.
Click Here to See Price on Amazon.Com
HIC Porcelain Turkey Platter 17.5-Inch
HIC Turkey Oversized Serving Platter, Embossed, Fine White Porcelain, 17-Inches
Serving your holiday bird on a White Turkey platter has been a tradition in many American households for several generations now.
The HIC Porcelain Turkey Platter 17.5-Inch continues that tradition in style.
Features
Large 17.5 " Turkey Platter features an embossed turkey in the platter's center
Made of fine porcelain
Oven, microwave, freezer, and dishwasher safe
This large turkey platter is attractive without clashing with your holiday dinnerware.
Actual users of this platter love the Classy look of this platter. They also like the fact that it holds a lot of turkey for those large family meals. And that it comes at a reasonable price.
Click Here to See Price on Amazon.Com
Fall Leaves Oval Disposable Paper Serving Platters
Fall Leaves Oval Paper Plates, 8ct
These disposable Thanksgiving serving platters are perfect for serving food at large community gatherings during the fall months. This Pack of 8 Disposable Platters will help to save time cleaning up after a huge community meal.
Features
A colorful fall leaves design
10 25" X 12.25"
Disposable paper Thanksgiving platters
These platters could be used as serving platters on a buffet table to serve bread, desserts, and other small items.
However, they really won't hold up as serving platters for a large ham, turkey, or cut of roast.
They do however make nice individual platters for the meal itself, adding a touch of the holiday spirit to any meal.
Click Here to See Price on Amazon.Com
Oversized Turkey Platter
HIC Turkey Oversized Serving Platter, Embossed, Fine White Porcelain, 17-Inches
The Oversized Turkey Platter is a large holiday platter perfect for serving that large turkey at Thanksgiving and Christmas.
Features
Made of Stoneware
Measures 18 3/4"
Microwavable and Dishwasher safe
This oversize turkey platter is ideal for those large family gatherings, especially where a 20-pound turkey is needed to feed all the guests.
This nostalgic designed platter will bring back memories for many households. And is a wonderful addition to your holiday table that won't clash with your dinner servings.
Thomas Kinkade's Lamplight Village "Grateful Hearts Gather Here" Thanksgiving Art Platter
Thomas Kinkade is one of America's most beloved artists. And this Lamplight Village Platter is something that you can proudly in your home.
You can display it on the wall or a shelf of your kitchen or dining room during the fall holidays.
Features
Thomas Kinkade's radiant Lamplit scene recreated in beautiful detail will bring a warm feeling to your holiday gathering.
The platter is handcrafted in fine ceramic and lustrous Ivory glazes
Elegant gold bead, and graceful scalloped edges in 22K gold
Banner in raise relief is a harvest motif depicting sunflowers, golden wheat, orange pumpkins, squash, acorns, grapes, and more.
Any collector of Thomas Kinkade's work will be thrilled to add this beautiful decorative platter to their collection.
The scene is warm and welcoming and brings back memories of times gone by and of those holidays shared with family and friends.
NOTE: CURRENTLY NOT AVAILABLE – This is a great alternative!

---
We hope you found something you love among the Thanksgiving serving platters showcased here. These Thanksgiving platters should give you some wonderful options for serving, dining, and even decorating. You can even coordinate them with any of these Thanksgiving Dinnerware sets.
More Thanksgiving Platters to Consider
Cosmos 10713 Gifts Turkey Design Ceramic Platter, 18-Inch
Pfaltzgraff Autumn Berry Oval Platter, 14-3/4-Inch x 11-Inch
Personalized Family Name Thanksgiving Platter