Have you chosen your Thanksgiving place settings for the holiday season? When planning place settings for Thanksgiving dinner, the first decision to make is what type of look the table should convey. The Thanksgiving holiday is full of tradition – imagine it without turkey and dressing or pumpkin pie! – so table settings with a nod to old-fashioned flair are a natural choice. However, that does not mean there is no room for modern touches. With any Thanksgiving table style, use these three tips for beautiful holiday settings.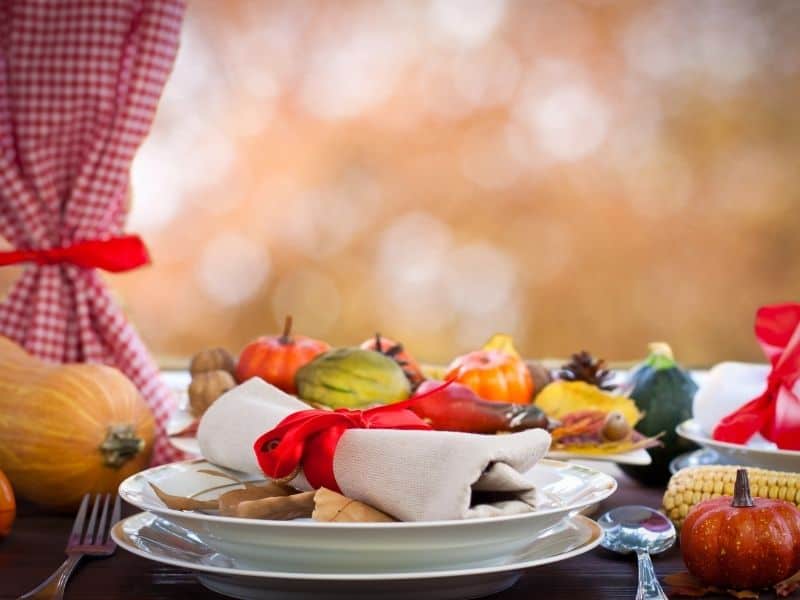 Thanksgiving Place Settings To Complete Your Holiday Look
Play with color on Thanksgiving tables
An important element for any dinner table setting is color. For Thanksgiving tables, look to the rich colors of autumn. Red, orange, brown, and gold are all good options to decorate the table. Layer them all for a traditional harvest look, or choose just one to mix with white or neutrals on a simple, modern table. Use these ideas for where to bring in color on Thanksgiving tables.
napkins
place cards
flowers
charger plates
leaves
Blue Panda 100-Pack Cocktail Napkins – Thanksgiving Give
Beistle Fall Leaf Luncheon Napkins (48 Pack), Multicolor
Incorporate Thanksgiving Icons
Sometimes using holiday-themed dinnerware appears childish or cheap. However, incorporating one of the traditional icons of the Thanksgiving holiday into your place settings is an easy way to make them special.
Icons such as turkeys and cornucopias are classic, and they are included in many china patterns. Use these Thanksgiving icons tastefully by avoiding cartoonish images, choosing them in neutral colors such as gold or brown, and using them sparingly.
Find antique plates, if possible, that features a turkey motif. Turkey-themed transferware is a great option.
Use mini wicker cornucopias found at crafts stores as place cardholders.
Stamp napkins with Thanksgiving images – turkeys, cornucopias, pilgrim hats, or bushels of corn.
Be creative with napkin folds. Search online for tutorials to turn harvest-hued napkins into turkeys and more.
Create Unique Thanksgiving Table Settings
Eating the same foods and decorating with turkeys are noble Thanksgiving traditions. It is easy to want to set the table the same way each year, too.
Although it is great to have a traditional Thanksgiving tabletop, try to keep place settings from becoming boring or unappreciated. The best way to accomplish this is by throwing in an element of surprise to create unique Thanksgiving table settings.
Swap the usual round dinner plate for a square one. This is a subtle trick to break tradition on a Thanksgiving table.
Mix up salad plate styles such as turkey transferware, amber glass, and solid bone china to create an eclectic style.
Use thin pieces of rustic wood or tree bark as chargers, which work best with a simple and natural tablescape.
Thanksgiving table settings naturally lean toward the traditional side. Update them with rich color, clever use of holiday icons, and unexpected features.
More items to consider for your Thanksgiving place settings:
C.R. Gibson 20-Count 3-Ply Lunch Napkins, Woodland, Turkey
8-Pack Harvest Napkins in Assorted Colors
Traditions by DJT Thanksgiving Tablecloth, Napkins Decorative