Because scrapbooking is an art that requires plenty of hands-on material manipulation, a good pair of scrapbooking scissors is essential to any serious scrapbooker. While there are many elements to choose from to create your complex pages and add beauty to your design – such as various fabrics, ribbons, buttons, and trinkets found in arts and crafts shops – still, an excellent pair of scissors will not only make your scrapbooking life easier, but will also give you a wider range of design possibilities.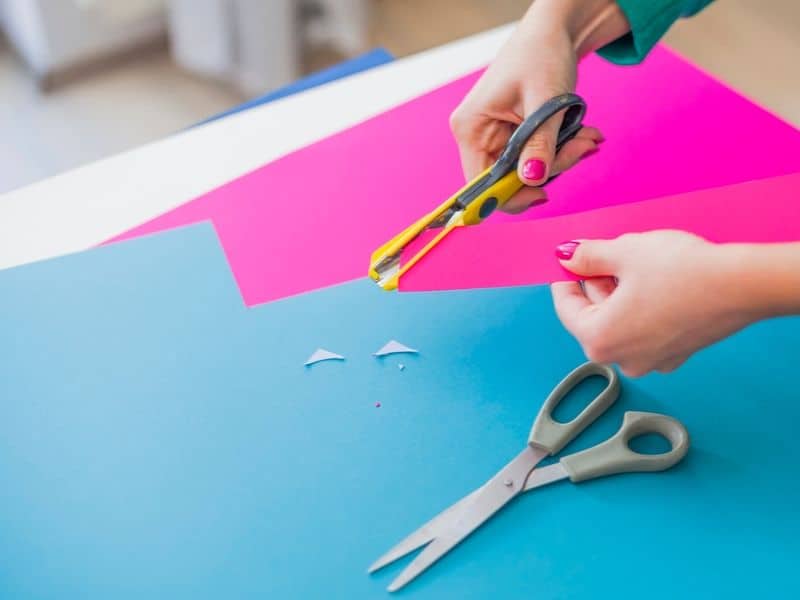 Types Of Scrapbooking Scissors
Before buying your set of scrapbooking scissors, you need to ensure that they will be used solely for your scrapbooking projects. If you save your craft scissors from the daily wear and tear of household use, the edges and sharpness will be better retained. And frankly, there's nothing worse than dull scissors that leave badly cut edges on your work.
Check out these basic scrapbooking scissors below.
Related: Best scrapbook paper storage
Regular scissors
First, have a good pair of regular scissors suited for paper. There are many types of scissors. Fabric scissors will work only when you use fabric for your designs, so you'll need a pair of regular paper scissors.
Try moving the scissors before purchase, to make sure that you will feel comfortable with them. Look for those that are large enough to handle the various sizes of paper that you will be using. The most comfortable scissors are those with soft rubber handles and lubricate the hinges for easy cutting.
Fine-tipped scissors
4-1/2-Inch ProSeries Detail Scissors with Nano Tip
Fiskars Non-stick Titanium Softgrip Detail Scissors
Fine-tipped scissors are also a good investment for a scrapbook artist. Throughout the course of your projects, you will encounter many patterns that require precise cutting.
Some scrapbookers use hand-drawn letters and designs that can only be cut-out with fine-tipped scissors. Also, scrapbookers who use printable materials downloaded from the web will need the delicate edges of these scissors to be able to carve out intricate designs such as the sun's rays, sea shells, and others.
Hole punchers
Single Hole Paper Punch
Punch Craft Set Shapes
One-Hole Punch
Many scrapbook artists also have hole punchers along with their scissors, to help them create beautiful designs on the pages, such as:
neat ovals
spades
hearts
diamonds.
In art, one of the techniques that need mastery is the careful use of space. Adding empty but shaped spaces on your pages through hole punchers can give your page not only a sneak peek into the succeeding pages, but also provide some airiness to the work.
Paper edgers
Kraft Edgers Craft Scissor Set
Fiskars Contemporary Paper Edgers Scissors Set
Decorative Paper Edger Scissors Set
Scrapbooking Scissor Set with Decorative Edges
Finally, get yourself a pair of paper edgers with basic shapes such as waves, clouds, or zigzags to create fancy paper edges. Just be sure that whatever paper edger you purchase will be maximized in your projects.
Most projects only need basic edgers, so it is a good idea to begin with only the basic patterns. However, some scrapbookers actually use paper edges as a sort of signature for their work so you may want a pair that is distinctive and uniquely you.