Ever wonder why Not Your Daughters Jeans are so popular?
Let's be honest! Don't you LOVE being able to shrink your waist size by just putting on a pair of perfectly shaped jeans? Of course you do! And NYDJ does just that!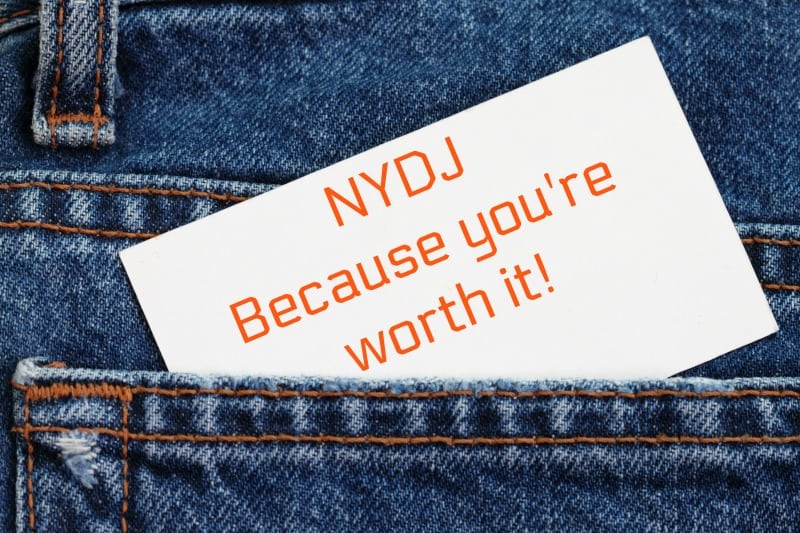 Not your Daughter's Jeans are actually made for the average woman, not your teenage daughter.
Many of the jeans on the market today are not designed for the full figured woman with their low-rise and skinny fit.
They're uncomfortable and many of them make you look even bigger than what you are. NYDJ not your daughter's jeans offers something more.
Not Your Daughter's Jeans – NYDJ – Perfect For The Mature Woman
NYDJ shorts
Take advantage of the slimming effect of the NYDJ by getting a pair of the not your daughters jeans shorts. Have fun shopping for the perfect slimming jeans ever!
NYDJ Women's Bermuda Short in Premium Denim, Coope
Women's NYDJ Briella Shorts in Stretch Indigo Denim, Heyburn
NYDJ Women's Briella ROLL Cuff Jean Short, Optic White
Not Your Daughter's Jeans Women's Boyfriend Jean
NYDJ Women's Petite Boyfriend Jean, Dreamstate
Get instant gratification without dieting! These jeans are one of the most innovative products in women's clothing.
A hidden criss-cross panel will flatten your tummy and lift your butt.
They slim the often problematic lower abdomen, contour the hips and lift the butt without the feeling of being stuffed in binding, tight and uncomfortable material.
Say goodbye to love handles, also called muffins, that spill over restricting waistlines and derriere-revealing low riders. (Need a bit of extra help with your muffin top? Try one of these shapewear pieces especially designed for muffin top)
These jeans are incredibly soft and will feel more like your favorite pair of sweatpants than your most flattering pants.
What's so special about these jeans?
Since there are so many different styles of jeans on the market you may be wonder what makes these so special.
It's the claims made by the makers of the jeans that's getting so much attention. For example, they promise to make you look better and feel better about yourself by eliminating the bulge over the top of the pants, flattening your stomach, lifting your butt and making you look smaller than what you really are.
Do NYDJ really make you look smaller?
One of the first questions to come to mind is "do they really make you look smaller"?
Let's get this out there first: they are not MAGIC!
The jeans are designed with a high-waist so they fit on your actual waistline, not your hips. Therefore, they don't squeeze the fat in your stomach up and over the top of the pants making you look like you have more rolls than you really do.
The front part of the jeans is designed to pull your stomach in while the seat part gives you a little lift.
This makes you look smaller in the stomach and butt and the high-waist design helps to camouflage the extra fat.
When it comes to your thighs, the jeans don't make you look smaller but they don't look like you squeezed your body into a pair of pants two sizes too small either. They compliment the figure you do have and this is more flattering than other types of jeans.
NYDJ styles
The Not Your Daughter's Jeans come in a variety of styles to choose from so there is a style to suit most anyone. You may even want to buy two or three different styles to get a different look.
Some of your choices include:
the tummy tuck
bootleg cut
Straight Leg
Katia Capri
Each of these comes in a variety of colors and sizes.
Are they worth the price?
NYDJ's may be more expensive than what you're used to paying for a pair of jeans, but they're well worth it.
They:
are made from good quality materials so they should last many washing before showing signs of aging.
look fantastic and feel great!
are designed for the mature woman who's tired of the teenage style jeans that never fit and that's so uncomfortable.
NYDJ skinny jeans
NYDJ Women's Ami Skinny Jeans
Alina NYDJ Skinny Ankle Jeans
NYDJ Women's AMI Skinny Legging
Plus size NYDJ jeans
Skinny Jeans in Super Sculpt Denim, Norwell Wash, 18W
NYDJ Women's Plus Size Jenna Straight Ankle with Raw Hem, Wanderlust, 18W
Women's Plus Size Ami Super Skinny Jeans in Future Fit Denim, Mason, 18W
nydj cropped jeans
NYDJ Women's Marilyn Crop Cuff Jean, Bezel
Women's Boyfriend with Patchwork, White
NYDJ Women's Dayla Wide Cuffed Capri Jeans
Women's Dayla Wide Cuff Capri Jeans
If you want a pair of jeans that'll compliment your figure and make you look the best you can, these come highly recommended.
Have you tried Not Your Daughter's Jeans?
Do YOU own a pair of NYDJ jeans? If you don't own them, have you ever tried a pair on? How did it feel?