No one likes the feeling or the look of the muffin top. If there was a way to cover up and hide that section of your body, would you? With these best shapewear for muffin top options, you'll no longer worry about that area where your stomach meets your pants.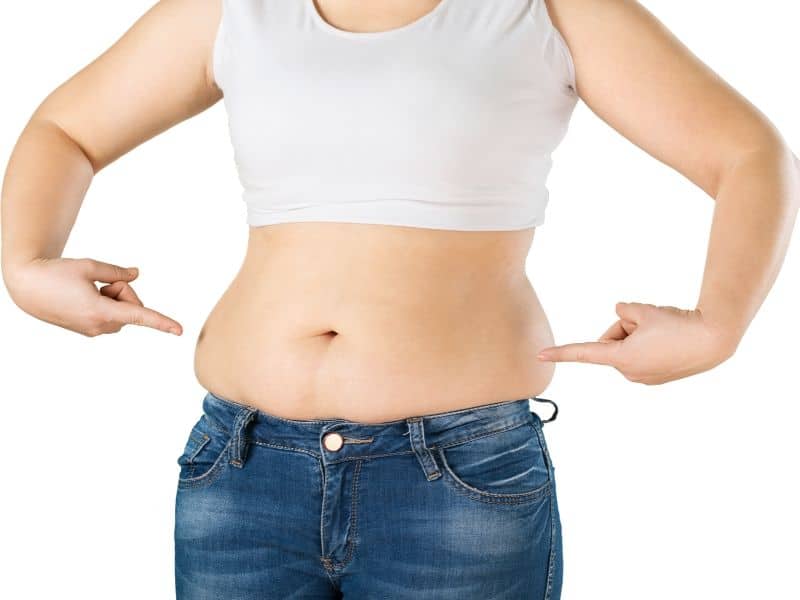 Let's face it! The only thing that looks good with a muffin top is a muffin or perhaps a cupcake. As we age, sometimes that muffin top just tends to happen. You aren't alone in this, and you shouldn't feel as though you are!
In a hurry to look better? This EMPETUA Shapermint Body Shaper will do wonders for your confidence. Have you seen the Shapermint videos? WOW! Take a look below!
If you want to see the before and after, skip to minute 6. But if you have 12 minutes, it's worth watching the entire video, as Stephanie goes through several different shapers, their benefits, and her favorite features of each one. Really worth your time, if you want to buy the best shapewear for your tummy.
EMPETUA Shapermint High Waisted Shorts – Body Shaper
Shapermint Body Shaper Panty – Butt Lifter Panties
EMPETUA Shapermint High Waisted Leggings for Women –
There are always options to fix, hide, or cover-up that area of the body so rest easy knowing that you have options galore on how to find the help that you're looking for.
That's why we have decided to focus on the best shapewear for muffin top in today's review.
While diet and exercise will eventually reduce that muffin top for good (hopefully), in the meantime we all want a little help getting rid of that muffin top.
Thankfully, there is specially designed shapewear that will disguise or even temporarily remove those muffin tops.
Below are the reviews of some of the best muffin top shapewear for women currently on the market.
Best Shapewear for Muffin Top
---
Flexees By Maidenform Women's Fat-Free Hi Waist Boyshort Brief #2107
Maidenform Flexees Women's Shapewear Minimizing Hi-Waist Boyshort , White, X-Large
The Flexees by Maidenform Women's Fat-Free Hi Waist Boyshort Brief is designed to help smooth your sides, tuck in that tummy and remove that muffin top that is so often present when wearing pantyhose or jeans.
Features

The body of the briefs is made of 70% nylon and 30% elastane. The crotch lining is 100% cotton for added comfort.
High waisted briefs have B-fresh gusset to help eliminate odor
Moisture-wicking
Boy short leg
Sizes run small, medium, large, Xlarge, XXlarge
Comes in a choice of three colors black, latte lift, and white
Hand wash and line dry
The Flexees Women's fat-free Hi Waist boyshorts Briefs come in black, white, or Latte lift colors (neutral).
These briefs are extremely high waisted and offer enough support to smooth out that muffin top and give you a sleeker waistline both under those jeans or a dress or skirt.
Customer Reactions

Undergarments are very personal items. What one person may find comfortable, another may dislike immensely. So, it should come as no surprise that user ratings for these brief run between average and good.
The biggest two complaints that users have are that these briefs tend to run small, making it difficult to get the correct size and that the top of the briefs leaves a gap between the waist of the briefs and the bottom of your bra.
However, the majority of users find that these briefs do fit them.
They find the following features beneficial:
Waist stays up well – Users find they don't have difficulty with the waist of these shaper briefs rolling down and feeling tight and uncomfortable.
Gets rid of the muffin top – Several users stated that these briefs definitely eliminate that muffin top, making it possible to tuck shirts into their pants without worrying about that waistline bulge.
Tucks in the tummy – Users also state that these briefs actually make your tummy appear flatter.
Comfortable when you get the right size – Users also state that these briefs are extremely comfortable to wear, making it possible to wear them all day long.
Click Here to See Price on Amazon.Com
---
…More Shapewear by Maidenform!
Maidenform Flexees Women's Shapewear Romper, Body Beige, Small
Maidenform Sleek Smoothers WYOB Bodybriefer Shapewear, Black, Large
---
All-in-One Body Suit Slimmer By Body Beautiful
All-in-One Body Suit Slimmer With Straps By Body Beautiful Nude Small/Medium
All in One Body Suit Slimmers are designed to slim the body from the breasts to the hips, riding you of that muffin top.
They hold in the stomach while trimming and gently shaping your sides, giving you an overall smoother appearance.
Features

Made from nylon and spandex
Pull-on closure
Comes in black and nude
Sizes include: small, medium, large and X large
Seamless for a smoother look
Super soft stretch material
Stays in place
All-day comfort
The all-in-One Body Suit Slimmer is a swimsuit style bodysuit that helps reduce that muffin top and smooths you out from the hips to your chest.
It is ideal for wearing with both casual and dress clothing.
Customer Reactions
While a few users feel that this body slimmer is a bit tight in the bust area and worry that straps might break, most users give the all-in-one body slimmer good reviews. They like the way it smooths them from top to hip.
Customers find the following benefits when wearing this bodysuit:
Comfortable Once On – While many users state that this body slimmer can be difficult to get on, they do state that once it is on it feels incredibly comfortable.
Runs Pretty Much True to Size – Users are pleased that this shaper runs pretty to size. Users state that ordering this slimmer according to their bra size results in a perfect fit.
Gives Just the Right Amount of Support – Users find that this slimmer gently shapes their stomach, sides and muffin top, giving them a smooth and slightly slimmer appearance.
Feels Soft Against the Skin – Unlike many body shapers that feel stiff and uncomfortable, this shaper feels soft against the skin.
Click Here to See Price on Amazon.Com
---
Bali Women's Lace N Smooth Body Briefer
Bali Women's Shapewear Lace 'N Smooth Body Briefer – 34C – Black
For women who are looking for an ultra-feminine body shaper to help reduce that muffin top, the Bali Women's Lace N Smooth Body Briefer may be the ideal choice.
Features
72% Nylon and 28% Spandex
Shapewear-bodysuits closure
Hand wash
Semi-sheer body briefer in floral lace with seamless mesh-lined cups
Coated metal hook-and-eye closure
Colors include; rosewood, white and black
The Bali Women's Lace N Smooth Body Briefer is both pretty and feminine.
This body shaper is meant to provide gentle support and shaping for women.
It is an extremely popular body shaper with well over 300 reviews.
Customer Reactions
Users really like this lacy shapewear and give it extremely good reviews.
While a few users did complain that they didn't feel that this body shaper offered enough support and others felt the lace was scratchy, most users found this body briefer met their needs exceptionally well.
Benefits women found when wearing this briefer includes:
Extremely Comfortable and Attractive – Users not only like the way this body brief looks, but also find it comfortable to wear all day long.
Holds You In Nicely – This shapewear is a gentle shaper, so it is best suited to those who only need a little bit of support to smooth out those lumps and bumps. However, users state that if you have realistic expectations it actually holds you in quite nicely.
Lifts and Separates – Unlike many other body shapers, this shaper actually enhances your breast by lifting and separating rather than squashing your breasts together.
Click Here to See Price on Amazon.Com
---
Squeem "Perfect Waist" Firm Compression Waist Cincher Shapewear Cotton & Rubber
Squeem Women's 'Perfect Waist' Contouring Cincher, Beige, M
The Squeem "Perfect Waist" Waist Cincher is ideal for making your waist look smaller and helping to hide or reduce a muffin top.
Features
Comes in black, nude, and beige
Sizes run Xsmall, small, medium, large, and Xlarge as well as sizes 2X through 5X
Brazilian made
Can help you to lose weight
This Waist Clincher comes in sizes ideal for almost everyone, making it possible for anyone who wants to reduce that muffin top to do so comfortably.
According to Squeem, this waist cincher can actually help users to slim down.
Customer Reactions

Although some users state that the hooks in the front of this waist cincher show through various tighter clothing, most users really like it and give it good reviews.
Benefits users find when using this cincher includes:
Shapes Waist and Sides Beautifully – Users find that this waist cincher not only reduces muffin top but actually helps to shape the waist and sides, giving them a better shape when wearing this cincher.
When Worn Regularly Can Help You to Lose Weight in the Waist Area – Some users state that they not only eat a bit less when wearing this cincher, but they actually tend to lose inches in their waist area.
Helps Improve Posture – Several users were surprised when they discover that this cincher actually forces them to stand up straighter and helps to improve their posture.
Click Here to See Price on Amazon.Com
---
Best Spanx For Muffin Top
You can't talk about body shapers without mentioning SPANX. This brand has won the hearts of many celebrities who swear that this shapewear is the secret to their perfect figure for the red.
Even Oprah has declared her love for Spanx – and we all know that Ms. O always goes for the best!
Below are some of the best Spanx for muffin top we could find:
SPANX Women's Higher Power Shorts, Soft Nude, Large
SPANX OnCore Firm Control Bodysuit, M, Soft Nude
&
---
Not everyone is born with a perfect shape, but finding the right shapewear for that muffin top can allow any woman to create the illusion of a better shape when wearing those current fashions (or those cute ankle boots ;).