Everyone wants to look their best when they go out into the world to work, to shop, or for that special occasion and knowing how to dress in a way that takes pounds off your silhouette and makes you look slimmer and trimmer is the goal for many people when dressing each day. If you could learn how to dress to look 10 pounds thinner, would you?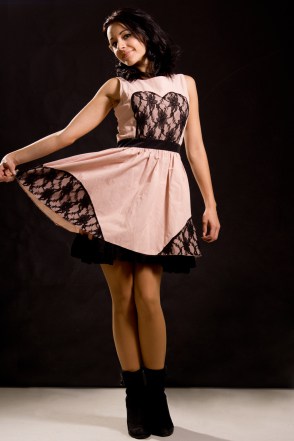 Here are some tips that will help you to look thinner without shedding a pound.
How To Dress To Look 10 Pounds Slimmer
Start with the Right Foundation Garments
Just like a great building starts with a firm foundation, so should you start with the right foundation garments when building your wardrobe.
Instead of buying undergarments that cut or bulge, you want to look for slimming shapewear that smooths out the natural bumps and lumps you have without making others.
Women should choose shapewear that helps to firm their stomach and hips if needed, lift their buttocks, and bust and nip in their waist.
Men want to choose shapewear that gives them a broad shoulder look that tapers down to hips. This means choosing foundation garments that may help to lightly flatten the chest and stomach, narrow the waist and smooth the hips and upper legs.
Both men and women who have less than perfect posture can choose shapewear that draws their shoulders back and helps straighten their back giving them a naturally longer line and thinner overall look from the shoulders to the hips.
Wear your Foundation Garments When Trying On Clothes
Once you choose the right shapewear to start your slimmer look, you need to wear that shapewear when trying on clothes whether you are choosing clothes out of your closet or purchasing something new.
That way you can ensure that the outfit you are wearing over those foundation garments continues to help you dress slimmer by fitting your slightly adjusted form correctly.
You want to avoid clothes that are too baggy or too tight, so that you don't look heavier and frumpy or as though you were poured into your clothes. Clothes that fit correctly and skim your curves and body make you look slimmer than ill-fitting clothes.
Choose Clothes that Fit Your Figure
You don't just want to choose clothes that fit your body, you also want to choose clothes that fit and enhance your figure and draw attention to your best assets, while drawing attention away from problem areas.
For example if you have shorter legs wearing a skirt that is mid thigh or shorter with matching colored tights or nylons can give your legs and your entire body a longer leaner look.
If your waist is a bit thicker than you would like, then having a belt peaking from under a sweater or jacket can give your waist definition and make it appear smaller than it actually is.
By choosing the right clothing to go over those shape enhancing foundation garments, you can dress slimmer with little effort.
Once you have found the perfect slimming clothing, all you need to do is choose the right accessories to set off the new thinner looking style you have achieved. Remember that when it comes to accessories less is often more.
Here are Some Slimming Fashion Garnets to Help
YKA Underwear Yka Women No Trace of Abdomen Pants Panties Hip Slimming Body Shaping Pants Thin (Dark Pink)
SPANX Women's Higher Power New & Slimproved Barest D
SPANX Women's Oncore Open-Bust Mid-Thigh Bodysuit Soft Nude Medium