With more and more people concerned about their health and seeking ways to get more fresh fruits and vegetables into their diet, green juices and smoothies have become increasingly popular among those looking to improve their health, lose weight or simply remain healthy. It's important to find the best blender for green smoothies!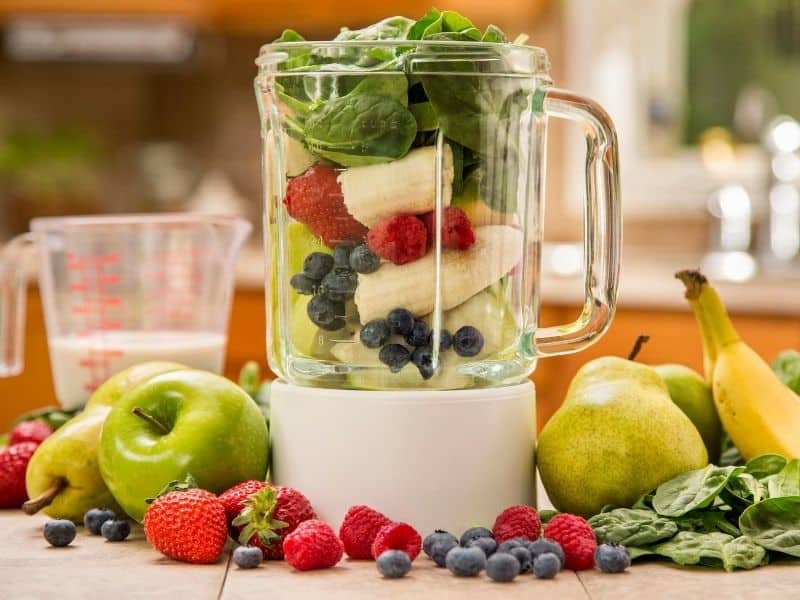 While there is little doubt that green smoothies are loaded with vitamins, minerals, and other nutrients that are low in calories and, they are believed to help you fight a number of illnesses. Green smoothies are good for things like the common cold, and even help the immune system in certain types of cancers.
It is also known that green vegetables can be difficult to use in order to make a smooth drinkable beverage.
In order to turn that kale, spinach, and even lettuce into a drinkable form, you need a powerful blender that not only chops these hard to cut vegetables but also renders them into a thick liquid without any chunks to make them easy to drink.
In order to do that, you'll need the best blender for green smoothies that you can find.
Here are some of the most powerful and popular blenders on the market today, that can turn those spinach and kale leaves into a smooth and silky liquid that is easy to drink.
Best Blender For Green Smoothies to Kick Start Your Day
Vitamix blenders are considered by many to be the best blenders that money can buy.
In fact, Vitamix blenders are the only blenders that have the seal of approval from the Culinary Institute of America and the Vitamix 1723 Professional Series 200, Onyx is a good example of why these blenders are so coveted by so many people.
Features of this blender include:
Commercial-grade 2+ horsepower motor
64 ounce BPA free Eastman Tritan copolyester container
Spill-proof vented lid
120 volts
Chops, creams, blends, heats, grinds, churns and more
Self cleans with just a little soap and water
7-year warranty
Made in the USA
What Comes in the Box
When you purchase the Vitamix 1723 professional series 200, Onyx blender you can expect to find the following in the box.
Vitamix base
64-ounce container
300 recipes
And the getting started DVD that shows you how to use the Vitamix
There is just something trustworthy about buying and using a product that professional chefs use in teaching others how to create a variety of polished and excellent flavored dishes.
You simply can't help but feel that if this blender is good enough for professionals, it should help you prepare those great smoothies, sauces, and other foods you have been longing to make.
What users love about the Vitamix
Vitamix blenders have been around for generations and still remain one of the most popular blenders on the market today, however, most users will admit that saving up the money for the cost of one of these blenders sometimes takes years, although most feel the waiting and the cost is well worth it.
Features that users find they especially like about the Vitamix 1723 professional series 200, Onyx include:
Works as a Blender and Food Processor in One – Since the Vitamix blender actually does the tasks of two different machines, users feel that the Vitamix is an actually better value than it first appears since they don't have to purchase two different machines.
Makes More than Green Smoothies – Users also like the fact that this blender can help them prepare far more than just smoothies. It can be used to make frozen desserts, baby food, and cream soups.
Long Warranty – Users are also thrilled with the 7-year manufacturer warranty that ensures that their blender will be up and running for many years to come. While many other companies offer warranties that are only 1 to 3 years, the Vitamix company proves that they really stand by their products. This gives users peace of mind.
Easy to Use and Easy to Clean – Users also state that while the Getting Started DVD really helps, this Vitamix blender is easy to use and easy to clean. That means they are more likely to use this blender often both for smoothies and preparing other dishes as well.
Click Here To Get The Most Up To Date Price Of Vitamix 1723 Professional Series 200, Onyx On Amazon.Com
Blendtec Total Classic Original Blender with FourSide Jar (64 oz), Commercial-Grade Power, 6 Pre-programmed Cycles, 10-speeds, Black
Blendtec TB-621-20 Total Blender
The Blendtec Total Blender is the flagship of the Tribest blender line.
The Blendtec TB 621-20 is a high-end blender that some say is a rival for the Vitamix blender both in function and price.
Features of this blender include:
Comes in black or white
Commercial quality countertop blender with 3HP direct-drive motor
2 prong stainless steel blade operates at 29,000 RPMs
Programmed blending cycles
Digital touchpad controls
Auto shut off
Ice crushing guaranteed
2-quart square blending jar with secure-fitting lid
Measures: 7" X 8" X 15.5"
Warranty: 3 years on the motor base, 1 year on Jar, and lifetime on coupling and blade
The Blendtec blender's programmed blending cycles will be a big hit with those new to using blenders while those who enjoy controlling the length of time each dish should be blended might find the programmed cycles more a hindrance than a help.
The auto shut off is a nice touch as is the 3 HP motor.
Things customers love about the Blendtec
Ratings for the Blendtec total blender are extremely good. Most users feel that this blender can handle anything that is thrown at it, including all those leafy greens for making green smoothies.
However, some users simply don't like the pre-programmed feature. And several users feel that the jars have a built-in design flaw that causes them to need to be replaced every year or so, adding significantly to the price of this blender.
However, there are also many features users do like including:
Makes Great Green smoothie – Makes incredibly smooth green smoothies and when the fruit is added make for a flavorful as well as a healthy drink.
Fits Under Your Counter Top – One of the major complaints with Vitamix blenders is that they don't fit neatly under your countertop, which is certainly not a problem with this Blendtec blender. It fits nicely under those upper cabinets and looks great sitting on your counter.
Makes Juice as Well as Smoothies – Users also like the fact, that you can use this blender to make fresh juice as well as smoothies, giving you more of a variety in those healthy drinks.
Click Here To Get The Most Up To Date Price Of Blendtec TB-621-20 Total Blender On Amazon.Com
Waring Pro Mx 1000R Professional 3.5 Horsepower Blender
The Waring Pro x 1000R Professional 3.5 Horsepower Blender has been compared favorably to both the Blendtec total blender and the Vitamix but sells for considerably less.
Features of the Waring Pro Mx 1000R Professional 3.5 HP Blender include:
Professional grade 3.5 peak horsepower motor
Oversize weighted base keeps blender from strolling across the counter when the blender is running.
64-ounce polycarbonate pitcher with integrated blades and no-slip handle
2 speeds plus a pulse action
Stands 19" high
Weighs 15 pounds
5 year limited motor warranty, 1 year for the rest of the appliance
At about ½ the price of Vitamix blender the Waring Prom Mx 1000R Professional 3.5 horsepower blender is a good choice for those who are on a budget but want to make green smoothies and other tasty and healthy dishes for which a blender is a must.
Users do need to keep in mind that the 19" height of this blender may make it too tall for some countertops.
What users love about this blender
Users really like the Waring Pro blender and give it high marks for both performance and durability.
While a few users do complain that this blender tends to be a bit big and bulky, for most users the size seems to result in a more durable blender with several benefits including:
Can Make Great Professional Tasting Juice as Well as Smoothies – You can actually drink your way to better health and weight loss.
Blends Just About Everything with Ease – While the Waring Pro only has two speeds (low and high) and the pulse feature, users find that this blender still blends almost anything you put into it with ease. That makes it ideal for blending greens as well as a variety of other foods.
Simple to Use and Clean – With no pre-programmed cycles, and fewer buttons to confuse users, this blender not only easy to use but equally easy to clean.
Click Here To Get The Most Up To Date Price Of Waring Pro Mx 1000R Professional 3.5 Horsepower Blender On Amazon.Com
Ninja 400-Watt Blender/Food Processor for Frozen Blending, Chopping and Food Prep with 48-Ounce Pitcher and 16-Ounce Chopper Bowl (QB900B), Silver
Ninja Master Prep QB900B
The Ninja Master Prep QB900B is a very functional blender for an extremely attractive price that is perfect for those on a strict budget who are looking for a good working blender.
Features of this blender include:
Interchangeable 400 Watt Power pod
2 conveniently sized jars 40 and 48 ounces
2 cup processor, minces, dices chops, blends, and purees
Does frozen blending and food processing
The 48-ounce pitcher has an easy to pour spout and no-slip bottom
The motor is in the top of this blender
Quad blade technology
Comes with a 16-ounce prep bowl
This Ninja Master blender is ideal for smaller families or for single people who want an extremely functional blender to make smoothies and other drinks.
This blender also provides most of the functions of a food processor giving you two handy kitchen appliances for one low cost.
What users like about the Ninja Master

Overall, users like this Ninja blender with more users complaining about the sharpness of the blades than anything else.
A few users did seem to experience a short run life for this blender, but this problem does not seem to be any more prevalent in this blender than most blenders sold today.
Feature users really seem to like include:
The Motor on the Top – Most of the users like having the motor on the top of the blender as it keeps pushing the food down during the time you are blending.
Sharp Blades – Although users caution others about how sharp the blades are on this blender, they really feel the sharp blades help them blend their food better in the long run.
Easy to Use, Clean, and Store – This smaller blender is not only easy to use and clean, but its small size makes it incredibly easy to store. It's also lightweight enough that most users don't mind keeping this blender on their countertop.
Makes Smooth Smoothies and Other foods – While this blender takes a bit longer than larger blenders to puree your greens, it still makes all kinds of foods silky smooth with few to no lumps.
Click Here To Get The Most Up To Date Price Of Ninja Master Prep QB900B On Amazon.Com
While there are many different blenders on the market, only a few of them are powerful enough to handle turning leafy greens into healthy smoothies. These four blenders are some of those few blenders that users recommend.
More blenders to consider purchasing if you love green smoothies
Oster BLSTMB-CBG-000 Pro 1200 Blender Plus 24 oz Smoothie Cup
Nutri Ninja Blender/Food Processor with 1500-Watt Auto-iQ Base, 72oz Pitcher, 64oz Processor Bowl
Ninja Professional Countertop Blender with 1100-Watt Base, 72oz Total Crushing Pitcher
I hope you found the perfect blender for green smoothies for you and your family. My p[ersonal favorite is the Vitamix: it;s wah tI use every day for my breakfast smoothie. BTW, want to know my "recipe" for great smoothies? Here it is:
1 cup of full-fat coconut milk (use your favorite milk)
1/2 cup of homemade apple sauce (store-bought is perfectly fine: just pick one with no sugar added, so you stay healthy)
1 tablespoon of walnuts
1 tablespoon of flax seeds
1/2 cup of greens (spinach, swiss chard, celery, kale, etc.)
a handful of frozen fruit (optional)
Blend well and enjoy it!