Many people have difficulty deciding whether an air purifier vs humidifier is better for their health.
The simple truth is that these two appliances have two separate functions and while one home or family may benefit from one of these machines more than the other, many homes could actually benefit from both of these machines.
In order to understand why a comparison between these two appliances is not really possible, you need to understand the separate functions of each of these machines.
Air Purifier Vs. Humidifier – Which One Should You Choose?
The Humidifier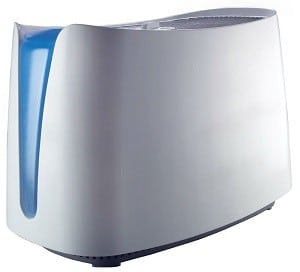 The main and in fact the only purpose of a humidifier is to increase the moisture levels of the air in your home. Some homes, especially in the winter months have exceptionally dry air.
Dry air can cause a number of problems for people living in these homes, including bloody noses, dry and chapped skin, and even respiratory problems.
A humidifier can help to reduce all of these problems because these machines emit water vapor or steam into the air, which raises the moisture or humidity levels in the home.
Some homes run humidifiers all year round, others only during the winter months when heating systems dry out the air, and still others simply have a small bedside humidifier that people in the home use to help relive coughs during the cold season.
However, people do need to keep in mind that it is essential to maintain humidifiers to prevent them from causing more problems than they cure.
For example, humidifiers are subject to mildew and mold and the spores from mildew and mold can be blown into the air along with the vapor where they can have a negative effect on health.
It is extremely important to clean your humidifier and its filters regularly to prevent the build up of unhealthy contaminants.
Air Purifier
On the other hand, air purifiers do nothing to aid moisture to the air.
The sole function of an air purifier is to remove contaminants such as dust, mold and mildew spores, and pet dander from the air to prevent you and your family from breathing in these contaminants.
Removing the contaminants from the air can aid those with allergies, asthma and other respiratory problems and help keep your lungs healthier.
Unlike a humidifier, an air purifier isn't going to remove static electricity from the air, nor is it going to do anything to relieve dry and chapped skin.
In fact, while air purifiers do play a very important role in helping to keep people healthy, the results of the function of air purifiers are less obviously noticeable, as the contaminants they remove are often not seen to begin with.
Which Should You Buy?
Which of these appliances you should buy will depends entirely on your specific needs.
Almost every home could benefit from an air purifier, while only those homes that have dry air part or all of the year needs a humidifier.
In some cases, the occupants of a home or apartment could really benefit from using both of these appliances since they serve two very different functions.
Humidiers for Consider
MistAire Ultrasonic Cool Mist Humidifier – Premium Humidifying Unit with Whisper-Quiet Operation, Automatic Shut-Off, and Night Light Function
URPOWER 2nd Version Essential Oil Diffuser Aroma Essential Oil Cool Mist Humidifier 
URPOWER MH501 Humidifier, 5L Large Capacity Whisper-Quiet Operation Cool Mist Ultrasonic Humidifier Waterless