Most people work hard to make a special dinner for family and friends for Thanksgiving. They pull out all the stops to make the occasion as festive as possible. One way to make your table look more festive is simply by choosing colorful table linens and festive Thanksgiving napkins.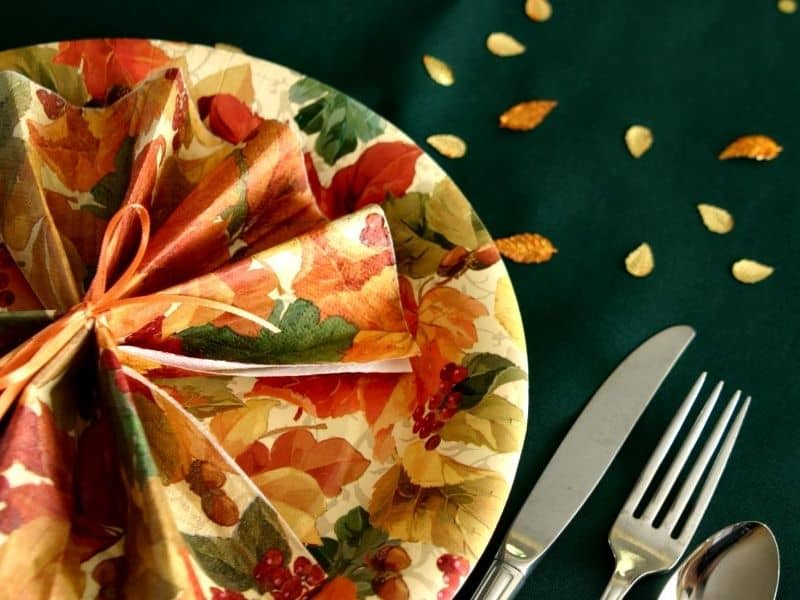 Here is a look at some Thanksgiving napkins that can add a touch of color and elegance to your Thanksgiving table.
Festive Thanksgiving Napkins
Fall cloth napkins
Ruvanti Fall Cloth Napkins 6 Pack (100% Cotton 18
The Ruvanti fall cloth napkins are a beautiful way to add a touch of elegance to your Thanksgiving table.
Features of these napkins include:
Measures 18" X 18"
Can be matched with different size tablecloths in the same design
Beautiful fall design
These napkins are both elegant and extremely useful. They really dress up your table without the colors being too bright or over the top.
It is really great that you can purchase a matching tablecloth or mix these napkins with any plain colored tablecloths that have an echoing color in the napkin.
People who bought these are pleased with the quality and the reviews are great!
While one or two users feel the colors in these napkins are too drab, most users find that the color and everything else about these napkins are terrific.
100% Cotton Oversized Napkins
DII 100% Cotton Buffet Napkin Machine Washable, Oversized every day, 20×20, Basic Stripe 6 Piece
These Dll 100-Percent Cotton Oversized Basic Every Day Napkins come in wonderful fall colored stripes.
While they are casual enough to be used every day, they also can be used to dress up your Thanksgiving table when teamed with the right placemats or tablecloths.
Features of these napkins include:
Set of 6 napkins
Measures a large 20" X 20"
Machine washable
Co-ordinates well with all Dll woods items
While these napkins are loosely woven and somewhat casual looking, they can easily be transformed for a well-dressed table by the use of your tablecloth, silver, and even your centerpiece.
The large size of these napkins gives them a bit of flair when used with an elegant napkin ring.
Users feedback
These napkins get good reviews and ratings although some users don't like the fact that the napkins need to be ironed after they are washed.
Others find the benefits of these napkins offsets any negatives.
These benefits include:
Great Quality – These napkins not only look nice, but they hold up well, and even when washed the colors hold up well time after time.
Beautiful Autumn Colors – Users really like the beautiful autumn colors in these napkins and the stripes are a nice change from the traditional Thanksgiving pumpkins and turkeys.
Get your own napkins on Amazon.Com
Give thanks paper napkins
Thanksgiving Party Supplies, Paper Napkins (5 x 5 In, 100 Pack)
These Thanksgiving paper Napkins are a great choice for families who serve their Thanksgiving dinner buffet-style or for those community dinners where paper napkins just seem to work better.
Features of these napkins include:
16 count package
Turkey with harvest border design really keeps the Thanksgiving theme alive
Measures: 6.5" X 6.5"
There are paper plates, cups, and even centerpieces that can be mixed and matched with these napkins.
These are very cheery paper Thanksgiving napkins with bright colors and are perfect for the dinner or dessert table and can be used when serving after-dinner drinks.
It is really nice that you can coordinate these napkins with other paper dinnerware for community events to make a stunning and festive table.
Settler's Feast Thanksgiving Beverage Napkins
These Settler's feast Thanksgiving Beverage Napkins are a great way to help liven up your dinner or dessert table with their Thanksgiving theme and bright colors.
Features of these napkins include:
Napkins measure 5" X 5"
16 napkins per package
Faded maple leaf surrounded by colorful harvest vegetables and leaves
This motif can be coordinated with paper plates, cups, and other holiday tableware by Creative Converting.
These Colorful Napkins will make a nice addition to your dinner table, serve yourself buffet, or dessert table.
They are colorful and elegantly designed and perfect for the Thanksgiving holiday.
Unfortunately, there seem to be no reviews to be found for these napkins.
However, they are made by Creative Converting that is known for its fine paper tableware products.
Click Here To Get The Most Up To Date Price Of Settler's Feast Thanksgiving Beverage Napkins On Amazon.Com
While napkins may seem like a small, but necessary addition to your dinner table, choosing the right napkins can make your holiday celebrations even more festive.
Don't forget the other holidays with these festive Christmas Advent candles.
More Thanksgiving Napkins to Consider
DII Oversized Napkins
Ruvanti Cloth Napkins
Thanksgiving Gold Foil Napkins