Melissa and Doug toys have become quite popular in recent years. Their Melissa and Doug Classic Toy Bead Maze is one of their fun toys.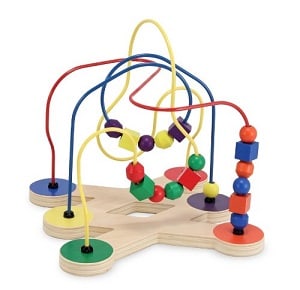 This company makes a wide variety of developmental and fun toys for kids of various ages.
Melissa And Doug Classic Toy Bead Maze
The Melissa and Doug Classic Toy Bead Maze is based on a popular developmental toy that has been manufactured by various toy companies for a couple of decades.
Features of this bead maze include:
Multi shaped and brightly colored beads on a hand crafted metal maze
Encourages color and shape recognition
Allows for development in basic skills in visual tracking (pre reading skills), fine motor development (pre writing skills) and hand/eye co-ordination.
Non-toxic paints and finishes
Size: 11 1/2" X 11 1/2"
Like other bead mazes, the Melissa and Doug classic toy bead maze is a fun and educational toy for young children, offering them opportunities to play and learn.
This maze can be used to teach children some colors and shapes as well some counting.
Manipulating the beads around the wires will help improve their fine motor skills as well as help with hand and eye co-ordination.
The best part of this toy is that, it is simple, quiet and needs no batteries to provide children with fun.
Users Take
The Melissa and Doug Classic Toy Bead Maze gets extremely good ratings and reviews.
However, before covering what people like about this toy, we do need to mention a couple of complaints worth noting.
Firstly, some users do voice some concern that this product is made in China.
More importantly, some consumers find that the wooden parts of this toy is not finished properly and has splinter, which can hurt young children and even adults.
However, users do find that this toy is:
Sturdily Made – Even when dropped, the wires resist bending and beads remain attached to the wires.
Great Colors – This toy has nice and bright colors, which makes the toy more attractive to children.
No Sharp Edges – The base has slightly rounded edges and the heavy metal wires are firmly attached.
Holds a Child's Interest – For some reason, children are enthralled by the bead mazes and many parents reported that this maze holds their child's attention much longer than many other toys.
The Melissa and Doug Toy Bead Maze seems to meet most parents' concerns for a safe product their children will actually use, while at the same time offering that elusive fun factor, which makes this a great toy for kids.
Want to learn more about Melissa and Doug? Read here!
Click Here To Get The Most Up To Date Price Of Melissa And Doug Classic Toy Bead Maze On Amazon.Com
Other Melissa and Doug Toys
Melissa & Doug Scoop and Stack Ice Cream Cone Magnetic Pretend Play Set
Melissa & Doug Shape Sorting Cube – Classic Wooden Toy With 12 Shapes
Melissa & Doug Latches Barn Toy