Finding out how to use coat racks for your home isn't hard!
Keeping your home organized can be an uphill battle especially with the limited amount of storage space most people have nowadays.
One way to solve that problem is to be a little creative in finding different ways those useful objects can even be more useful.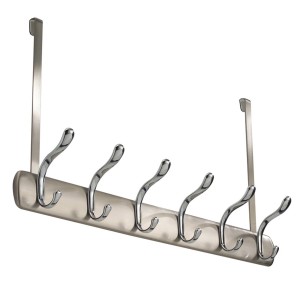 One inexpensive item that can help you to keep your home more organized and neat and tidy is that over the door coat rack or those that mount on the wall.
Here are just a few tips on how to use coat racks to help organize your home and keep it neat and tidy.
How To Use Coat Racks To Keep Your Home Organized And Tidy
In The Bathroom
Using a coat rack in the bathroom can give you a place to hang your bathrobes so that they are ready for use, or to hang those damp towels to dry before placing them in the laundry.
There are coat racks that will easily fit on the back of the bathroom door, turning that otherwise small space into something useful.
In the Kitchen
A coat rack installed on the wall of your kitchen or the back of a pantry door gives you a place where you can hang those aprons and dishtowels where they will be handy and out of the way.
Using a coat rack in this way, will give your kitchen that homey lived in look while still keeping it neat and tidy.
In the Closet
Using one or two coat racks in the closet to hang the man of the house baseball cap collection on, to neatly hold those ties, fashion scarves, or even purses will help you to keep your closet neater and leave that limited shelf space for those things that simply can't hang up.
For Those Long Necklaces
While every woman normally has a jewelry box, those long dangling necklaces usually get tangled when put into a jewelry box or one of its drawers.
So why not use that coat rack to neatly hang up those longer necklaces and keep them from tangling up with your other jewelry.
Not only will it keep your jewelry box looking neater, it will also help to keep those necklaces from getting their chains broken when you try to untangle them.
In the Entryway or Kid's Room
Let's face it, even the neatest kid tends to simply throw that backpack around, and often can't find it come the next morning to go off to school.
By placing a coat rack either in your entryway or your child's bed room at an easy height for your child to reach allows them to hang up their backpack and coat where they can be found simply and easily.
While it may take a little work to get your child into the habit of hanging their things on the coat rack, it will be worth the effort when they have a neater room and make it to school on time.
Using coat racks and other inexpensive items to organize your home, can help you create more storage space and keep your home looking neater and tidier.
Coat Racks for your Home
LIBERTY 129848 Hook Rail/Coat Rack with 5 Flared Tri Hooks
LIBERTY 165541 Six Scroll Hook Rack Cocoa and Soft Iron, 27-Inch
AmazonBasics Wall-Mounted Coat Rack, Barnwood