Looking for the perfect gift for your mother? How about a beautiful music box that plays an old song she sang to you when you were a child, and that you now find yourself singing to your children? The song evokes great memories, but do you know the history of you are my sunshine?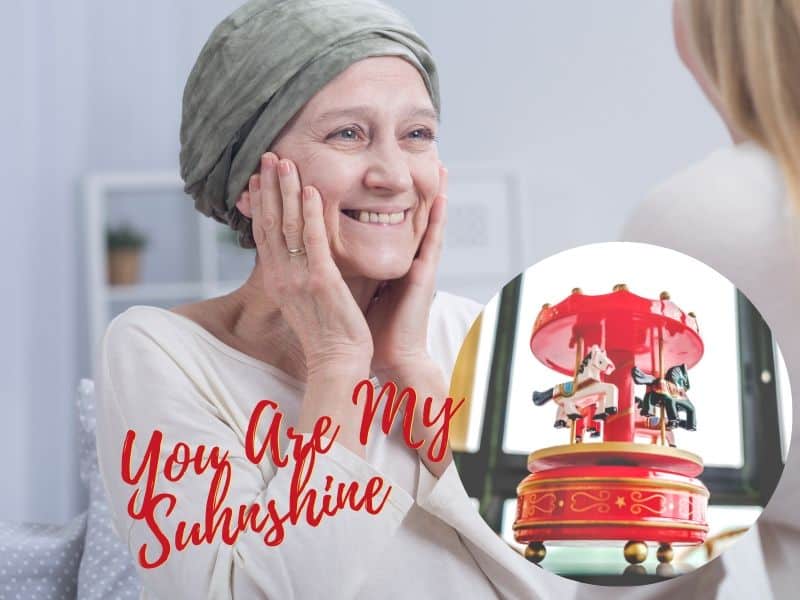 You buy it knowing that this You are my Sunshine Music Box will conjure up wonderful memories your mother will cherish.
And suddenly, you find yourself wondering more about this catchy tune that has been so much a part of your childhood, and now is part of your children's memories too.
History Of You Are My Sunshine Song
The Most Popular Song in the United States
You are my sunshine lyrics
You Are My Sunshine
My only sunshine
You make me happy
When skies are grey
You'll never know, dear
How much I love you
Please don't take my sunshine away
It really is quite understandable why at least one person in almost every American Family knows the song You are my Sunshine, as this song is one of the most commercially programmed songs in the United States.
It has been recorded over 350 times by a veritable who is who of singers, including such big names as Gene Autry, Bing Crosby, Willie Nelson. Ray Charles, Aretha Franklin, Bob Dylan and Brian Wilson.
It has been the background music of many movies.
It is also one of the most often taught songs in children's music classes and is a mainstay of young children's music videos and CDs.
History of You Are My Sunshine Song
Claims have been made that an unnamed woman in South Carolina wrote the song, while other claims state that a country singer by the name of Oliver Hood was the composer.
Paul Rice who made the second known recording of the song with his brother also claimed to be the composer. He later sold the song to Jimmie Davis and Charles Mitchell, who have become the accepted writers of the song, even though they actually bought it from Rice.
Jimmie Davis did make a recording of the song in 1940 and it became instantly popular, although there were two groups that earlier had recorded the song in 1939. Paul Rice and his brother, and prior to them The Pine Ridge boys recorded the song.
Regardless it was Davis and Mitchell who ended up getting credit for the song's lyrics, and Davis made the most of the song's popularity using it when he ran for Governor of Louisiana both in 1944 and again in 1959.
You Are My Sunshine Today
Today the song is still almost instantly recognizable by most Americans.
Many children grew up having their parents sing this song to them, and in turn, sang it to their infants.
It is also a song often sung by one lover to lover, husbands to wives, and wives to husbands.
While the song itself is about love and loss, the memories this song evokes in most people are love, happy childhood, falling in love, and the simple joy of being together.
While much more modern music may be requested at social events and played on CDs Ipods and even the radio, You are my Sunshine is still often sung at home when a parent is rocking a young child, busily doing dishes, or to a loved one or spouse during special and even not so special times.
YouTube you are my sunshine
There are so many versions of this song1 Here are just a few of my favorites from YouTube.
I LOVE this version created by a man in love with his girlfriend.
And if you like Johnny Cash you'll love this one:
Fun music boxes that play You Are My sunshine
Cottage Garden 4 x 6 Photo Frame Woodgrain Music Box Plays You are My Sunshine
Sinzyo Custom Photo You are My Sunshine Wood Jewelry Music Box for Christmas/Birthday Gift – You are My Sunshine (Walnut Wood)
WESTONETEK Heart Shaped Vintage Wood Carved Mechanism Musical Box Wind Up Music Box Gift for Christmas/Birthday/Valentine's Day, Melody You are My Sunshine
Granddaughter Unlocked So Much Joy Burlwood Jewelry Music Box Plays You Are My Sunshine
FAQs about you are my sunshine
Who sang You Are My Sunshine original?
Is you are my sunshine a metaphor?
Since the writer/singer isn't actually talking to the sunshine, yes, this is a metaphor.
Who wrote you are my sunshine?
Jimmie Davis, who was known as Louisiana's singing governor.
When was You Are My Sunshine fiest recorded?
In 1940.