If you do a lot of cooking or baking for the Christmas holidays, then you are going to want something to create a bit more Christmas cheer while you are sweating it out in the kitchen. Some cute Christmas aprons will help to make those kitchen tasks more fun and create a bit of holiday spirit as you work.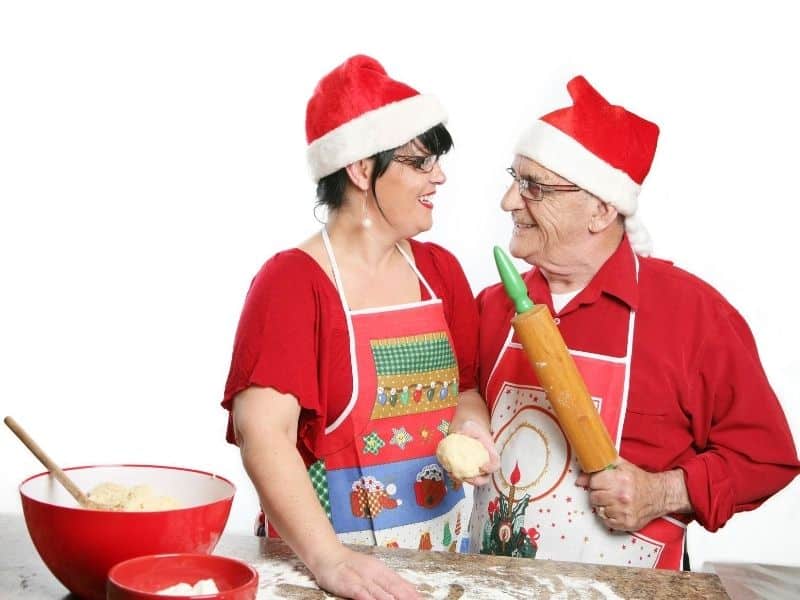 Here is a look at some great Christmas aprons.
Christmas Aprons For Holiday Dinner
Cute Retro Apron: Lacy Vintage
Sometimes you just need to be stylish. And this cute retro apron is definitely stylish. Buy one for a friend and one for yourself 😉
Woodland Christmas Collection Apron
This pretty and colorful poinsettia apron is bound to bring a bit of Christmas Cheer into your kitchen and cooking. It's a cheery and feminine apron, ideal for cooking and serving your family holiday meal.
This apron should make even the most reluctant cook want to spend time in that kitchen listening to carols and cooking up a storm!
Holiday Kitchen Apron – Whisk You a Merry Christmas

What a beautiful and festive holiday apron! Comfortable and soft, it fits most people. I LOVE the pockets! Not only are they cute, but thye are also great for carrying all kinds of necessities in there.
Funny Cartoon Aprons
Get the kids involved in the kitchen! these fun cartoon style aprons will help get them interested. Oh… the memories you'll create!
There are 4 different patterns with various classic Christmas elements printed on the apron:
snowman

snowflake

long stockings

gift box
Christmas Apron With 2 Pockets and Extra Long Ties
A beautiful and simple apron that makes a great hostess gift. Comes is a classy box, ready to gift.
"Snowman" Mommy and Me Matching Apron Set
Part of the fun of holiday baking is having a little helper in the kitchen and this Snowman Mommy and Me Matching Apron Set will make that mother and child baking or cooking experience all the more fun.
Features of this apron set include:
6 piece baking set for adult and child
Set includes; Adult half apron with snowman pocket, Child's bib apron snowman-shaped, 1 adult and one child-sized oven mitt, and 1 adult and 1 child size hot pad
Made of a linen-like material
This is a really cute apron set that is sure to make any child eager to help out in the kitchen.
The Snowman apron is absolutely adorable and you may have to fight to get your child out of it when the cooking is done.
Users Take
Most people who purchased this apron set really like and find it to be absolutely delightful.
Features users like most include:
Both aprons are well made
This is a cute set especially the child's apron
Great colors
Durable and easy to wash
Click here for more information
A Christmas Story Major Award Leg Lamp Apron
Based on the popular movie "A Christmas Story" this colorful Major Award Leg Lamp Apron will bring a smile to the faces of many.
Features of this apron include:
Cotton apron
Features the leg lamp major award
A little different take from the traditional Christmas apron
If you love "A Christmas Story" you are sure to love this apron based on the movie.
Fun and colorful, this apron is sure to make the cook and all the guests at your Christmas dinner smile.
Users Take
There are only a few scattered reviews for this apron, but people who purchased this apron seem to really love it and enjoy the humorous side of it.
They feel this apron is fun and is made of good quality fabric and they especially like the fact that it is based on what has become a favorite and classic Christmas movie.
Click Here To Get The Most Up To Date Price Of A Christmas Story Major Award Leg Lamp Apron On Amazon
Why not bring the spirit of Christmas into your kitchen with one or more of these cute Christmas aprons.
Don't forget these Thanksgiving aprons as well!
More Christmas Aprons to Consider
Hot Sale!! Christmas Exquisite Apron, Lelili Christmas Style Cartoon
Apron, Unique Merry Christmas Design, Aprons for Women with Pockets,100% Natural Cotton
DII Cotton Chistmas Kitchen Apron with Pocket and Extra Long Ties