Since technological advances brought us devices such as the iPhone that also tell time, watches are not as popular as they once were. But it's still a good idea to find the best waterproof watch for kids so they can wear one without worrying about aking it off when they play in the water.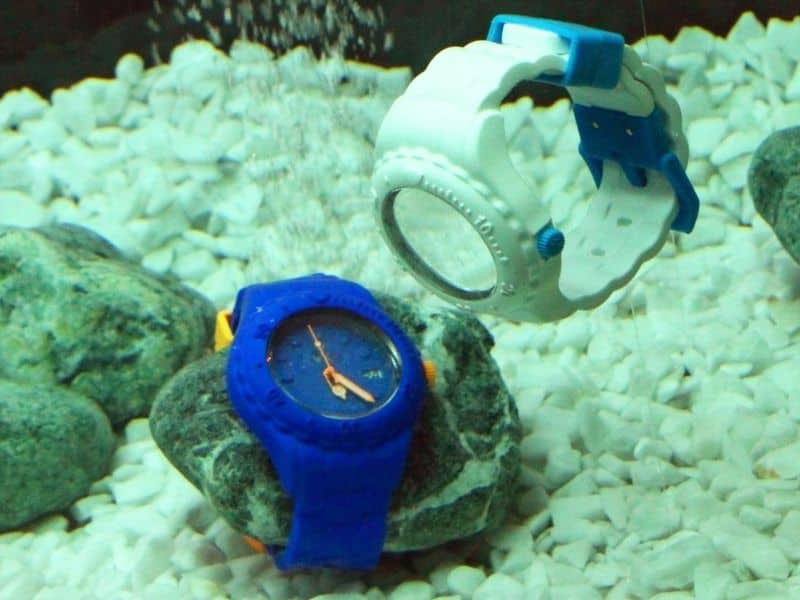 Kid Watch for Child Boy Girl LED Multi Function Sport Outdoor Digital Dress Waterproof Alarm Blue
However, watches are still one of the best ways to teach children how to tell time and the importance of being on time.
Children's watches need to be age-appropriate, easy to read, and durable enough for the rough and tumble life most kids live, including being able to withstand water, which is why parents search for the best waterproof watch for kids at a reasonable price.
It should be noted that a truly waterproof watch is most likely to be a diving watch, which is extremely expensive.
Here are some great water-resistant watches that are reasonably priced and great for those younger children.
Want to learn more about watches? Here's a list of 11 types of watches.
Best Waterproof Watch For Kids
Timex Kids' T71912 Digital Camo Elastic Fabric Strap Watch
Timex Boys T71912 Time Machines Digital Green Camouflage Elastic Fabric Strap Watch
For over 150 years Timex has been making watches for men, women, and children that are functional, dependable, and affordable.
This kids' Timex Kids' T71012 Digital Camo Elastic Fabric Strap Watch is just one example of their affordable watches designed especially with younger users in mind.
Features of this watch include:
Easy to read digital display
Quartz Movement
Alarm and timer feature will help your child be on time for dinner and even school.
Indigo night-light, forest green translucent case allows your child to see the time even when it is dark.
Chronograph
Water-resistant up to 99 feet or 30M
Elastic fabric band in Camouflage design
This is a great looking little watch for young boys although there may be some girls who like this watch as well.
It has an easy to adjust band, which can be made to fit small wrists and comes with an affordable price tag so your child won't panic if it gets lost.
Since this watch is water-resistant, it will probably withstand getting a bit damp when your child washes their hands, but really isn't designed to wear for hours of swimming or that 20-minute shower.
Users feedback
Overall, parents who purchased this watch for their younger child, really like it as did their child.
While there are a couple of reviews where parents stated that watch face fogged up after their child wore it in the shower, most parents felt it held up to normal daily wear by their child.
Features that parents (and kids) really like include:
Watch Band – Although the watch band is fairly cheap and made of some type of elastic fabric, parents like the fact that this watch adjusts easily to their child's wrist, making it easy to get on and off with little trouble. Some parents noted that even children as young as 4 could get this watch on and off themselves.
Easy To Set and Adjust Watch – Parents like the fact that this watch is easy for their children to set and adjust themselves as they get a little older (6-8). Being able to set this watch themselves helps children feel more independent.
Right Price – Several parents mentioned that this watch is priced just right for them to feel comfortable giving it to a smaller child, without it looking cheap or resembling a play watch in any way.
Click here to get one for your child
Timex Kids' T79051 "My First" Stainless Steel and Velcro Strap Watch
Timex Boys T79051 My First Outdoors Watch with Black Fast Wrap Velcro Strap
The Timex Kids' T79051 "My First" Stainless Steel and Velcro Strap Watch is a great watch for kids who are making the transition from "Little kids" watch to the more adult version.
Features of this watch include:
A Sturdy black canvas band with Velcro closing – makes it easy for your child to put on and take off by themselves.
Analog Display – helps children to learn to tell time without a digital display, so that they will be able to tell time using any type of clock.
Quartz Movement
Protective crystal window – More resistant to scratches than those acrylic type face windows on many children's watches.
Second hand
Luminosity
Water resistant to 30M or 99 Feet
This nice looking stainless steel watch with its simple black band is an ideal watch for both boys or girls and can be worn for special occasions as well as every day.
What users think about this watch
Parents who purchased this watch for their child give it extremely good ratings and feel that it is an excellent choice for children 6 and up who are not yet ready for a more adult watch.
Features that parents feel make this watch a good choice for kids include:
Durable – Parents say that both the band and the crystal window of this watch makes it more durable than many other watches made for children these days. The real glass window is more scratch resistant and able to withstand the normal bumps and thumbs, while the canvas band is more durable than those elastic cloth bands.
Easy to Read – The semi-large numbers on this watch make it easy for children to read and also give the watch a nicer appearance.
Light Function – The light function of this watch allows children to see the time even in low lighting or the dark.
Click here to see more details
Timex Girls' T89022 "Time Teacher" Floral Elastic Watch
This Timex Girls' T89022 is a great watch for any little girl just learning to tell time, as it has many features that will aid the child during the learning process.
Features of this watch include:
Both the hour and the minute hands are labeled, making it easy for your child to tell which is which.
Easy to read analog display
Quartz movement
Indiglo night-light
Elastic fabric strip
Water-resistant to 99 feet or 30M
Special features help children to be able to tell how minutes past the hour, and how many minutes until the next hour.
This is a pretty little watch that most girls will really love. It's ideal for children just learning to tell time, as both the minute and hour hands are marked and help children learn to tell time including the minutes "past" and "to" the hour.
How users rate this watch
Parents who purchased this watch for their children give this watch extremely good ratings and feel that it is a huge help in aiding their child when learning to tell time.
Features that parents especially like include:
Easy Fit – Parents find that the strap is adjustable enough to fit most young children's wrist and even purchased this watch for children as young as 3.
Colorful – This watch is extremely colorful with pretty pink flowers against a purple background. (There are also versions of this watch perfect for little boys.)
Helps Children Learn to Tell Time – Parents do feel that this watch really does help their young child learn to tell time.
Click heretTo learn more about this watch
These water resistant children's watches by Timex may not be completely waterproof, but they seem to hold up while a child washes their hands and in some cases even when they forget to take the watch off when swimming.
Timex also offers a "Child loss policy" which in effect allows you to replace any watch your child loses within a year of the original purchase to be replaced at a reduced price.
More Waterproof Watches for Kids
Kids Sports Digital Watch, Boys Girls Outdoor Waterproof Watches
AZLAND 7 Colors Flashing, Multiple Alarms Reminder Sports Kids
AZLAND Waterproof Swimming Led Digital Sports Watches for Children