Comparing an air purifier vs fan is a lot like comparing apples to oranges. While both may be able to help clear your home of contaminants, they work in completely different ways and the results will be different as well.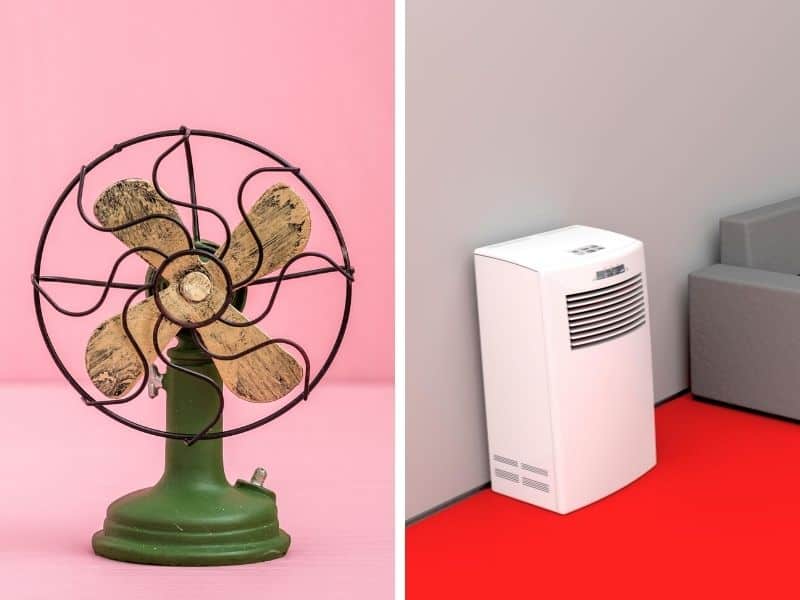 Let's take a look at the functions of these two very different machines.
Air Purifier Vs Fan – Which is a Better Choice for You?
What is a fan and what it's good for?
The main function of a fan is to move air. People use fans to create a breeze on warm days so that they feel cooler in their homes.
Fans can also be used in correlation with open windows to increase ventilation of a home, which helps to remove chemicals, which are leeched from furniture, walls, and chemical cleaners.
In addition, because a fan circulates air it can actually help free-standing air purifiers to function more efficiently since purifiers can only purify the air that travels through it. If the air is still, then a free-standing air purifier can only clean the air in its immediate vicinity.
However, you also need to consider that fans can blow contaminants such as dust, dust mites, mold spores, and smoke throughout your home, spreading the contamination over a wider area.
Tower Fan, 42 Inch Portable Oscillating Quiet Cooling Fan
Pedestal Fan Black With Remote Control, Oscillation, Auto-Off & 3 Power Settings
Vornado 630 Mid-Size Whole Room Air Circulator Fan
How does an air purifier work?
Filter air purifiers (the most common type) on the other hand trap contaminant inside the machine in their filters.
While this definitely takes the contaminants from the air that you breathe and keeps these contaminants from spreading, they do depend on good circulation in your home to work efficiently.
While filter air purifiers in heating and cooling units can use the circulation caused by the units themselves to perform their function, free-standing filter air purifiers have to depend on just how much air circulation you have in your home.
In order for a free-standing filter air purifier to work efficiently, you need to have good in-home ventilation, which may include the use of one or more fans to provide proper airflow to allow for that ventilation.
You also need to take into consideration that the filters in air purifiers need to be cleaned on a regular basis.
These filters become filled with dust and other contaminants and unless cleaned and replaced on a regular basis, these filters become clogged to the point that they can no longer remove new contaminants from the air.
In addition, you also need to remember that an air purifier has only one function, to clean the air of a building. It won't help to cool your home or create a breeze as a fan does.
LEVOIT Air Purifier for Home Bedroom, H13 True HEPA Filter for Extra-Large Room
Honeywell HPA300 True HEPA Air Purifier, Extra-Large Room, Black
Frequently asked questions
Do air purifiers work as fans?
Unfortunately, no. Air purifiers and fans are completely different in their purpose. Air purifiers filter impurities and particles out of the air, while fans just move the existing air around.
Will an air purifier cool a room?
No. You'll need a fan or air conditioner for that.
Where should I place my air purifier?
You should place the air purifier in the room you spend most of your time in. If you want to purify the air in more than one room, you'll need more than one air purifier.
Will an air purifier remove dust from the room?
Yes, air purifiers trap dust particles and can make your house less dusty.
Conclusion
The simple truth is that to remove the most contaminants from your home and still cool your home, it may actually be beneficial to have both a fan and an air purifier.
Most experts will tell you that you can improve the air quality in your home if your home has proper ventilation, good airflow, and an efficient air purifier. Using the proper tools can help you and your family breathe easier. It's just a matter of choosing the right tools to get the job done properly.